Patuakhali District (barisal division) area of 3220.15 sq km, located in between 21°48' and 22°36' north latitudes and in between 90°08' and 90°41' east longitudes. It is bounded by barisal district on the north, bay of bengal on the south, bhola district on the east, barguna district on the west. The land of the district is composed of alluvial soil of the meghna basin and of a number of small char lands.
Population Total 1460781; male 739331, female 721450; Muslim 1350968, Hindu 107893, Buddhist 391, Christian 1338 and others 191.
Water bodies Main rivers: Andharmanik, Agunmukha, tentulia, Galachipa, Rajganj; Rabnabad channel is notable.
District
Area (sq km)
Upazila
Municipality
Union
Mouza
Village
Population
Density (per sq km)
Literacy rate (%)
Urban
Rural

3220.15

7

3

67

571

865

175284

1285497

454

51.65
Others Information of District

Name of Upazila

Area
(sq km)

Municipality

Union

Mouza

Village

Population

Density
(per sq km)

Literacy rate
(%)

Kalapara

483.08

1

9

58

217

202078

418

56.9

Galachipa

1267.89

1

16

140

228

325235

257

42.9

Dashmina

351.74

-

6

49

53

117037

333

41.8

Dumki

92.46

-

4

21

24

70705

765

66.0

Patuakhali Sadar

362.62

1

12

101

124

322713

890

53.3

Bauphal

486.91

-

14

134

146

304959

626

52.6

Mirzaganj

175.45

-

6

68

73

118054

673

60.4
Source Bangladesh Population Census 2001, Bangladesh Bureau of Statistics.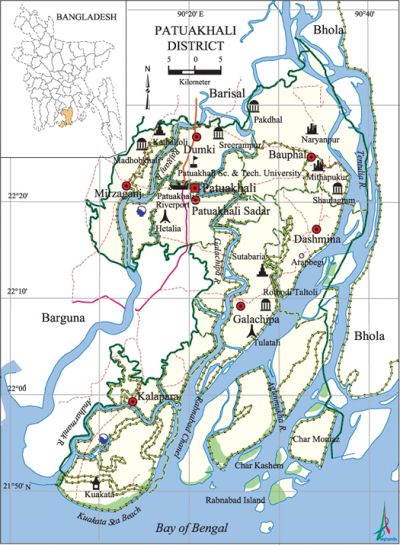 Administration Patuakhali, a sub-division of the Bakerganj district, was elevated to a district in 1969. Of the 7 upazilas of the district galachipa is the biggest (1267.89 km) and dumki is the smallest (92.46 sq Km).
History of the War of Liberation On 26 April 1971, the Pak army attacked Patuakhali. At the beginning of the war of liberation many youths received arms training from the Muktijoddha Training Camp at village Deoli of Mirzaganj upazila. In a battle between the freedom fighters and the Pak army at the border area of Mirzaganj, 32 freedom fighters were killed; in this battle many Pak soldiers were killed and wounded. On 8 May the Pak army raided the villages of Chikanikandi and Dakua of Galachipa upazila and killed 29 persons; they also set many houses of the village on fire. On 25 May a Pak army gun boat on the Kabai River of Bauphal was forced to retreat in the face of resistance from the freedom fighters. On 6 June the freedom fighters attacked the Razakar camp at Bauphal and killed a number of razakars. The Pak army killed 35 persons at Madanpura and Dhulia and sacked many houses. On 18 November an encounter was held between the freedom fighters and the Pak army at village Panpatti of Galachipa upazila in which three Pak soldiers were killed. Patuakhali town was liberated on 6 December, but the district was liberated on 8 December.
Marks of the War of Liberation Mass grave 3 (inside the old jail compound of Patuakhali town, at south-western side of the new jail and at Tulatali); memorial monument 4 (in front of the old Town Hall, at the premises of Muktijoddha Sangsad, at the premises of Chikanikandi High School and' Panpatti).
Literacy rate and educational institutions Average literacy 51.65%; male 49.65%, female 65.60%. Educational institutions: university 1, college 58, primary teachers training institute (PTI) 2, polytechnic institute 1, vocational institute 1, technical school 5, secondary school 324, primary school 1143, satellite school 14, community school 9, kindergarten 6, madrasa 367. Noted educational institutions: Patuakhali Science and technology university (2001), Patuakhali Government university College (1957), Latif Municipal Seminary (1916), Patuakhali Government Mohila College (1968), Dashmina Abdur Rashid Talukdar Degree College (1977), Government Mojhar Uddin Biswas College (1977), Janata College (1985), Bauphal Degree College (1966), Subidkhali Degree College (1972), Subidkhali Mohila College (2000), Galachipa Degree College (1972), Patbunia Adarsha Technical College (1996), Bauphal Secondary School (1885), Government Jubilee High School (1887), Sreerampur Secondary School (1900), Bauphal High School (1919), Birpasha Secondary School (1921), Muradia Secondary School (1928), Kachipara' Secondary School (1928), Khepupara Secondary School (1928), Subidkhali Pilot Secondary School (1934), Chikanikandi Secondary School (1930), Patuakhali Government Girls' High School (1946), Dashmina Secondary School (1956), Kanthaltali Government Primary School (1924), Wazedabad Mostafavia Fazil Madrasa (1913), Pangasia Nesaria Alia Madrasa (1919), Obaidia Senior Madrasa (1930), Lamna Salehia Senior Fazil Madrasa (1935), Chaita Nesaria Senior Fazil Madrasa (1940), Subidkhali Daruchchunnat Senior Madrasa (1960), Char Hosnabad Senior Madrasa (1964), Kalapara Nesaruddin Senior Madrasa (1965), Adampur Islamia Senior Madrasa (1965), Dashmina Islamia Senior Fazil Madrasa (1968).
Main sources of income Agriculture 57.05%, non-agricultural labourer 5.37%, industry 1.03%, commerce 13.79%, transport and communication 2.04%, service 9.22%, construction 2.13%, religious service 0.26%, rent and remittance 0.40% and others 8.71%.
Newspapers and periodicals Daily: Rupantar, Tentulia, Ganadabi, Sathi; weekly:' Payra, Patuakhali, Avijatri, Patuakhali Proshika; fortnightly: Metho Barta; defunct weekly: Palliseba (1934), Gram Bangla, Khilafat, Pratinidhi, Janata,' Trisha; defunct fortnightly: Swadesh Darpan, Saikat, Priya Kagaz; defunct monthly: Chabuk; periodical: Patuakhali Samachar, Ek Mutho Suravi, Annesha.
Folk culture The notable folk culture prevalent in the district include Jatragan, Kabigan, puppet show, monkey dance, Bayati song, Palagan, sloka and riddle, 'Bayani, etc. Many folk traditions such as Jhar Fook, Tantra Mantra, hymm in order to win over women, etc. occupy a distinctive place of folk culture of the district. Folk games and sports of the district include Ha-du-du, Latim game, Dariabandha, wrestling, Dang-guti, Kanamachhi, Marbel, Kutkut, Kukpalani, Haribhanga, etc.
Important installations and Tourists spots kuakata, the second largest tourist centre of the country, is located on the southern extremity of Kalapara upazila. Both sun rise and sun set can be viewed from the 18 km long Kuakata sea beach. The Shutki (dried fish) Palli is located 7 km on the west of Kuakata. Dry fish is exported in different parts of the country from this Shutki Palli. Besides, to attract the tourists there are Sea Fish Museum, Bura Gauranga Sea Channel, Kuakata Sima Buddhist Bihara, statue of Buddha, Rakhain Palli, Narikel Bithi (series of coconut trees), Jhouban (tamarisk trees), Fatrar Char (mangrove), Gangamatir Char, Rash Mela, Lembur Char, etc. The Sun rise and the sun set can be enjoyed from Sonar Char of the Galachipa upazila; other tourist attractions of this upazila include Kalaraja, capital of the kingdom of Queen Kamala of Chandradwip; Babanabad and Bhangabali Channels. Tourist spots of Bauphal upazila include capital of Chandradeep Kingdom (Bakla of Kachua, later on transferred to Rajnagar), Kazi Bari, paternal homestead of ak fazlul huq (Bilbilas), Kamala Rani Dighi (Kalaiya), Kuthibari of Ghaseti Begum (on the bank of the river Tentulia) and Kanai Balai Dighi (Kanchipara). [Iffat Jerin]
See also The upazilas under this district.
References Bangladesh Population Census 2001, Bangladesh Bureau of Statistics; Cultural survey report of Patuakhali District 2007; Cultural survey report of different upazilas of Patuakhali District 2007.