Rajarhat Upazila (kurigram district) area 166.23 sq km, located in between 25°38' and 25°53' north latitudes and in between 89°27' and 89°38' east longitudes. It is bounded by phulbari (Kurigram) and lalmonirhat sadar upazilas on the north, ulipur and pirgachha upazilas on the south, kurigram sadar upazila on the east, Lalmonirhat Sadar and kaunia upazilas on the west.
Population Total 169579; male 85590, female 83989; Muslim 136040, Hindu 33445, Buddhist 21 and others 73.
Water bodies Main rivers: dharla, tista; Sarala Beel, Chakirpashar Beel and Gharialdanga 'Beel are notable.
Administration Rajarhat Thana was formed in 1981 and it was turned into an upazila on 14 September 1983.
Upazila
Municipality
Union
Mouza
Village
Population
Density (per sq km)
Literacy rate (%)
Urban
Rural
Urban
Rural

-

7

110

180

8511

169579

1020

47.60

40.29
Upazila Town

Area (sq km)

Mouza

Population

Density (per sq km)

Literacy rate (%)

4.44

3

8511

1913

47.59
Union
Name of union and GO code
Area (acre)
Population
Literacy rate (%)
Male
Female

Omar Majid

5743

13003

12760

40.78

Gharialdanga 42

6548

13816

13389

36.70

Chakirpashar 21

5886

13345

12827

40.83

Chhinai 31

5786

12302

11929

35.40

Nazimkhan 52

4439

9485

9550

40.17

Bidyananda 10

5041

8139

8405

40.87

Rajarhat 73

7630

15500

15129

43.63
Source  Bangladesh Population Census 2001, Bangladesh Bureau of Statistics.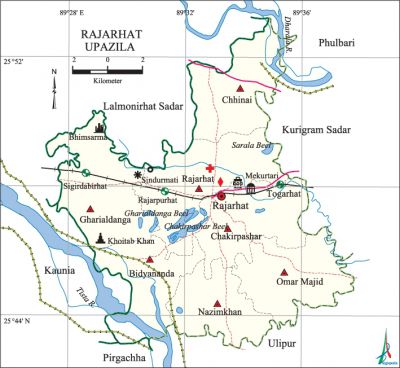 Archaeological heritage and relics Panga Rajbari, Gharialdanga Zamindar Bari, Shiva Mandir at Koteshwar, two cannons ascribed to Fate Khan and Kalu Khan (Panga Rajbari), Chandamari Mosque (Rajarhat union), Sindurmati Dighi, Beparipara Shahi Mosque (Mughal period).
Religious institutions Mosque 337, temple 36. Noted religious institutions: Rajarhat Jami Mosque, Khanpara Jami Mosque, Chandamari Mosque, Mekurtari Shahi Mosque, Shiva Mandir at Koteshwar, Square shaped Shiva Mandir.
Literacy rate and educational institutions Average literacy 40.66%; male 46.62%, female 34.65%. Educational institutions: college 8, secondary school 41, primary school 121, madrasa 29. Noted educational institutions: Mir Ismail Hossain Degree College (1973), Rajarhat Mohila Degree College (1995), Nazimkhan High School (1930), Panga Rani Multilateral High School (1939), Rajarhat Pilot High School (1949), Ratiram Government Primary School (1940), Rajarhat Model Government Primary School (1897), Rajarhat Fazil Madrasa (1963).
Newspapers and periodicals Weekly: Gramantar; literary periodical: Uttar Chaiti (irregular).
Cultural organisations Library 3, women's organisation 3, press club 1, theatre group 2, playground 16.
Main sources of income Agriculture 70.32%, non-agricultural labourer 4.91%, industry 0.74%, commerce 10.75%, transport and communication 1.90%, service 5.20%, construction 0.45%, religious service 0.15%, rent and remittance 0.16% and others 5.42%.
Ownership of agricultural land Landowner 53.64%, landless 46.36%; agricultural landowner: urban 50.03% and rural 53.82%.
Main crops Paddy, jute, maize, wheat, musur, potato, vegetables, peanut, bamboo.
Extinct or nearly extinct crops China, aus paddy, kaun.
Main fruits Mango, jackfruit, banana, star apple, papaya, kamranga, betel nut.
Fisheries, dairies and poultries Fishery 21, dairy 43, poultry 27, fish hatchery 4.
Communication facilities Pucca road 46 km, semi-pucca road 9 km, mud road 372 km; railway 10 km; waterway 2.70 nautical miles.
Extinct or nearly extinct traditional transport Palanquin, horse carriage, bullock cart.
Noted manufactories Rice mill, flour mill, ice factory, biscuit factory, saw mill, welding factory.
Cottage industries Goldsmith, blacksmith, potteries, jute work, weaving, wood work, bamboo work.
Hats, bazars and fairs Hats and bazars are 15, fairs 4, most noted of which are Rajarhat, Nazimkhan Hat, Singer Dabri Hat, Bidyananda Bazar, Charak Mela at Fulkhan Chakla, Sindurmati Mela, Mashan Kura Mela.
Main exports Paddy, jute, potato, betel nut, vegetables.
Access to electricity All the unions of the upazila are under rural electrification net-work. However 9.46% of the dwelling households have access to electricity.
Sources of drinking water Tube-well 95.63%, tap 0.29%, pond 0.22% and others 3.87%.
Sanitation 38.70% (rural 38.02% and urban 52.25%) of dwelling households of the upazila use sanitary latrines and 21.96% (rural 21.96% and urban 21.54%) of dwelling households use non-sanitary latrines; 39.35% of households do not have latrine facilities.
Health centres Upazila health complex 1, health and family welfare centre 7, clinic 9, diagnostic centre 3.
Natural disasters Many people were victims of the earthquake of 1304, the famine of 1944 and the flood of 1991; these natural disasters also caused heavy damages to settlements, crops and livestock of the upazila.
NGO activities Operationally important NGOs are asa, CARE, brac. [Md. Kamal Hossain]
References Bangladesh Population Census 2001, Bangladesh Bureau of Statistics; Cultural survey report of Rajarhat Upazila 2007.