Sakhipur Upazila (tangail district) area 429.63 sq km, located in between 24°11' and 24°26' north latitudes and in between 90°04' and 90°18' east longitudes. It is bounded by ghatail upazila on the north, mirzapur upazila on the south, bhaluka, sreepur (gazipur) and kaliakair upazilas on the east, kalihati and basail' upazilas on the west.
Population Total 241665; male 121683, female 119982; Muslim 227756, Hindu 13791, Buddhist 26, Christian 8 and others 84.
Water bodies Main rivers: bangshi, Salda.
Administration Sakhipur Thana was formed in 1976 and it was turned into an upazila in 1983.
Upazila
Municipality
Union
Mouza
Village
Population
Density (per sq km)
Literacy rate (%)
Urban
Rural
Urban
Rural

1

6

65

123

28513

213152

562

46.6

31.6
Upazila Town

Area (sq km)

Mouza

Population

Density (per sq km)

Literacy rate (%)

19.68

6

28513

449

46.6
Union
Name of union and GO code
Area (acre)
Population
Literacy rate (%)
Male
Female

Kakrajan 67

17864

18217

18505

25.71

Kalia 81

17785

24877

24393

31.15

Gazaria 27

18804

24253

23751

40.55

Baheratail 13

10815

11929

12189

33.64

Jadabpur 54

27211

25909

25094

33.75

Hatibandha 40

15040

16498

16050

33.95
Source Bangladesh Population Census 2001, Bangladesh Bureau of Statistics.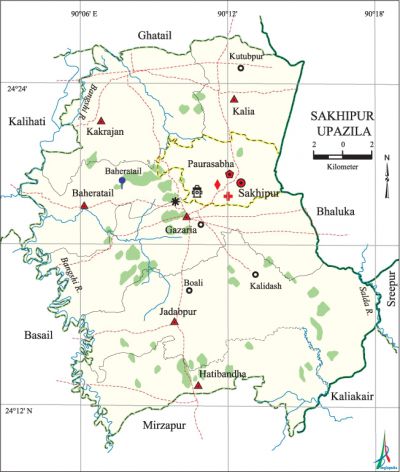 Archaeological heritage and relics Mazar of Shah Kamal (R), an associate of Hazrat Shah Jalal (R) at village Garh GoVindapur.
History of the War of Liberation On 10 June 1971 the Kaderia Bahini took oath at Baheratail of this upazila. An encounter was held on 6 October between the freedom fighters and the Pak army at Balla in which four freedom fighters were killed.
Marks of the War of Liberation Martyrs' memorial 1; 'oath taking monument' 1 (Baheratail).
Religious institutions Mosque 457, temple 13, tomb 2. Noted religious institutions: Sakhipur Central Jami Mosque, Kutubpur Mosque, Shah Kamal (R) Tomb.
Literacy rate and educational institutions Average literacy 33.4%; male 39%, female 27.9%. Educational institutions: college 7, secondary school 60, primary school 136, madrasa 27. Noted educational institutions: Mujib Degree College (1972), Sakhipur Residential Mohila College (1995), Hatiya College (1969), Boali College (1993), Sabuj Bangla High School (1993), Hatiya Haji Hafiz Uddin High School (1964).
Main sources of income Agriculture 69.82%, non-agricultural labourer 1.94%, industry 0.45%, commerce 9.38%, transport and communication 2.22%, service 4.84%, construction 0.67%, religious service 0.14%, rent and remittance 3.67% and others 6.87%.
Ownership of agricultural land Landowner 72.52%, landless 27.48%; agricultural landowner: urban 68.72% and rural 72.99%.
Main crops Paddy, jute, cotton, mustard, potato, wheat, pulse, vegetables.
Extinct or nearly extinct crops Sesame, kalai, arahar.
Main fruits Mango, jackfruit, banana, blackberry, litchi, papaya, pineapple, watermelon.
Fisheries, dairies and poultries Fishery 56, dairy 12, poultry 28.
Communication facilities Pucca road 64.49 km, mud road 578.75 km.
Extinct or nearly extinct traditional transport Palanquin, horse carriage, bullock cart.
Noted manufactories Rice mill, flour mill, saw mill, chira (threshed rice) mill, ice factory, welding factory.
Cottage industries Goldsmith, blacksmith, weaving, wood work, bamboo work, cane work, tailoring.
Hats, bazars and fairs Hats and bazars are 38, fairs 3, most noted of which are Kachua Hat, Barachoana Hat, Nalua Hat, Ratanpur Hat, Hatiya Hat, Sakhipur Bazar, Kutubpur Bazar, Mahanandpur Bazar, Falu Shah Mela and Muslim Dargah Mela.
Main exports Paddy, banana, jackfruit, vegetables.
Access to electricity All the wards and unions of the upazila are under rural electrification net-work. However 13.16% of the dwelling households have access to electricity.
Sources of drinking water Tube-well 82.09%, tap 0.67%, pond 0.47% and others 16.83%.
Sanitation 35.35% (rural 31.92% and urban 62.60%) of dwelling households of the upazila use sanitary latrines and 22.37% (rural 23.18% and urban 15.99%) of dwelling households use non-sanitary latrines; 42.28% of households do not have latrine facilities.
Health centres Hospital 1, veterinary hospital 4, eye hospital 1, satellite clinic 4, family planning centre 10, child hospital 1, brac health centre 1, rural health centre 1, clinic 2, diagnostic centre 1.
NGO activities Operationally important NGOs are brac, proshika. [Harun Rashid]
References Bangladesh Population Census 2001, Bangladesh Bureau of Statistics; Cultural survey report of Sakhipur Upazila 2007.