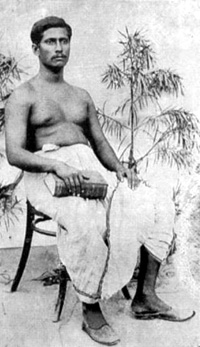 Sen, Rajanikanta (1865-1910) poet, lyricist and singer, was born in the village of Bhangabari in pabna. His father was Guruprasad Sen. Rajanikanta was the author of Pathachintamani, a book of kirtan, and Abhay Bihar, a book of lyrical poems. He was tutored by his father in music from childhood. After obtaining his BA and BL (1891) degrees from Calcutta City College, he began to practice law at rajshahi.
Rajanikanta Sen began his career as a munsif of Natore and Naogaon sub-divisions but soon he left the judicial career for full time writing and other cultural activities. He demonstrated his poetic genius at a very early age by composing songs on goddess Kali. He used to sing his own songs often at the house of akshay kumar maitreya. The monthly Utsaha used to publish his writings. Devotional and patriotic themes made the main basis of his poems and songs. Of course, he also composed love songs and satirical verses. One of his songs composed during the swadeshi movement, Mayer deoya mota kapad mathay tule nere bhai (Revere the coarse cloth spun in your motherland), became very popular.
Rajanikanta Sen wrote several books, such as Vani (1902), Kalyani (1905), Amrta, Abhaya, Anandamayi and Bishram (1910), Sadbhabkusum (1913) and Shesdan (1916). Vani and Kalyani are collections of his songs. He became well known as Kantakabi.
Rajanikanta was influenced by rabindranath tagore, but his songs have some unique characteristics as well. Most of them are inspired by his devotion to God. In addition, his patriotism forms another important theme of his songs. The surge of patriotism at the beginning of the twentieth century inspired Rajanikanta to compose songs like mayer deoya mota kapad, mathay tule nere bhai (Revere the coarse cloth of your motherland). This song became very popular, specially among the youth who got inspired by the nationalistic spirit. Rajanikanta also composed satiric songs under the influence of dwijendralal roy.'
The songs of Rajanikanta were influenced by the tunes and themes of Kirtan, baul, Ramprasad, panchali. Mishra Raga (mixed raga) is predominant in Rajanikanta's songs. Rajanikanta's songs are particularly popular in west bengal. He died in Kolkata on 13 September 1910. [Abul Hasnat and Khan Md Sayeed]