Shahjahanpur Upazila (bogra district) area 215.64 sq km, located in between 24°41' and 24°50' north latitudes and in between 89°16' and 89°29' east longitudes. It is bounded by bogra sadar upazila on the north, sherpur upazila on the south, gabtali and dhunat upazilas on the east, kahaloo and nandigram upazilas on the west.
Population Total 234365; male 120510, female 113855; Muslim 224373, Hindu 9915, Buddhist 34, Christian 19 and others 24.
Water bodies Main rivers: Bhadai, Bangali.
Administration Shahjahanpur upazila was formed on 21 January 2003.
Upazila
Municipality
Union
Mouza
Village
Population
Density (per sq km)
Literacy rate (%)
Urban
Rural
Urban
Rural

-

10

131

131

-

234365

1087

-

48.59
Union
Name of union and GO code
Area (acre)
Population
Literacy rate (%)
Male
Female

Aria 17

5706

15399

14410

57.32

Amrool 16

6106

11108

10667

33.58

Asekpur 18

6577

12955

12544

53.19

Khotta Para 43

3750

10279

9373

40.63

Kharna 38

9033

12842

12502

46.79

Gohail 30

8427

11665

11724

46.37

Chopinagar 19

4048

10373

9693

45.25

Majhira 56

2903

7771

7369

54.31

Madla 51

4797

13927

12892

46.19

Sultanganj 90

2564

14191

12681

62.33
Source Bangladesh Population Census 2001,Bangladesh Bureau of Statistics.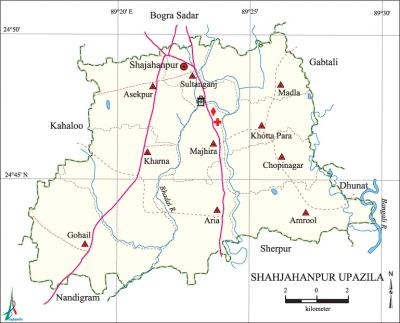 Archaeological heritage and relics Khadash Rajbari (Gohail), three doomed Gohail Jami Mosque built by Pandit Shah, Buddhist Math (Bergari), Jami Mosque (Ullah Akanda Para).
History of the War of Liberation An encounter was held between the freedom fighters and the Pak army on 1 April, 1971, with casualities from the both sides. In this encounter the freedom fighters captured the arms and ammunitions of the Pak army after their surrender. On 23 April, the Pak army entered into the Bogra town and conducted killing, torture and burning of settlements in collaboration with the local Beharis. On 11 November the Pak army and the razakars captured 21 persons from Thanthania Khandar area and later on killed 11 of them by gun shot at a place called Bibir Pukur.
Marks of the War of Liberation Mass grave (Bibir Pukur).
Religious institutions Mosque 371, temple 45, math 1.Noted Religious institutions: Gohail Jami Mosque, Jami Mosque, Buddhist Math.
Literacy rate and educational institutions Average literacy 48.59%, male 51.93%, female 45.10%. Educational institutions: BEd college 1, agricultural college 1, technical institution 3, college 5, secondary school 31, primary school 121, madrasa 62. Noted educational institutions: Cantonment Public School and College (1979), Cantonment Board High School and College (1986), Ranirhat Technical College (2000), Khotta Para Siddiqua Senior Fazil Madrasa (1905), Domonpur Amiya Fazil Madrasa (1908), Jora Nazmul Ulm Fazil Madrasa (1910), Behigram ADU Central Fazil Madrasa (1921).
Cultural organisations Library 6, cinema hall 2.
Special attractions 'Bijayangan' (War of Liberation Museum), Park on the triangular corner on the Dhaka Natore Road.
Main sources of income Agriculture 55.48%, non-agricultural labourer 2.52%, industry 1.37%, commerce 13.01%, transport and communication 6.49%, service 10.98%, construction 2.50%, religious service 0.17%, rent and remittance 0.39% and others 7.09%.
Ownership of agricultural land Landowner 57.35%, landless 42.65%.
Main crops paddy, pulses, potato, corn, vegetables.
Fisheries, dairies and poultries Dairy 62, poultry 65, artificial breeding centre 3.
Communication facilities Pucca road 116.30 km, semi-pucca road 15.43 km and mud road 240.49 km.
Manufactories Metal works, furniture factory.
Cottage industries Weaving, pottery, wood work, embroidery, bamboo and cane work.
Hats, bazars and fairs Hats and bazars are 9, fairs 3, most noted of which are Durlagari Hat, Sultanganj Hat, Ranir Hat, Nagar Hat, Domon Pukur Hat, Madla Bazar, Atia Bazar, Majhira Bazar, Majhira Mandir Mela (held on the Krishnapakkha of 30th day of Falgun, BS), Jamanna Mela at village Aria, Demajani Mela in Amrool union.
Access to electricity All the unions of the upazila are under rural electrification network. However 32.27% of the dwelling households have access to electricity.
Sources of drinking water Tube-well 94.73%, tap 0.75%, pond 0.14% and others 4.38%. The presence of arsenic has been detected in the shallow tube well water of the upazila.
Sanitation 41.05% of dwelling households of the upazila use sanitary latrines and 38.59%' of dwelling households use non-sanitary latrines; 20.36% of households do not have latrine facilities.
Health centres Upazila health centre 1, union satellite clinic 2, maternity and child welfare centre 10, community clinic 30.
Natural disasters Many people were victims of the floods of 1955, 1969, 1970, 1984 and the cyclone of 1864. These natural disasters also caused heavy damages to settlements, crops and livestock of the upazila.
NGO activities Operationally important NGOs are Palli Unnayan Prakalpa, Grameen Unnayan Prakalpa. [AKM Jasimuddin]
References Bangladesh Population Census 2001, Bangladesh Bureau of Statistics; Cultural survey report of Shahjahanpur Upazila 2007.