Sutrapur Thana (Dhaka metropolitan) area 2.08 sq km, located in between 23°41' and 23°43' north latitudes and in between 90°24' and 90°25' east longitudes. It is bounded by paltan, motijheel and sabujbagh thanas on the north, keraniganj upazila on the south, Sabujbagh, jatrabari and gendaria thanas on the east, kotwali and bangshal thanas on the west.
Population Total 191879; male 113732, female 78147; Muslim 168258, Hindu 22713, Buddhist 801, Christian 55 and others 52.
Administration Sutrapur Thana was formed on 1 February 1976.
Thana
Ward and Union
Mahalla and Mouza
Population
Density (per sq km)
Literacy rate (%)
Urban
Rural
Urban
Rural
5
47
191879
-
92250
76.17
-
Ward
Ward
Area (sq km)
Population
Literacy rate (%)
Male
Female
Ward no. 74
0.41
30733
18413
73.45
Ward no. 75
0.48
19115
14954
80.15
Ward no. 77
0.50
21782
16820
75.16
Ward no. 78
0.22
15928
11828
74.83
Ward no. 79
0.47
26174
16132
77.26
Source Bangladesh Population Census 2001, Bangladesh Bureau of Statistics.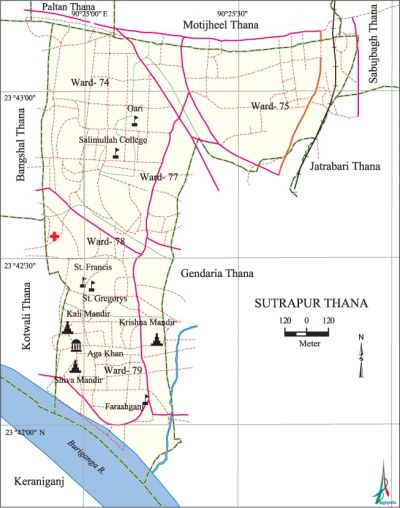 Archaeological heritage and relics Lalkuthi, Ruplal House, Beauty Boarding, Lal Khan Bibi ka Rauja, Bahadur Shah Park.
History of the War of Liberation During the War of Liberation the Pak army killed 13 persons on 27 March 1971 at Malakartola. The freedom fighters conducted many successful operations in the area. More than 50 freedom fighters including Ahsan Ullah Sarder and Md. Shahjahan were killed by the Pak army.
Marks of the War of Liberation Mass killing site 1.
Religious institutions Mosque 50, temple 10, church 3, tomb 10. Noted religious institutions: Sutrapur Jami Mosque, Gaurio Math Mandir, Kali Mandir, Shiva Mandir, Ramkrishna Mission, Baptist Church.
Literacy rate and educational institutions Average literacy 76.17%; male 79.31%, female 71.69%. Educational institutions: medical college 1, college 8, school 17, technical institution 1, primary school 20, madrasa 10. Noted educational institutions: Sir Salimullah Medical College, Bangladesh Homeopathic Medical College, Dhaka Mahanagar Mohila College (1997), Kabi Nazrul Government College, Government Shaheed Suhrawardi College, KL Jubilee School and College (1866), Government Muslim High School (1874), St. Gregorys High School (1882), St. Francis Jeffers Girls' High School, Nawabpur Government High School, Ramakrishna Mission School.
Newspapers and periodicals Daily: Daily Ittefaq, Daily Inqilab, Daily New Nation; magazine: Weekly Robbar, Weekly Purnima.
Cultural organisations Club, cinema hall, community centre, playground.
Amusement centres Bahadur Shah Park.
Main sources of income Agriculture 0.34%, non-agricultural labourer 0.23%, industry 2.21%, commerce 48.47%, transport and communication 2.08%, service 33.04%, construction 0.75%, religious service 0.15%, rent and remittance 3.06% and others 9.67%.
Ownership of agricultural land Landowner 39.73%, landless 60.27%.
Extinct or nearly extinct crops Paddy, jute, sugarcane, pulse.
Main fruits Mango, jackfruit, litchi, guava, banana, papaya.
Communication facilities Total roads: 40.09 sq km.
Extinct or nearly extinct traditional transport Palanquin, bullock cart.
Noted manufactories Garments industry, publishing houses, pharmaceutical industry, welding factory.
Cottage industries Goldsmith, leather industry, weaving.
Bazar and shopping centres' Bangla Bazar, Kaptan Bazar, Thatary Bazar, Sutrapur Bazar, Shym Bazar, Laksmi Bazar, Sadarghat Hawkers Market, Rajdhani Super Market and Islampur Market are notable.
Main exports Ready made garments, book, leather industry.
Access to electricity All the wards and mahallas of the thana are under electrification net-work. However 99.09% of the dwelling households have access to electricity.
Sources of drinking water Tube-well 10.09%, pond 0.06%, tap 88.74% and others 1.11%.
Sanitation 98.81% of dwelling households of the thana use sanitary latrines and 1.06% of dwelling households use non-sanitary latrines; 0.13% of households do not have latrine facilities.
Health centres Hospital 1, clinic 15, family planning centre 13. Sir Salimullah Medical College is notable. [Syed Marufuzzaman]
References Bangladesh Population Census 2001, Bangladesh Bureau of Statistics.