Tazumuddin Upazila (bhola district) area of 512.92 sq km, located in between 22°21' and 22°34' north latitudes and in between 90°47' and 91°01' east longitudes. It is bounded by daulatkhan upazila on the north, lalmohan, manpura upazilas and meghna river on the south, hatiya and ramgati upazilas and Meghna river on the east, burhanuddin upazila on the west.
Population Total 120189; male 63576, female 56613; Muslim 109063, Hindu 11086, Buddhist 11, Christian 20 and others 9.
Water bodies Main rivers: Shabajpur Channel, Meghna, Betua. Shabajpur Channel covers the half of total area of the upazila.
Administration Tazumuddin Thana was formed on 28 August 1928 and it was turned into an upazila on 14 March 1983.
Upazila
Municipality
Union
Mouza
Village
Population
Density (per sq km)
Literacy rate (%)
Urban
Rural
Urban
Rural

-

5

62

80

18413

101776

234

43.1

35.6
Upazila Town

Area (sq km)

Mouza

Population

Density (per sq km)

Literacy rate (%)

13.70

2

18413

1344

43.05
Union
Name of union and GO code
Area (acre)
Population
Literacy rate (%)
Male
Female

Chanchra 38

11088

6055

5506

30.99

Chandpur 57

9167

19922




18002




44.50




Bara Malancha 19




10715




6182




5534




25.00




Shambhupur 85




8868




17197




15859




38.05




Sonapur 76




20079




14220




11712

30.89
Source Bangladesh Population Census 2001,Bangladesh Bureau of Statistics.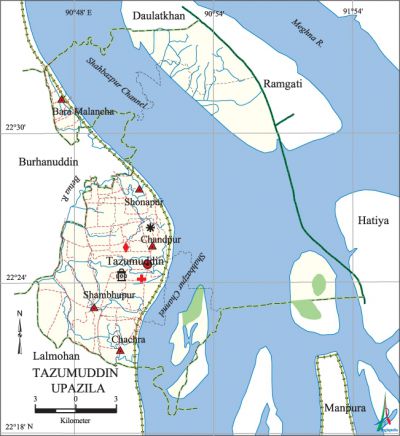 History of the War of Liberation In 1971 the Pak army conducted mass killing, plundering and burning in the upazila. During the war of liberation 7 freedom fighters were killed in this upazila in different encounters with the Pak army.
Religious institutions Mosque 156, temple 30, tomb 4, math 5.
Literacy rate and educational institutions Average literacy 36.7%; male 40.2%, female 32.8%. Educational institutions: college 1, secondary school 7, primary school 104, kindergarten 2, madrasa 77. Noted educational institutions: Tazumuddin Degree College (1989), Chandpur Government High School (1952), Fazilatunnessa Girls' High School (1972), Shambhupur High School, Chandpur Model Government Primary School (1943), Debipur Madrasa (1910).
Cultural organisations Library 1, club 10, cinema hall 2, playground 7, orphanage 1, cyclone shelter centre 1, co-operative society 301, women's organisation 62.
Main sources of income Agriculture 74.15%, non-agricultural labourer 3.97%, industry 0.21%, commerce 9.06%, transport and communication 1.66%, service 4.03%, construction 0.57%, religious service 0.36%, rent and remittance 0.22% and others 5.77%.
Ownership of agricultural land Landowner 58.43%, landless 41.57%; agricultural landowner: urban 58.83% and rural 58.36%.
Main crops Paddy, wheat, potato, pulse, mustard, sugarcane, ground nut.
Extinct or nearly extinct crops Local varieties of paddy, vegetables.
Main fruits Mango, jackfruit, litchi, banana, papaya, olive, coconut, shaddock, betel nut.
Fisheries, dairies and poultries Fishery 7, dairy 21, poultry 41.
Extinct or nearly extinct traditional transport Palanquin, bullock cart.
Noted manufactories Flour mill, rice mill, saw mill, ice factory.
Cottage industries Jute work, bamboo work.
Hats, bazars and fairs 'Shashiganj Hat, Khasher Hat (North), Khasher Hat (South), Yasinganj Hat, Choto Daury Hat, Bhuban Thakur Mela and' Shambhupur Mela are notable.
Main exports Ground nut, coconut, betel nut, potato.
Access to electricity All unions of the upazila are under rural electrification net-work. However 3.97% (urban 7.60% and rural 3.34%) of the dwelling households have access to electricity.
Sources of drinking water Tube-well 88.65%, tap 0.13%, pond 9.14% and others 2.08%.
Sanitation 19.71% (rural 16.63% and urban 49.32%) of dwelling households of the upazila use sanitary latrines and 69.55% (rural 72.15% and urban 44.66%) of dwelling households use non-sanitary latrines; 10.74% of households do not have latrine facilities.
Health centres Hospital 1, upazila health centre 1, union health and family planning centre 2, veterinary hospital 1.
Natural disasters About twenty two thousand people were victims of the cyclone and tidal bore of 1970; they also caused heavy damages to properties of the upazila. Besides, the flood of 29 April 1991 caused loss of life and heavy damages to properties of this region.
NGO activities Operationally important NGOs are brac, asa. [Bidhu Bhushan Roy]
References Bangladesh Population Census 2001, Bangladesh Bureau of Statistics; Cultural survey report of Tazumuddin Upazila 2007.