Turag Thana (Dhaka metropolitan) area 12.17 sq km, located in between 23°52' and 23°53' north latitudes and in between 90°21' and 90'23' east longitudes. It is bounded by gazipur sadar upazila on the north, pallabi thana on the south, Gazipur Sadar upazila and uttara thana on the east and savar upazila on the west.
Population Total 53558; male 28642, female 24916; Muslim 51545, Hindu 1878, Buddhist 121 and others 14.
Water bodies Main river: Turag; Tongi Khal (canal) and Thathir Beel are notable.
Administration Turag thana was formed on 27 June 2005 comprising part of Harirampur union of Uttara thana.
Thana
Union
Mouza
Population
Density (per sq km)
Literacy rate (%)
Urban
Rural
Urban
Rural
1 (part)
12
-
56973
4401
-
60.54
Union
Name of Union
Area (sq km)
Population
Literacy rate (%)
Male
Female
Harirampur Union (part)
12.17
28642
24916
60.54
Source Bangladesh Population Census 2001, Bangladesh Bureau of Statistics.
Religious institutions Mosque 90, temple 1, puja mandap (place of Hindu worship) 8. Noted religious institutions: Rosdia Jami Mosque, Turag Thana Shahi Jami Mosque, Baunia Baitus Sharif Jami Mosque, Dalipara Jami Mosque and Dhaur Shiva Mandir.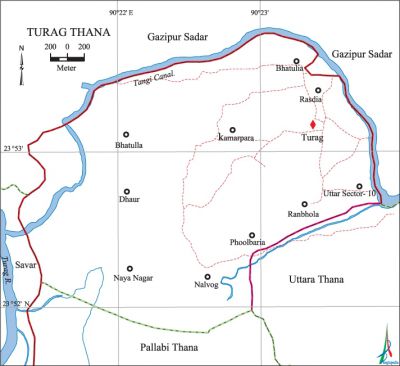 Literacy rate and educational institutions Average literacy 60.54%; male 65.62%, female 54.72%. Educational institutions: university 1, college 3, secondary school 6, primary school 26, kindergarten school 9, training centre 19, madrasa 25. Noted educational institutions:' International University of Business, Agriculture and Technology, Turag Business and Management College, Turag Management College, CSD College, Emerson High School and College, Kamarpara High School and College, Islami Education Society School and College, Diabari Model School, Baunia Abdul Jalil Ideal Government High School, Kamarpara Government Primary School and Dhaur Government Primary School.
Cultural Organisations Playground 3, community centre 7.
Important installation and tourist spot Priyanka Shooting Zone, Hotel Tajmahal, Kashmir Garden Shooting Zone and Amusement Centre.
Main sources of income Agriculture 11.37%, non-agricultural labourer 4.03%, industry1.21%, commerce 27.04%, transport and communication 5.66%, construction 4.30%, service 30.30%, religious service 0.24%, rent and remittance 2.13% and others 13.72%.
Ownership of agricultural land Landowner 43.97%, landless 56.03%.
Main crops Paddy, mustard seed, vegetables.
Extinct or nearly extinct crops Jute, wheat, pulse.
Main fruits Mango, jackfruit, banana, black berry, coconut.
Fisheries, dairies and poultries This thana has a number of fisheries, dairies and poultries.
Communication facilities Total road 16.20 km.
Extinct or nearly extinct traditional transport Palanquin, bullock cart.
Noted manufactories Garments industries, hosiery industry, sweater industry, chalk powder industry, paint and fabrics industry, rice mill, plastic industry, construction materials industry.'
Cottage industries Goldsmith, blacksmith, handicrafts, bamboo work, cane work, wood work.
Hats, bazars and shopping centers Hats and bazars are 12, most noted of which are Toslima Plaza, Kaliartek Bazar, Rupali Cooperative Market, Kamarpara Bazar, Rajabari Bazar, Bhai Bhai Super Market, Khairtek Bazar.
Main exports Paddy, vegetables, ready made garments, hosiery goods, sand, chalk powder, plastic goods.
Access to electricity All the unions and mouzas of the thana are under electrification net-work. However 89.02% of the dwelling households have access to electricity.
Sources of drinking water Tube-well 92.06%, tap 3.61%, pond 0.367% and others 3.97%.
Sanitation 82.50% of dwelling households of the upazila use sanitary latrines and 13.37% of dwelling households use non-sanitary latrines; 4.13% of households do not have latrine facilities.
Health centres Hospital 4, charitable dispensary 1, most noted of which are East West Medical College Hospital, Ahsania Mission Cancer Hospital, Turag Medical and Diagnostic Centre, Manamu General Hospital. [Lilyma Ahmed]
References Bangladesh Population Census 2001, Bangladesh Bureau of Statistics; field report of Turag Thana 2010.