Adabar Thana (Dhaka metropolitan) area 2.07 sq km, located in between 23'45' and 23'46' north latitudes and in between 90'20' and 90'22' east longitudes. It is bounded by darus salam thana on the north, mohammadpur thana on the south, sher-e-bangla nagar and Mohammadpur thanas on the east, savar upazila, Mohammadpur and Darus Salam thanas on the west.
Population 86540; male 47092, female 39448; Muslim 85238, Hindu 1079, Buddhist 190, Christian 28 and others 5.
Administration Adabar thana was formed on 27 June 2007 comprising part of Mohammadpur thana.
Thana
Ward
Mohalla
Population
Density (per sq km)
Literacy rate (%)
Urban
Rural
Urban
Rural

2




8




86540




-




41806




62.24




-
Ward
Name number of Ward
Area (sq km)
Population
Literacy rate (%)
Male
Female

Ward No. 43




1.64




42465




35541




59.63




Ward No. 46 (part)




0.43




4627




3907




64.86



Source Bangladesh Population Census 2001, Bangladesh Bureau of Statistics.
Religious institutions Mosque 25, most noted of which is Shia Mosque.
Literacy rate and educational institutions Average literacy 62.24%; male 67.14%, female 56.31%. Total number of educational institutions is 60, most noted of which is King Faisal Institute.
Main sources of income Agriculture 2.36%, non-agricultural labourer 30.00%, industry 2.47%, commerce 17.22%, transport and communication 5.46%, construction 4.02%, religious service 0.13%, service 24.61%, rent and remittance 2.43% and others 11.30%.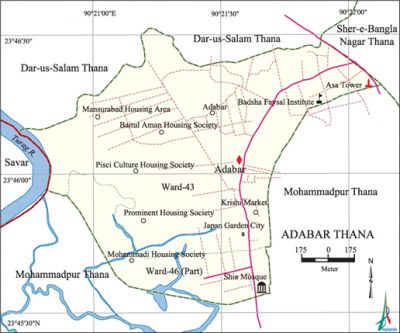 Ownership of agricultural land Landowner 54.45%, landless 45.55%.
Extinct or nearly extinct crop Paddy.
Extinct or nearly extinct traditional transport Bullock cart, palanquin.
Noted manufactories Garments, printing press, etc.
Cottage industries Pottery, woodworks, bamboo and cane work, goldsmith, etc.
Hats and bazars Hats and bazars are 5, most noted of which is Adabar Krishi Market.
Access to electricity All the wards of the thana are under electrification network; however 93.21% dwelling households have access to electricity.
Sources of drinking water Tube-well 4.37%, pond 0.02%, tap 94.11%, well o.23% and others 1.27%.
Sanitation 91.49% of dwelling households use sanitary latrines and 7.38% of dwelling houses use non-sanitary latrines; 1.13% of households do not have latrine facilities.
Health centres Health centre 3.
NGO activities Total number of NGOs are 15, most noted of which are brac and World Vision. [Sharif Khurshed Alam]
References Bangladesh Population Census 2001, Bangladesh Bureau of Statistics; Field report of Adabar Thana 2008.