Sher-E-Bangla Nagar Thana
Sher-e-Bangla Nagar Thana (Dhaka metropolitan) area 5.25 sq km, located in between 23°45' and 23°47' north latitudes and in between 90°22' and 90°23' east longitudes. It is bounded by mirpur model and darus salam thanas on the north, kalabagan thana on the south, kafrul and tejgaon thanas on the east and dhanmondi, adabar and mohammadpur thanas on the west.
Population Total 248871; male 135245, female 113626; Muslim 237555, Hindu 6622, Buddhist 4343, Christian 289 and others 62.
Administration Sher-E-Bangla Nagar Thana was formed on 4 August 2009 comprising parts of Tejgaon, Kafrul and Mohammadpur thanas.
Thana
Ward and Union
Mahalla and Mouza
Population
Density (per sq km)
Literacy rate (%)
Urban
Rural
Urban
Rural
1+3 (part)
16
248871
-
47404
71.67
-
Ward
Ward
Area (sq km)
Population
Literacy rate (%)
Male
Female
Ward no. 16 (part)
0.90
45322
39063
76.95
Ward no. 40 (part)
2.98
32972
40398
52.79
Ward no. 41
1.16
47827
\ 81.19
Ward no. 51 (part)
0.24
9124
26887
75.77
Source Bangladesh Population Census 2001, Bangladesh Bureau of Statistics.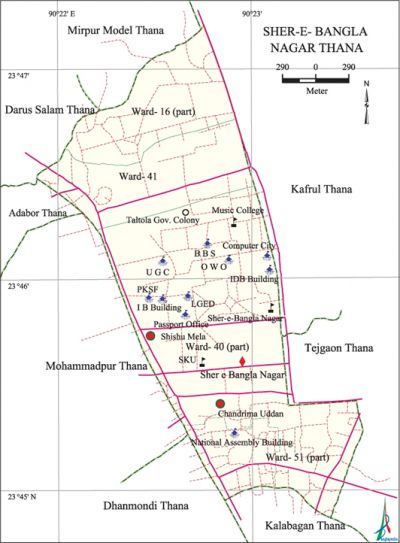 Noted religious institution Agargaon Jami Mosque.
Literacy rate and educational institutions Average literacy 71.67%; male 76.60%, female 65.73%. Noted educational institutions: Sher-e-Bangla Agricultural University (2001), Suhrawardy Medical College, Tejgaon College, Sher-e-Bangla Nagar Mohila College, New Model University College, Agargaon Taltala Colony High School and Girls' College, Sher-e-Bangla Nagar Boys' High School (1969), Naznin High School, Rajdhani High School, Sher-e-Bangla Nagar Girls' High School, New Model Momin Multilateral High School, Sukrabad Multilateral High School, Agargaon Ideal High School, Halima Foundation Model High School, Dhanmondi Government High School, Shahid Shahabuddin Memorial High School, Lions Agragati Shikkha Niketan, Mohila Polytechnique Institute, Agargaon Madrasa.
Noted installations Jatiya Sangsad Bhaban (National Assembly Building), Gana Bhaban, Bangabandhu International Conference Centre, Chandrima Uddan, graveyard of Shahid President ziaur rahman, National Science and Technology Museum, Election Commission Secretariat, Planning Commission, Directorate of Passport and Immigration, LGED Bhaban, University Grants Commission, Bureau of Statistics, BCS Computer City, Bangladesh Computer Council, IDB Bhaban, Abhawa (weather) Bhaban, Ban (forest) Bhaban, Directorate of Social Welfare, Headquarters of Coast Guard, PKSF, Bangladesh Public Service Commission, BIDS, Directorate of Bangladesh Technical Education, Bangladesh Islamic Foundation, National Library, Ministry of Defense, Irrigation Bhaban, Jute Research Institute, Probin Hitoishi Sangha, Betal Bhaban, National Archives.
Tourist spots and amusement centres Jatiya Sangsad Bhaban, National Science and Technology Museum, Chandrima Uddan, Shishu Mela.
Main sources of income Agriculture 1.48.72%, Non-agricultural labourer 2.60%, industry 3.43%, commerce 21.55%, transport and communication 11.79%, service 38.53%, construction 3.72%, religious service 0.17%, rent and remittance 2.20% and others 14.53%.
Ownership of agricultural land Landowner 51.25%, landless 48.75%.
Communication facilities Total roads: 75.37 km.
Shopping centres and fairs Farm View Super Market, Sezan Point, Green Super Market, Prince Plaza, Mahbub Plaza, Mohammadia Super Market and International Trade Fair.
Access to electricity All the wards of the thana are under electrification net-work. However 93.55% of the dwelling households have access to electricity.
Sources of drinking water Tube-well 28.20%, tap 69.07%, pond 0.11% and others 2.62%.
Sanitation 67.99% of dwelling households of the thana use sanitary latrines and 29.57%' of dwelling households use non-sanitary latrines; 2.44% of households do not have latrine facilities.
Health centres National Rheumatic Fever and Cardiac Hospital, Shahid Suhrawardy Hospital, National Ophtalmic Institute and Hospital, National Cardiac Institute, National Institute of Kidney Diseases and Urology, National Mental Health Institute, Dhaka Shishu Hospital, National Orthopedics Hospital and Rehabilitation Centre. [Shamsun Nahar]
References Bangladesh Population Census 2001, Bangladesh Bureau of Statistics.