Darus Salam Thana (Dhaka metropolitan) area 4.98 sq km, located in between 23°46' and 23°48' north latitudes and in between 90°20' and 90°21' east longitudes. It is bounded by shah ali thana on the north, adabar thana on the south, sher-e-bangla nagar and mirpur model thanas on the east, savar upazila on the west.
Population Total 198723; male 110410, female 88313; Muslim 192066, Hindu 6078, Buddhist 490, Christian 72 and others 17.
Water bodies Main river: turag. '
Administration Darus Salam Thana was formed on 23 August 2008 comprising part of Mirpur Model Thana.
Thana
Ward
Mahalla
Population
Density (per sq km)
Literacy rate (%)
Urban
Rural
Urban
Rural
2+2 (part)
20
198723
-
39904
67.58
-
Ward
Ward
Area (sq km)
Population
Literacy rate (%)
Male
Female
Ward No. 9
2.37
28932
21291
58.45
Ward No. 10
1.14
34677
28394
65.14
Ward No. 11 (part)
1.00
26145
21551
70.79
Ward No. 11 (part)
0.47
20656
17077
75.94
Source  Bangladesh Population Census 2001, Bangladesh Bureau of Statistics.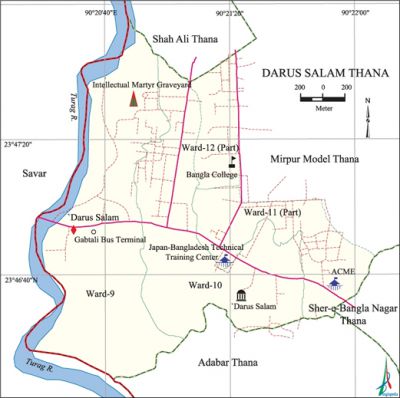 History of the War of Liberation During the war of liberation in 1971 the Pak army in collaboration with the Razakars killed many people including the intellectuals. In memory of the martyrs a memorial has been established in this thana.
Marks of the War of Liberation Mass grave 1, Martyr Intellectuals' memorial monument 1.
Religious institutions Darus Salam Mosque, Kallayanpur Jami Mosque, Kallayanpur Housing Jami Mosque, Lalkuthi Baro Mosque are notable.
Literacy rate and educational institutions Average literacy 67.58%; male 73.61%, female 68.06%. Most noted educational institutions: Japan-Bangladesh Technical Institute, Mirpur Bangla College, Kallayanpur Girls' School and College, FM International College.
Cultural organisations Community centre 1, playground 5, cinema hall 2.
Important establishments' Gabtali Bus Terminal, Kallayanpur BRTC Bus Depot, ACME headquarter.
Main sources of income Agriculture 1.24%, non-agricultural labourer 3.39%, industry 3.88%, commerce 31.42%, transport and communication 11.25%, construction 3.67%, religious service 0.15%, service 37.88%, rent and remittance' 2.75% and others 4.37%.
Ownership of agricultural land Landowner 55.05%, landless 44.95%.
Main crops Paddy, vegetables.
Extinct or nearly extinct crops Jute, sesame, mustard.
Main fruits Mango, jackfruit, banana, papaya.
Communication facilities Total road 34.08 km.
Extinct or nearly extinct traditional transport Palanquin, bullock cart and horse carriage.
Noted manufactories Garments factory and pharmaceuticals industry.
Cottage industries Tailoring, embroidery.
Bazars and shopping centres' Khaja Market, Kallayanpur Nutan Bazar, Gabtali Bazar, Lalkuthi Bazar are notable.
''Main exports ' Readymade garments.
Access to electricity All the wards of the thana are under electrification net-work. However 97.22% of the dwelling households have access to electricity.
Sources of drinking water Tube-well 21.76%, tap 76.02%, pond 0.10% and others 2.12%.
Sanitation 87.47% of dwelling households of the thana use sanitary latrines and 10.87% of dwelling households use non-sanitary latrines; 4.89% of households do not have latrine facilities.
Health centres Ibn-Sina Medical Hospital, ISMCH Hospital, Delta Hospital Limited, Selina General Hospital, Diabetic Hospital are notable.
NGO activities Operationally important NGOs are brac, asa. [Rajib Mondal]
References Bangladesh Population Census 2001, Bangladesh Bureau of Statistics.