Badarganj Upazila (rangpur district) area 301.28 sq km, located in between 25°32' and 25°46' north latitudes and 88°56' and 89°10' east longitudes. It is bounded by taraganj, rangpur sadar and saidpur upazilas on the north, nawabganj (dinajpur) and parbatipur upazilas on the south, Rangpur Sadar and mithapukur upazilas on the east, Parbatipur upazila on the west.
Population Total 287746; male 144254, female 143492; Muslim 252050, Hindu 32791, Buddhist 39, Christian 1692 and others 1174.
Water bodies Main rivers: Jamuneshwari, Chirnai, Katgara; Bhelakoba, Nandair, Chaprar, Haribhanga, Bashdaha, Varardaha, Patil Vasa, Saila and' Boali beels are notable.
Administration Badarganj Thana was formed in 1793 and it was turned into an upazila in 1983.
Upazila
Municipality
Union
Mouza
Village
Population
Density (per sq km)
Literacy rate (%)
Urban
Rural
Urban
Rural
1
10
63
120
25286
262460
955
57.9
41.5
Municipality

Area
(sq km)

Ward

Mahalla

Population

Density
(per sq km)

Literacy rate
(%)

3.88
9
12
25286
6517
57.9
Union
Name of union and GO code
Area (acre)
Population
Literacy rate (%)
Male
Female
Kutubpur 63
7189
11710
11704
38.0
Kalupara 16
7188
9870
9827
44.3
Gopalpur 31
5490
14176
14076
40.4
Gopinathpur 37
7264
12469
12605
49.8
Damodarpur 25
8397
14252
14058
35.3
Bishnupur 18
8066
14948
14912
40.0
Madhupur 75
7340
15741
15516
38.9
Radhanagar 82
5613
11494
11599
39.4
Ramnathpur 88
8700
14569
14663
44.3
Lohani Para 69
8366
12099
12172
46.3
Source Bangladesh Population Census 2011, Bangladesh Bureau of Statistics.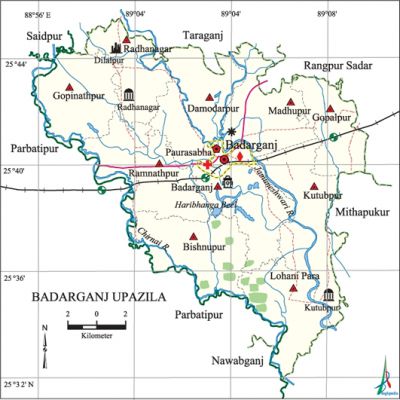 Archaeological heritage and relics Nine-domed Mosque at Lal Dighir Par of Radhanagar union (Mughal period), tomb of Kutub Shah at Kutubpur union, Bakhtyar Danga, Bhim Garh at Mansinghapur, Madai Khamar, Zamindar Bari at Dilalpur, Baroari Kali Mandir (BS. 1305) Sree Sree Praneswari Kali Mandir (BS. 1310), Gopinathpur Ashram and Mandir (BS. 1335), ruins of Jalubar Mandir, Ghatabeel Mandir, Burir Mandap, Shiva Mandir at Sekher Hat.
Historical events Badarganj was a part of Barind region during the eleventh century. The king of the Barind area, Mahipal II used to collect taxes mercilessly. As a result the kaibarta (fishermen) community rebelled against the king in 1071. The people of this region took part in anti British fakir-sannyasi resistance and Krishak Praja Bidraha (peasant-tenant rebellion) during 1760 to 1812. The indigo planters of Badarganj constructed a number of Neekhutis including Hariar Kuthi and Chandamari Kuthi. It is known that the peasants of Badarganj participated in indigo resistance movement during 1859-1862. Besides, tebhaga movement in favour of the sharecroppers, was held under Haji mohammad danesh of Dinajpur in which Darajuddin Mandal, Comrade Jiten Datta, Chhayen Uddin participated.
War of Liberation During the war of liberation Badarganj was a free zone in the period between 2 April and 14 April. The freedom fighters destroyed the railway lines to disrupt the movement of the Pak army. On 17 April 1971 the Pak army and their local collaborators conducted mass killings and set the villages Khalisa Hajipur, Bujruk Hajipur, Ghatabeel and Ramnathpur on fire. There are mass killing sites at Jharuar Beel and Padmapukur of the upazila.
For details: see বদরগঞ্জ উপজেলা, বাংলাদেশ মুক্তিযুদ্ধ জ্ঞানকোষ (Encyclopedia of Bangladesh War of Liberation), বাংলাদেশ এশিয়াটিক সোসাইটি, ঢাকা ২০২০, খণ্ড ৬।
Religious institutions Mosque 315, temple 32, church 6, sacred place 1.
Literacy rate and educational institutions Average literacy 43.0%; male 45.0%, female 41.0%. Educational institutions: college 7, secondary school 53, primary school 161, satellite 9, madrasa 41. Noted educational institutions: Badarganj Degree College, Bakshmiganj High School and College, Radhanagar Bilateral High School (1920).
Newspapers and periodicals daily Dainik Rangpurer Kagoj; Magazine: Batayan (BS. 1409), Sanko (2006).
Cultural organisations Library 9, theatre group 6, theatre stage 1, women organisation 3, cinema hall 2.
Important establishments Shampur Sugar Mill, Bangladesh Sugar and Food Industries Corporation.
Main sources of income Agriculture 69.54%, non-agricultural labourer 3.32%, industry 0.48%, commerce 13.8%, transport and communication 2.25%, service 4.58%, construction 0.75%, religious service 0.2%, rent and remittance 0.07% and others 5.01%.
Ownership of agricultural land Landowner 41.42%, landless 50.58%; agricultural landowner: urban 36.56% and rural 51.26%.
Main crops Paddy, jute, wheat, potato, mustard seed, tobacco, vegetables.'
Extinct or nearly extinct crops Kaun, sesame, pulse.
Main fruits Mango, banana, blackberry, jamrul, custard-apple.
Fisheries, dairies and poultries This upazila has a number of fisheries, dairies and poultries.
Communication facilities Pucca road 148 km, semi-pucca road 10 km, mud road 494 km; railway 12 km.
Extinct or nearly extinct traditional transport Palanquin, horse carriage, bullock cart.
Noted manufactories Sugar mill, rice mill, flour mill, threshed rice (chira) mill, ice cream factory, welding, steel factory, brick field, cold-storage.
Cottage industries Goldsmith, blacksmith, potteries, weaving, wood work, sataranji industry, bidi factory, tailoring, bamboo work.
Hats, bazars and fairs Hats and bazars are 43, fairs 7; most noted of which are Badarganj Hat, Laldighi Hat, Kutubpur Hat, Bagmara Hat, Faridpur Hat, Bakshmiganj Hat, Mominpur Hat, Sekher Hat, Teker Hat, Pathaner Hat, Chilapaker Hat, Shampurer Hat, Nager Hat, and Badarganj Mela, Bakshmiganj Mela, Sekher Hat Baruni Mela, Karatoa Mela, Burir Parban Mela and Charak Mela.
Main exports Paddy, wheat, mango, jute, vegetables.
Access to electricity All the wards and unions of the upazila are under rural electrification net-work. However 29.4% of the dwelling households have access to electricity.
Sources of drinking water Tube-well 96.7%, tap 0.6% and others 2.7%.
Sanitation 28.5% of dwelling households of the upazila use sanitary latrines and 45.2% of dwelling houses use non-sanitary latrines; 26.3% of households do not have latrine facilities.
Health centres Upazila health complex 1, health centre 1, union health and family welfare centre 10, private clinic 1.'
Natural disasters Famine occurred in Badarganj in 1770, 1944 and 1947. Besides, many people died due to epidemics like cholera and small pox. There was heavy casualties occurred due to earth quake in 1897.
NGO activities Operationally important NGOs are brac, asa, rdrs, Seba. [Abdus Sattar]
References Bangladesh Population Census 2001 and 2011, Bangladesh Bureau of Statistics; Cultural survey report of Badarganj Upazila 2007.