Saidpur Upazila (nilphamari district) area 121.68 sq km, located in between 25°44' and 25°52' north latitudes and in between 88°51' and 89°01' east longitudes. It is bounded by nilphamari sadar and kishoreganj (Nilphamari) upazilas on the north, badarganj and parbatipur upazilas on the south, taraganj upazila on the east, chirirbandar and khansama upazilas on the west.
Population Total 232209; male 121628, female 110581; Muslim 215061, Hindu 16669, Buddhist 394, Christian 14 and others 71.
Water bodies Main rivers: Kharkharia, Chikali.
Administration Saidpur Thana, now an upazila, was formed in 1915.
Upazila
Municipality
Union
Mouza
Village
Population
Density (per sq km)
Literacy rate (%)
Urban
Rural
Urban
Rural

1

5

42

40

119666

112543

1908

57.8

37.9
Municipality

Area (sq km)

Ward

Mahalla

Population

Density (per sq km)

Literacy rate (%)

34.49

15

43

112609

3265

56.3
Upazila Town

Area
(sq km)

Mouza

Population

Density (per sq km)

Literacy rate (%)

-

2

7057

-

80.9
Union
Name of union and GO code
Area (acre)
Population
Literacy rate (%)
Male
Female

Kamar Pukur 40

4197

11657

10749

41.24

Kushiram Belpukur 67

5496

13620

12235

36.83

Bangalipur 23

2521

8610

8181

46.66

Bothlagari 27

4492

15871

14666

38.21

Khata Madhupur 54

4854

10083

9344

29.23
Source Bangladesh Population Census 2001, Bangladesh Bureau of Statistics.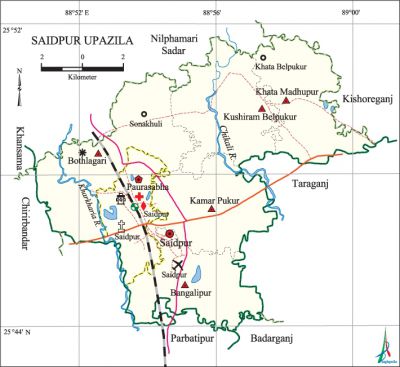 Archaeological heritage and relics Chini Mosque at Islambagh (1863), Nat Settlement Prison at Natun Babu Para (1871), Martuza Institute at' Saidpur town (1882), Saidpur Church (1893), Christian Church' of Bangladesh (1906).
Historical events Once Saidpur was under the kingdom of Kamrupa. Alauddin Hussain Shah, Sultan of Gaur, built a fort at Kellabari Hat near Saidpur during his invasion of Kamrupa. He used to launch attack against the kingdom of Kamrupa from this fort. The descendants of Hussain Shah received jagir in this region. On 23 March 1971, the non-Bengali Beharis killed a number of innocent Bangalis in this upazila. On 7 April, the Pak army conducted mass killing and torture in the upazila. Besides, on 23 June the Pak army shot' 350 innocent Bangalis dead at Golahat.
Marks of the War of Liberation Mass killing site 1 (Golahat).
Religious institutions Mosque 240, temple 37, church 2. Noted religious institutions: Chini Mosque at Islambagh, Saidpur Central Jami Mosque, Mistripara Shiva Mandir and Kali Mandir, Christian Church' of Bangladesh (1906).
Literacy rate and educational institutions Average literacy 48.5%; male 54.1%, female 42.4%. Educational institutions: college 5, homeopathic college 1, technical college 1, secondary school 35, primary school 78, kindergarten 5, madrasa 20, orphanage 6. Noted educational institutions: Saidpur College (1953), Saidpur Mohila Degree College (1981), Kamarpukur Degree College (1995), Saidpur Government Technical College (1967), Homeopathic College (1973), Saidpur Cantonment Public School and College, Saidpur Model Girls' School and College (2002), Saidpur Pilot High School (1906), Tulshiram Girls' High School (1914), Sonakhuli Kamil Madrasa (1935), Al Jamiatul Islamia Darul-Ulam Madrasa (1945).
Newspapers and periodicals Weekly: Alapan, Saidpur Barta, Janasamasya, Manab Samasya, Dag; monthly: Trino, Atandro; quaterly: Diganta.
Cultural organizations Library 5, club 35, cinema hall 4, theatre stage 1, music school 3, theatre group 9, circus party 1, literary organisation 2.
Main sources of income Agriculture 35.39%, non-agricultural labourer 5.20%, commerce 18.77%, transport and communication 6.39%, service 17.70%, construction 2.34%, religious service 0.26%, rent and remittance 0.62% and others 13.33%.
Ownership of agricultural land Landowner 35.74%, landless 64.26%; agricultural landowner: urban 26.53% and rural 44.08%.
Main crops Paddy, jute, wheat, potato, tobacco, ginger, garlic, onion, vegetables.
Extinct or nearly extinct crops Sesame, mustard.
Main fruits Mango, blackberry, jackfruit, guava, palm.
Fisheries, dairies and poultries Fishery 32, dairy 18, poultry 147.
Communication facilities Pucca road 51.75 km, semi-pucca road 400.86 km; railway 6 km. Airport 1.
Extinct or nearly extinct traditional transport Palanquin, horse carriage, bullock cart.
Noted manufactories Rice mill, flour mill, ice factory, railway workshop, biscuit factory, brick field, welding factory, bidi factory, aluminium factory.
Cottage industries Goldsmith, blacksmith, potteries, weaving, wood work, bamboo work.
Hats, bazars and fairs Hats and bazars are 20, fairs 2, most noted of which are Trimohani Hat, Sepaiganj Hat, Hazari Hat, Porarhat, Chaora Hat, Kamar Pukur Hat, Dangar Hat, Satpai Hat, Karkhanagate Bazar, Rail Bazar and Porarhat Mela.
Main exports Paddy, jute, wheat, vegetables, aluminium goods, biscuit.
Access to electricity All the wards and unions of the upazila are under rural electrification net-work. However 41.49% of the dwelling households have access to electricity.
Sources of drinking water Tube-well 90.99%, tap 2.18%, pond 0.31% and others 6.52%.
Sanitation 35.38% (rural 8.75% and urban 64.76%) of dwelling households of the upazila use sanitary latrines and 21.83% (rural 20.73% and urban 23.04%) of dwelling households use non-sanitary latrines; 42.79% of households do not have latrine facilities.
Health centres Upazila health complex 1, railway hospital 1, eye hospital 1, diabetic hospital 1, child and maternity hospital 1, school health centre 1, family planning centre 5, clinic 5.'
NGO activities Operationally important NGOs are brac, asa, Life Bangladesh, Seba. [Abdus Sattar]
References Bangladesh Population Census 2001, Bangladesh Bureau of Statistics; Cultural survey report of Saidpur Upazila 2007.