Nasirnagar Upazila (brahmanbaria district) area 294.36 sq km, located in between 24°05' and 24°16' north latitudes and in between 91°02' and 91°20' east longitudes. It is bounded by lakhai and austagram upazilas on the north, sarail and brahmanbaria sadar upazilas on the south, madhabpur upazila on the east, bajitpur and Austagram upazilas on the west.
Population Total 309011; male 150577, female 158434; Muslim 258593, Hindu 50351, Buddhist 5, Christian 24 and others 38.
Water bodies Main rivers: meghna, titas, Kulkulia, Haral, Balbhadra.
Administration Nasirnagar Sub-division was formed in 1860 and it was renamed as' Brahmanbaria Sub Division in 1875. Nasirnagar Thana was formed in 1910 and it was turned into an upazila on 1 August 1983.
Upazila
Municipality
Union
Mouza
Village
Population
Density (per sq km)
Literacy rate (%)
Urban
Rural
Urban
Rural
-
13
98
128
14928
294083
1050
49.2
34.2
Upazila Town

Area (sq km)

Mouza

Population

Density (per sq km)

Literacy rate (%)

18.22
2
14928
819
49.2
Union
Name of union and GO code
Area (acre)
Population
Literacy rate (%)
Male
Female
Kunda 80
7237
12375
13400
28.3
Guniak 65
2908
6435
6798
29.3
Gokarna 58
9566
14705
16311
36.8
Goalnagar 51
6016
8561
8571
35.8
Chatalpar 29
5839
22117
21969
38.8
Chapartala 21
3038
7254
8148
34.9
Dhar Mandal 36
4270
10022
10524
29.0
Nasirnagar 87
7121
12518
13663
47.0
Purbabagh 94
2125
8824
9360
40.7
Fandauk 43
4324
8150
8517
33.2
Bolakot 17
7639
14250
13864
29.7
Burishwar 14
8240
15042
16121
28.8
Haripur 73
4415
10324
11188
37.2
Source Bangladesh Population Census 2011, Bangladesh Bureau of Statistics.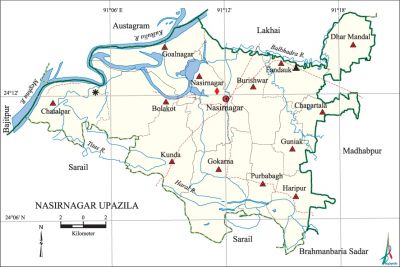 Archaeological heritage and relics Jagannath Mandir (1917), Hindu Mandir at Fandauk (Mughal period), Remnants of Zamindar Bari at Haripur, embraced statue of Uma and Maheshwar (preserved in the National Museum, Dhaka).
War of Liberation On 15 November 1971 the Pak army brutally killed many people of different villages under Kunda, Gokarna, Bolakot and Nasirnagar unions. An encounter was held between the freedom fighters and the Pak army at Battala of village Tullapara in which 17 Pakistani soldiers including one razakar were killed. In another encounter with the Pak army in village Fulbaria one freedom fighter was killed.
For details: see নাসিরনগর উপজেলা, বাংলাদেশ মুক্তিযুদ্ধ জ্ঞানকোষ (Encyclopedia of Bangladesh War of Liberation), বাংলাদেশ এশিয়াটিক সোসাইটি, ঢাকা ২০২০, খণ্ড ৫।
Religious institutions Mosque 298, temple 39, tomb 4. Noted religious institutions: Kahetura Mosque, Nurpur Barrobari Mosque, Guniak Bazar Jami Mosque, Khandura Mazar Sharif, Fandauk Dargah Sharif, Kachua Darbar Sharif, Dantmandal Ajijia Darbar Sharif, Fandauk Mandir, Jagannath Mandir, Gaur Mandir, Gopinath Jeu Mandir.
Literacy rate and educational institutions Average literacy 34.9%; male 35.9%, female 34.0%. Educational institutions: college 2, secondary school 15, primary school 115, madrasa 7. Noted educational institutions: Nasirnagar College (1987), Guniak High School (1897), Chatalpar Wazuddin High School (1902), Fandauk Pandit Ram High School (1919), Nasirnagar Ashutosh Pilot High School (1945), Dantmandal Erfania Alim Madrasa (1950).
Newspapers and periodicals Nasirnagar Barta; quaterly: Siri.
Cultural organisations Library 3, club 1, community centre 1, cinema hall 2.
Main sources of income Agriculture 71.81%, non-agricultural labourer 3.44%, industry 0.60%, commerce 11.95%, transport and communication 1.34%, service 2.82%, construction 0.66%, religious service 0.39, rent and remittance 0.96% and others 6.03%.
Ownership of agricultural land Landowner 64.40%, landless 35.60%; agricultural landowner: urban 51.98% and rural 65.06%.
Main crops Paddy, jute, mustard, wheat, betel leaf, pulse, vegetables.
Extinct or nearly extinct crops Sesame, linseed, kaun, arahar, mug, masuri.
Main fruits Mango, jackfruit, blackberry, banana, papaya.
Fisheries, dairies and poultries This upazila has a number of fisheries, dairies and poultries.
Communication facilities Pucca road 63.45 km, semi-pucca road 9.24 km, mud road 343.22 km; waterway 70 km.
Extinct or nearly extinct traditional transport Palanquin, horse carriage, bullock cart.
Noted manufactories Rice mill, flour mill, ice factory, saw mill, welding factory.
Cottage industries Blacksmith, potteries, weaving, bamboo and cane work.
Hats, bazars and fairs Hats and bazars are 26, fairs 13, most noted of which are Nasirnagar Bazar, Fandauk Bazar, Chatalpar Bazar, Harinber Bazar, Baishakhi Mela at Kulikunda, Kartik Mela at Bolakot, Austami Snan Mela at Fandauk, Sidheshari Mela at Gokarna, Shutki Mela at Kulikunda.
Main exports Paddy, jute, betel leaf, dried fish, mustard.
Access to electricity All the unions of the upazila are under rural electrification net-work. However 33.1% of the dwelling households have access to electricity.
Sources of drinking water Tube-well 90.0%, tap 0.2% and others 9.8%.
Sanitation 50.8% of dwelling households of the upazila use sanitary latrines and 44.1% of dwelling households use non-sanitary latrines; 5.1% of households do not have latrine facilities.
Health centres Upazila health complex 1, rural health centre 1, satellite clinic 3, union family welfare centre 11.
Natural disasters The cyclone of 1971 devastated Chapartala and Chitna villages; besides, the floods of 1974 and 1988 caused heavy damages to settlements and other properties of this region.
NGO activities Operationally important NGOs are brac, asa, Save the Children, proshika. [Md. Abul Kasem Bhuiyan]
References Bangladesh Population Census 2001 and 2011, Bangladesh Bureau of Statistics; Cultural survey report of Nasirnagar Upazila 2007.