Barkal Upazila (rangamati district) area 760.88 sq km, located in between 23°39' and 23°14' north latitudes and in between 92°11' and 92°29' east longitudes. It is bounded by baghaichhari and langadu upazilas on the north, juraichhari upazila on the south, Mizoram (India) on the east and Langadu and rangamati sadar upazilas on the west.
Population Total 39781; male 21892, female 17889; Muslim 8554, Hindu 591, Buddhist 300, Christian 30320 and others 16.
Water bodies Main river: karnafuli; kaptai lake is notable.'
Administration Barkal Thana was formed in 1923 and it was turned into an upazila in 1985.
Upazila
Municipality
Union
Mouza
Village
Population
Density (per sq km)
Literacy rate (%)
Urban
Rural
Urban
Rural

-

5

28

164

1666

38115

52

64.27

34.76
Upazila Town

Area (sq km)

Mouza

Population

Density
(per sq km)

Literacy rate (%)

12.95

1

1666

129

64.3
Union
Name of union and GO code
Area (acre)
Population
Literacy rate (%)
Male
Female

Aiba Chhara 15

34420

3495

3023

33.51

Bara Harina 31

39680

2473

2061

26.94

Barkal 47

33920

3107

2436

42.52

Bhushan Chhara 63

49280

7420

5835

32.50

Shublong 79

30720

5397

4534

42.75
Source Bangladesh Population Census 2001, Bangladesh Bureau of Statistics.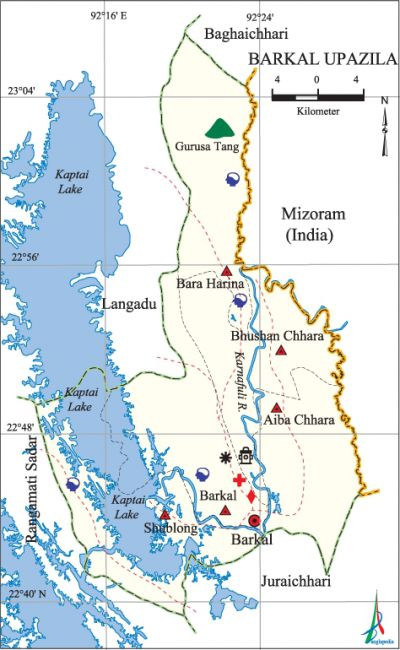 Historical events The atrocities of the Kukis increased in this region during the early part of the British rule in India. The British Government established separate district administration to control the Kukis in 1860. The government launched an extensive operation in 1872 from Tripura, Kachhar and chittagong hill tracts and destroyed the Kukis' hideouts in Lusai or Mizoram region. In 1891 and 1893 the final campaign for elimination of the Kukis were executed.
Religious institutions Mosque 7, temple 7, buddhist temple 29, church 3.
Literacy rate and educational institutions Average literacy 36.1%; male 47.1%, female 22.5%. Noted educational institutions: Barkal High School, Bilchhara High School, Bhaimithai Primary School, Laijugram Primary School, Dhanubag Primary School.
Tourist spots Shublong waterfall.
Main sources of income Agriculture 83.46%, non-agricultural labourer 2.19%, commerce 5.87%, service 2.54%, construction 0.08%, religious service 0.07%, rent and remittance 0.03% and others 5.76%.
Ownership of agricultural land Landowner 66.31%, landless 33.69%; agricultural landowner: urban 48.85% and rural 66.86%.
Main crops Paddy, cotton, sesame, ginger, turmeric, vegetables.
Main fruits Jackfruit, banana, pineapple, watermelon.
Fisheries, dairies and poultries This upazila has a number of fisheries, dairies and poultries.'
Communication facilities Semi-pucca road 5 km, mud road 436 km.
Manufactories Steel mill.
Cottage industries Blacksmith, weaving, bamboo work, cane work, wood work.
Hats, bazars and fairs Shublong Bazar, Choto Harina Bazar and Barkal Bazar.
Main exports Banana, wood, bamboo, cotton, sesame.
Access to electricity All the unions of the upazila are under rural electrification net-work. However 4.15% dwellings have access to electricity.
Sources of drinking water Tube-well 16.43%, tap 17.59%, pond 10.93% and others 71.33%.
Sanitation 5.37% (urban 29.49% and rural 4.61%) of dwelling households of the upazila use sanitary latrines and 85.37% (urban 64.06% and rural 86.04%) of dwelling households use non-sanitary latrines; 9.26% of households do not have latrine facilities.'
Health centres Hospital 1, Upazila health complex 1.
NGO activities Junopahar. [Atikur Rahman]
References Bangladesh Population Census 2001, Bangladesh Bureau of Statistics; Cultural survey report of Barkal Upazila 2007.