Rangamati Sadar Upazila (rangamati district) area 546.49 sq km, located in between 22°30' and 22°49' north latitudes and in between 92°04' and 92°22' east longitudes. It is bounded by naniarchar and langadu upazilas on the north, kaptai and belaichhari upazilas on the south, barkal and juraichhari upazilas on the east, kawkhali upazila on the west.
Population Total 99261; male 54490, female 44771; Muslim 39759, Hindu 12156, Buddhist 922, Christian 46208 and others 216. Indigenous communities such as chakma, marma, tanchangya, tripura, Khumi, Chak, lushei, pankho belong to this upazila.
Water bodies Main river: karnafuli; kaptai lake took the one-third area of the upazila.
Administration Rangamati Sadar Thana was turned into an upazila in 1983.
Upazila
Municipality
Union
Mouza
Village
Population
Density (per sq km)
Literacy rate (%)
Urban
Rural
Urban
Rural

1

6

21

162

66836

32425

182

70.1

38.6
Municipality

Area (sq km)

Ward

Mahalla

Population

Density (per sq km)

Literacy rate (%)

64.75

6

36

66836

1032

70.10
Union
Name of union and GO code
Area (acre)
Population
Literacy rate (%)
Male
Female

Kutuk Chhari 54

11520

3004

2701

43.09

Jibtali 40

13440

1658

1154

48.13

Banduk Bhanga 13

20480

3540

3303

42.96

Balukhali 27

43520

3241

2858

30.29

Magban 67

20480

2931

2650

37.39

Sapchhari 81

9600

2897

2488

33.50
Source Bangladesh Population Census 2001,Bangladesh Bureau of Statistics.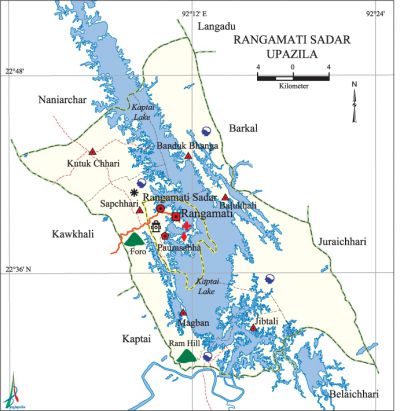 Historical events Ranagamati Sadar upazila was under Sector 1 during the war of liberation. On 27 March 1971 a temporary training camp of the freedom fighters was established in the playground of the Station Club. On 29 March a group of 60 freedom fighters crossed over to India to receive arms training. On 2 April then Deputy Commissioner Hossain Towfiq Imam distributed a huge amount of money and arms and ammunitions (belonging to Police, EPR and Ansar) to the freedom fighters from the treasury. On 10 April the first group of freedom fighters returned back to Rangamati and later on they gave arms training to freedom fighters of different areas. On 20 May 1992 an encounter was held between the indigenous people and the Bangalis. As per the chittagong hill tracts peace accord in 1997, the headquarters of the Anchalik Parishad (regional council) was established in Rangamati Town.
Marks of the War of Liberation Memorial sculpture 1 (Station Club Field).
Religious institutions Mosque 31, temple 14, church 2, pagoda 40, sacred place 1, tomb 1, ashrama 3.
Literacy rate and educational institutions Average literacy 60.2%; male 66.4%, female 52.5%. Educational institutions: college 2, polytechnic institute 1, technical training institute 1, pali college 3, secondary school 48, primary school 104, community school 6, kindergarten 6. Noted educational institutions: Rangamati Government College, Rangamati Government Mohila College, Rangamati Government High School (1862), Narangiri Government High School, Rani Dayamayi High School, Sapchhari High School, Manghar Residential High School, Lakers Public School, Rangamati Senior Madrasa.
Newspapers and periodicals Daily: Giri Darpan, Rangamati, Parbatta Barta; weekly: Banabhumi, Parbatta Barta; monthly: School Barta.
Cultural organisations Library 2, club 31, cinema hall 1, shilpakala academy 1, shishu academy 1, women's organisation 16, literary society 1, cultural group 3, playground 7. Noted cultural organisations are Tribal Cultural Institute (1976), Jhum Aesthetic Council.
Tourist spots Rangamati Lake, Chakma Rajbari, Buddhist Vihara at Rajban, Hanging Bridge, Shuvolong Water Fall, Furaman Hill, Tribal Cultural Institute and Museum, Memorial Sculpture of the War of Liberation.
Main sources of income Agriculture 28.27%, non-agricultural labourer 7.51%, commerce 19.25%, service 25.12%, construction 2%, rent and remittance 1.33% and others 16.52%.
Ownership of agricultural land Landowner 48.01%, landless 51.99%; agricultural landowner: urban 39.39% and' rural 65.48%.'
Main crops Paddy, sugarcane, maize, pulse, cotton, tobacco, potato.
Extinct or nearly extinct crops Mustard, kaun.
Main fruits Mango, jackfruit, litchi, banana, pineapple, papaya, lemon.
Fisheries, dairies and poultries Fishery 33, dairy 19, poultry 65.
Communication facilities Pucca road 228 km, semi-pucca road 20 km, mud road 267 km; waterway 59.4 nautical miles.
Cottage industries Goldsmith, blacksmith, potteries, weaving, bamboo work, wood work.
Hats, bazars and fairs Hats and bazars are 17, fairs 2, most noted of which are Manikchhari Hat, Rangapani Hat, Jibtali Hat, Awlad Hat, Banduk Bhanga Bazar, Bara Mainimukh Bazar and Rangamati Natun Bazar.
Main exports Jackfruit, lemon, pineapple.
Access to electricity All the wards and unions of the upazila are under rural electrification net-work. However 55.71% of the dwelling households have access to electricity.
Sources of drinking water Tube-well 42.14%, tap 30%, pond 6.11% and others 21.75%.
Sanitation 39.35% (rural 9% and urban 54.28%) of dwelling households of the upazila use sanitary latrines and 54.08% (rural 77.71% and urban 42.42%) of dwelling households use non-sanitary latrines; 6.59% of households do not have latrine facilities.
Health centres Hospital 2, clinic 3, family planning centre 3.
NGO activities Operationally important NGOs are brac, proshika, asa, Adibasi Unnayan Centre. [BH Soraowardi]
References Bangladesh Population Census 2001, Bangladesh Bureau of Statistics; Cultural survey report of Rangamati Sadar Upazila 2007.