Char Rajibpur Upazila (kurigram district) area 111.03 sq km, located in between 25°23 and 25°31 north latitudes and in between 89°44 and 89°54 east longitudes. It is bounded by raumari and chilmari upazilas and brahmaputra river on the north, dewanganj and gaibandha sadar upazilas and Brahmaputra river on the south, assam state of India on the east, sundarganj upazila and Brahmaputra river on the west.
Population Total 63745; male 30811, female 32934; Muslim 63468, Hindu 260, Buddhist 8 and others 9.
Water bodies Main rivers: brahmaputra , Halhali and Jinjiram.
Administration Char Rajibpur Thana was formed in 1977 and it was turned into an upazila on 1 August 1983.
Upazila
Municipality
Union
Mouza
Village
Population
Density (per sq km)
Literacy rate (%)
Urban
Rural
Urban
Rural

-

3

26

100

11975

51770

574

24.56

30.09
Upazila Town

Area
(sq km)

Mouza

Population

Density
(per sq km)

Literacy rate
(%)

9.13

1

11975

132

30.09
Union
Name of union and GO code
Area (acre)
Population
Literacy rate (%)
Male
Female

Kodailkati 57

6199

5413

6297

28.32

Char Rajibpur 19

7739

14912

15114

26.07

Mohanganj 76

13499

10486

11523

23.52
Source Bangladesh Population Census 2001,Bangladesh Bureau of Statistics.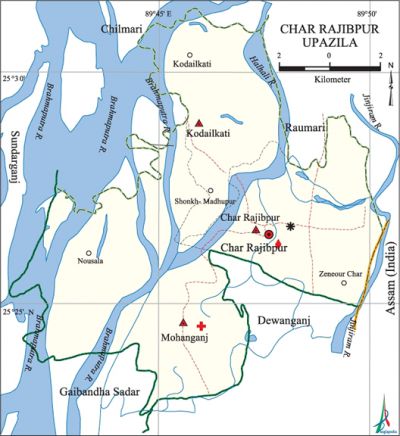 History of the War of Liberation During the war of liberation, a direct encounter was held between the freedom fighters and the Pak army at Kodailkati union in which several Pak soldiers were killed and so were 11 freedom fighters. The Pak army killed 40 persons at village Sankar Madhabpur of this union.
Religious institutions Mosque 110.
Literacy rate and educational institutions Average literacy 25.64%; male 31.18%, female 20.66%. Educational institutions: college 2, secondary school 9, primary school 75, madrasa 5. Noted educational institutions: Char Rajibpur Degree College (1987), Char Rajibpur Pilot High School (1964), Kodailkati Sadakat Hossain High School (1973), Char Rajibpur Model Government Primary School (1928), Char Rajibpur Alim Madrasa (1963), Nayar Char Fazil Madrasa (1975).
Cultural organisations Club 7, library 1, cinema hall 2.
Amusement centre Behular Char.
Main sources of income Agriculture 77.76%, non-agricultural labourer 2.36%, industry 0.51%, commerce 7.36%, transport and communication 1.07%, service 3.34%, construction 0.47%, religious service 0.11%, rent and remittance 0.09% and others 6.93%.
Ownership of agricultural land Landowner 58.17%, landless 41.83%; agricultural landowner: urban 57.49% and rural 58.33%.
Main crops Paddy, jute, mustard, black gram, nut, china, kaun.
Extinct or nearly extinct crops Aush paddy, arahar.
Main fruits Mango, jackfruit, betel nut, blackberry, banana, watermelon.
Fisheries, dairies and poultries This upazila has a number of dairies and poultries.
Communication facilities Roads: pucca 14 km, semi-pucca 2 km, mud road 150 km.
Extinct or nearly extinct traditional transport Palanquin, bullock, buffalo and horse carriage.
Noted manufactories Rice mill, flour mill, welding factory.
Cottage industries Jute industry, bamboo work, nakshi kantha.
Hats, bazars and fairs Hats and bazars are 5, most noted of which are Rajibpur Hat and Baishakhi Mela and Paus Mela.
Main exports Paddy, jute, molasses, peanut.
Access to electricity All the unions of the upazila are under rural electrification net-work. However 2.99% of the dwelling households have access to electricity.
Sources of drinking water Tube-well 93.37%, pond 0.14%, tap 0.05% and others 6.44%.
Sanitation 13.47% (rural 10.81% and urban 24.53%) of dwelling households of the upazila use sanitary latrines and 64.58% (rural 67.22% and urban 53.61%) of dwelling households use non-sanitary latrines; 21.95% of households do not have latrine facilities.
Health centres Upazila health complex 1.
Natural disasters The famines of 1943 and 1957, and the cyclone of 1960 caused huge loss of life and damages to settlements and properties of the upazila.
NGO activities Operationally important NGOs are brac, asa, rangpur dinajpur rural service and Human Resource Development Organisation. [Md Kamal Hossain]
References Bangladesh Population Census 2001, Bangladesh Bureau of Statistics; Cultural survey report of Char Rajibpur Upazila 2007.