Raumari Upazila (kurigram district) area 197.80 sq km, located in between 25°27' and 25°43' north latitudes and in between 89°45' and 89°53' east longitudes. It is bounded by ulipur upazila and assam state of India on the north, char rajibpur upazila on the south, Assam state of India on the east, Char Rajibpur, chilmari and Ulipur upazilas on the west.
Population Total 165815; male 82697, female 83118; Muslim 164555, Hindu 1183 and others 77.
Water bodies Main rivers: brahmaputra, Jhingiram, Halhali.
Administration Raumari Thana was formed in 1908 and it was turned into an upazila on 1 August 1983.
Upazila
Municipality
Union
Mouza
Village
Population
Density (per sq km)
Literacy rate (%)
Urban
Rural
Urban
Rural

-

5

29

197

21277

144538

838

31.80

23.63
Upazila Town

Area (sq km)

Mouza

Population

Density (per sq km)

Literacy rate (%)

17.78

2

21277

1197

31.35
Union
Name of union and GO code
Area (acre)
Population
Literacy rate (%)
Male
Female

Dantbhanga 23

10615

16404

16233

20.84

Bandaber 11

14680

21044

21560

22.60

Jadur Char 35

8671

14368

15144

26.92

Raumari 71

8992

19439

18980

28.50

Saulmari 83

5920

11442

11201

24.75
Source Bangladesh Population Census 2001, Bangladesh Bureau of Statistics.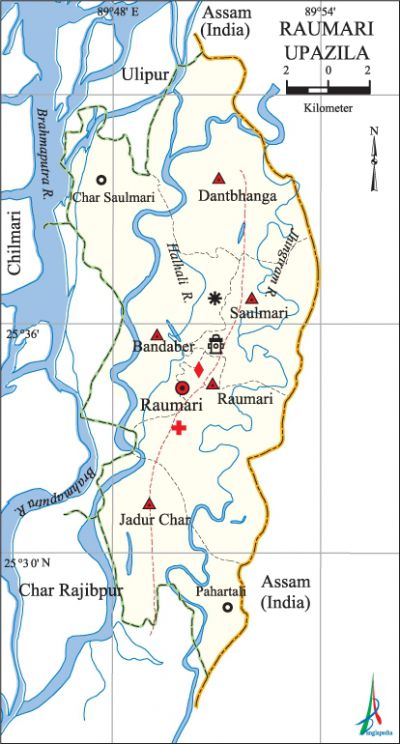 Archaeological heritage and relics Ruins of' a Neel Kuthi at Mashar Ghop.
Historical events On the eve of the partition of India in 1947, Maulana abdul hamid khan bhasani and Abul Kashem Mia of Mainkarchar established Pakistan Kella. They united the local youths and formed a militia at Baraibari of Raumari upazila (near the border of Assam) in support of inclusion of Goalpara district of Assam (Muslim majority area) in the Pakistan. They constructed a stage there and organised the assemblage of people from nearby locality with five feet long bamboo sticks. Bhasani delivered speeches for seven days from this stage. During the war of liberation Raumari was a liberated area. Major ziaur rahman, Col. Taher and Wing Commander Hamidullah Khan trained the freedom fighters in guerrilla war and directed operations from this area in phases. The freedom fighters getting training from Raumari conducted armed operations in Chilmari, Ulipur and in Gaibandha district.
Religious institutions Mosque 148, temple 4. Noted religious institutions: Raumari Jami Mosque, Shimultali Mosque, Sonabari Mosque.
Literacy rate and educational institutions Average literacy 24.69%; male 30%, female 19.52%. Educational institutions: college 8, secondary school 25, primary school 89, madrasa 16. Noted educational institutions: Raumari Degree College (1979), Raumari Mohila Degree College (1995), Jadur Char Model College (1999), Raumari CG Zaman High School (1948), Jadur Char High School (1946), Baraikandi MR High School (1986), Chakta Bari Primary School (1932), Mirzapara Government Primary School (1936), Raumari Government Primary School (1898), Raumari Karamatia Senior Fazil Madrasa (1937), Fuluar Char Junior Madrasa (1933).
Newspapers and periodicals Fortnightly: Dip Desh; defunct: Agradut.
Cultural organisations Library 3, cinema hall 3, theatre stage 2, playground 5.
Tourist spots Chandmari Tourist Centre.
Main sources of income Agriculture 77.40%, non-agricultural labourer 3.57%, industry 0.80%, commerce 6.40%, transport and communication 0.57%, service 3.25%, construction 0.49%, religious service 0.15%, rent and remittance 0.07% and others 7.30%.
Ownership of agricultural land Landowner 55.05%, landless 44.95%; agricultural landowner: urban 45.34% and rural 56.48%.'
Main crops Paddy, jute, wheat, sugarcane, maize, mustard, nut.
Extinct or nearly extinct crops Khesari, gram, arahar, linseed, kaun, china, hemp.
Main fruits Mango, blackberry, jackfruit, banana, papaya.
Fisheries, dairies and poultries Fishery 27, dairy 6, poultry 25.
Communication facilities Pucca road 35 km, semi-pucca road 30 km, mud road 175 km; waterway 30 nautical miles.
Extinct or nearly extinct traditional transport Palanquin, horse carriage, bullock cart.
Noted manufactories Rice mill, flour mill, ice factory, oil mill, welding factory.
Cottage industries Goldsmith, potteries, weaving, jute work, embroidery, cane work, bamboo work.
Hats, bazars and fairs Hats and bazars are 19, fairs 2, most noted of which are Raumari Hat, Dantbhanga Hat, Aambari Hat, Shimultali Hat, Sonabari Hat, Pakhuria Hat, Char Saulmari Hat and Hajir Hat at Tapur Char.
Main exports Jute, molasses, mustard oil.
Access to electricity All the unions of the upazila are under rural electrification net-work. However 4.51% of the dwelling households have access to electricity.
Sources of drinking water Tube-well 90.56%, tap 0.29%, pond 0.23% and others 8.92%. The presence of arsenic has been detected in shallow tube-well water of the upazila.
Sanitation 16.75% (rural 14.92% and urban 29.26%) of dwelling households of the upazila use sanitary latrines and 53.94% (rural 55.51% and urban 43.24%) of dwelling households use non-sanitary latrines; 29.31% of households do not have latrine facilities.
Health centres Upazila health centre 1, family planning centre 2, satellite clinic 4.
Natural disasters As a result of the devastating earthquake of Ashar 1304 (BS), volcanic eruptions caused at villages Pakhiura, Tapur and Tiltali. Besides, the famine of 1974 and the flood of 1988 caused heavy damages to this region.
NGO activities Operationally important NGOs are brac, CARE, RSDA, RSDP. [Md. Abdul Hakim]
References Bangladesh Population Census 2001, Bangladesh Bureau of Statistics; Cultural survey report of Raumari Upazila 2007.