Chattopadhyay, Bankimchandra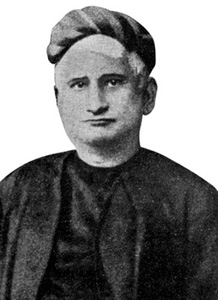 Chattopadhyay, Bankimchandra (1838-1894) writer, journalist, government officer, was born in the village of Kanthalpara in the district of 24-Parganas on 27 June 1838, son of Jadavchandra Chattopadhyay, who was then deputy collector at Hughli. Bankim was one of the two students of the first BA batch of calcutta university. Following his father's footsteps, Bankimchandra joined the Subordinate Executive Service and became a deputy magistrate and deputy collector. As an officer of the colonial government, he did his job exceedingly well, and, in recognition of his performance, received the titles of Rai Bahadur in 1891 and Companion of the Most Eminent Order of the Indian Empire (cmeoie) in 1894. Though Bankimchandra gained from his career the experiences that largely moulded his thought processes, he made a place for himself in history not as an executive officer but as a writer and a Hindu revivalist thinker.
Four factors influenced the making of Bankimchandra as a writer: first, the growth of Bangla prose, born at the beginning of the century and advanced by rammohun roy, ishwar chandra gupta, and iswar chandra vidyasagar; second, the development of newspapers and periodicals; third, the rise of New Hinduism; and, fourth, the emergence of an intellectual and well-to-do middle class in calcutta, appreciating English and western education. Bankim took advantage of the progress made by his peers to the fullest degree, and he contributed uniquely to the furtherance of the legacy that he had inherited from them. His literary career began inconspicuously.
His earliest works in Bangla and English (Lalita, Manas, and The Adventures of a Young Hindu and Rajmohan's Wife) did not draw the attention of readers or literary circles. It was during his service life that his creativity developed. Stationed in mofusvil posts, Bankim saw Bengal and its people in their natural settings and in their actual circumstances. He discovered the characters of his novels from his direct contact and interactions with the people, though his powers of characterisation and description were sharpened by his study of western literature.
While a deputy magistrate at Baruipur in the district of 24-Parganas, Bankimchandra wrote his first two celebrated novels: Durgeshnandini (1865) and Kapalkundala (1866). Further novels were published in quick succession, till, by 1887, all fourteen of Bankim's novels had been published, along with other prose works. Anandamath (1882) is possibly Bankim's last notable literary work. Subsequently, he became mostly pre-occupied with ideas of religious renewal and national awakening. But though relatively short-lived, his creativity had an astonishing impact on bangla language and literature.
Bankimchandra's place in the history of bangla literature rests on his contribution to the growth of Bangla fiction and Bangla prose. Before him, fiction had been represented by Bangla translations of a few Sanskrit dramas and stories as well as some Persian and Arabic tales; and these were mostly didactic and moralistic. The stock-in-trade of writers was rhetorical embellishment, detailed description of natural scenery, extravagant and tiresome portrayal of human beauty, endless accounts of impossible exploits, and narration of the stupendous and supernatural. Only two works are an exception to this trend: bhabanicharan bandyopadhyay's Nabababu Bilas (1823) and peary chand mitra's alaler gharer dulal (1858). In characterisation, artistic creation, description, aesthetics and, most importantly, in refining Bangla prose, Bankimchandra surpassed his peers and raised Bangla literature to a new height which made possible the 20th- century flourishing of Bangla language and literature.
Bankimchandra's contribution to the development of Bangla periodical literature is no less. As a literary vehicle, his bangadarshan created a generation of writers who set a new standard in the content and style of periodical literature. The style and trends set by the sumachar durpun, sangbad prabhakar, sambad kaumudi and tattvabodhini patrika were replaced by a new critical style set by Bankimchandra, though religious discussions remained a prominent feature. His own interpretations of hinduism were published in the Babgadarshan in a series of monographs: Krsvacharita, Dharmatattva, Shrimadbhagavadgita. But he was not yet a devout Hindu of the preaching type. Several of his successful novels were serialised in his periodical. Bankimchandra wanted to make Bangadarshan a platform for objective literary criticism on the model of European journals. But, like many other periodicals of his time, the Bangadarshan also had a short life, only four years (1872-76).
Towards the later part of his literary life, Bankimchandra appears to have been more interested in teaching 'true' Hinduism than in creating literature. From the 1880s, he sought to re-establish the moral, cultural and religious traditions of ancient India. His conceptions are clearly expounded in Anandamath (1882) and Devi Chaudhurani (1884) and in his interpretations of the Dharmashastra and the gita. In trying to become an apostle of 'Neo-Hindusim' and in advocating the making of the Hindu 'nation', Bankim had overlooked, in a rather strangely nonintellectual manner, the historical changes re-structuring Bengal society and Hindu-Muslim relations in the past. He was not in a mood to recognise that Bengal was already a Muslim majority area and that the Hindus and Muslims of Bengal had been living together congenially and agreeably for centuries. Bankimchandra believed Hindu-Muslim syncretism to be false and thought in terms of Hindu regeneration and of the Hindu nation alone. His historical novels, which were scarcely true historically, were intended to arouse and promote Hindu patriotism and Hindu nationalism. The victories won by the Hindus in the different novels are won against Muslim forces, consisting either of Muslims alone, as in Rajsingha (1882) and Sitaram (1887), or of Muslims with British officers, as in Devi Chaudhurani and Anandamath.
The slogans that Bankim coined (Bande-mataram, matrbhumi, janmabhumi, svaraj, mantra, etc) in his Hindu re-generative essays and books were subsequently used by militant Hindu nationalists. Initially, the moderate leaders of the indian national congress were not enthusiastic about Bankimchandra's Hindu nationalist slogans. But his tremendous popularity among the younger generation in the Swadeshi era persuaded the Congress to use them as their rallying cry. Bande-mataram became the official slogan of the Congress and was used all over India. However, despite his retroactive religious and political thought and his dimming literary personality in later years, Bankimchandra Chattopadhyay was recognised by all, even by the Muslim literati, as the greatest literary genius of the time until overtaken by the literary giants rabindranath tagore and kazi nazrul islam. [Sirajul Islam]