Godagari Upazila (rajshahi district) area 472.13 sq km, located in between 24°21' and 24°36' north latitudes and in between 88°17' and 88°33' east longitudes. It is bounded by nawabganj sadar and tanore upazilas on the north, west bengal of India and ganges river on the south, paba and Tanore upazilas on the east, Nawabganj Sadar upazila on the west.
Population Total 279545; male 143202, female 136343; Muslim 242733, Hindu 20944, Buddhist 9476, Christian 186 and others 6206. Indigenous community such as santal belongs to this upazila.
Water bodies Main rivers: padma, mahananda.
Administration Godagari Thana was formed in 1865 and it was turned into an upazila in 1983.
Upazila
Municipality
Union
Mouza
Village
Population
Density (per sq km)
Literacy rate (%)
Urban
Rural
Urban
Rural

2

9

389

398

37631

241914

592

52.12

40.49
Upazila Town

Area
(sq km)

Mouza

Population

Density
(per sq km)

Literacy rate
(%)

3.25

3

4725

1454

52.77
Union
Name of union and GO code
Area (acre)
Population
Literacy rate (%)
Male
Female

Gogram 47

17362

13013

12469

43.32

Godagari 38

1993

6907

6690

32.13

Char Ashariadaha 19

9088

9214

8089

33.76

Deopara 28

13013

16666

15861

41.99

Pakri 76

15799

16108

15756

41.16

Basudebpur 16

4684

12291

12025

49.56

Matikata 57

9775

200562

19798

45.01

Mohanpur 66

23173

15780

15044

31.58

Rishikul 85

14659

15381

14985

40.43
Source Bangladesh Population Census 2001,Bangladesh Bureau of Statistics.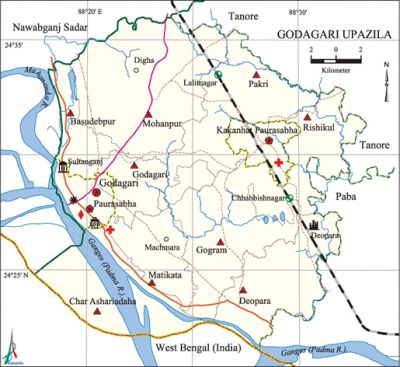 Archaeological heritage and relics Buddhist Vihara (Pala period) at Uparbari Tila, tomb of Ali Kuli Beg at Kumarpur (eighteenth century), Padumsa Shiva Temple, dighi (pond) and stone inscription of Raja Bijoy Sen (eleventh century) at village Deopara, tomb of Hazrat Shah Sultan (fourteenth century, Sultanganj), Temple of Sree Sree Gaurangabari at Khetur (1582), Jaina Temple at Maguile.
History of the War of Liberation An encounter was held between the freedom fighters and the Pak army on 30 March 1971 in which EPR sepoy Abdul Malek was killed. The Pak army brutally killed 31 persons on 26 and 30 May in Godagari upazila.
Marks of the War of Liberation Memorial monument 1 (Sheikherpara).
Religious institutions Mosque 580, temple 21, church 9, sacred place 2. Noted religious institutions: temple of Shree Shree Gaurangobari at Khetur (1582), Ahle Hadith Jami Mosque (1949), Premtali Jami Mosque (1940), Faradpur Jami Mosque (1950), Kanthalbaria Sheikherpara Jami Mosque (1960), mazar of Premtali Shah Jangir, mazar of Jahanabad Shah Mohiuddin, mazar of Sultanganj Shah Nazar, Jaina Temple at Maguile, Shree Shree Kheturdham Tirtha.
Literacy rate and educational institutions Average literacy 42.1%; male 43.6%, female 40.5%. Educational institutions: college 12, secondary school 60, primary school 140, madrasa 20. Noted educational institutions: Matikata Adarsha Degree College, Godagari School and College (1905), Godagari High School (1948), Adarsha Primary School (1913).
Newspapers and periodicals Periodical: Barendri.
Cultural organisations Library 4, club 50, cinema hall 1, playground 1.
Main sources of income Agriculture 69.98%, non-agricultural labourer 3.95%, industry 0.57%, commerce 11%, transport and communication 1.99%, service 4.61%, construction 1.15%, religious service 0.16%, rent and remittance 0.27% and others 6.32%.
Ownership of agricultural land Landowner 42.39%, landless 57.61%; agricultural landowner: urban 42.92% and rural 42.31%.
Main crops Paddy, jute, wheat, black gram, sugarcane, gram, masuri (lentil), vegetables.'
Extinct or nearly extinct crops Aush paddy, sesame, mustard, kaun, linseed, rai, watermelon.
Main fruits Mango, jackfruit, litchi, wood-apple, palm.
Fisheries, dairies and poultries Dairy 9.
Communication facilities Pucca road 520 km, mud road 413.77 km; railway 39.21 km.
Extinct or nearly extinct traditional transport Palanquin, horse carriage, bullock cart.
Noted manufactories Rice mill, printing press, welding factory.
Cottage industries Blacksmith, potteries, brass and metal work, bamboo and cane work.
Hats, bazars and fairs Hats and bazars are 26, fairs 10, most noted of which are Godagari, Bidirpur, Premtali, Mahishalbari, Railbazar, Kankan and Rajbari hats; Premtali Khetur Mela, Sultan Shah Mela, Kankan Hat Mela, Lalitnagar Mela, Godagari Mela.
Main exports Paddy, wheat, black gram, masuri (lentil), mango, jackfruit, vegetables. '
Access to electricity All the wards and unions of the upazila are under rural electrification net-work. However 21.99% of the dwelling households have access to electricity.
Sources of drinking water Tube-well 93.53%, tap 0.71%, pond 0.78% and others 4.97%.
Sanitation 11.58% (rural 9.85% and urban 23.26%) of dwelling households of the upazila use sanitary latrines and 40.99% (rural 38.40% and urban 59.16%) of dwelling households use non-sanitary latrines; 47.43% of households do not have latrine facilities.
Health centres Upazila health complex 1, satellite clinic 1, family planning centre 9, hospital 2.
NGO activities Operationally important NGOs are brac, asa, proshika, Vision, caritas, thengamara mahila sabuj sangha. [AKM Kaisaruzzaman]
References Bangladesh Population Census 2001, Bangladesh Bureau of Statistics; Cultural survey report of Godagari Upazila 2007.