Mirpur Model Thana (Dhaka metropolitan) area 4.71 sq km, located in between 23°46' and 23°48' north latitudes and in between 90°20' and 90°22' east longitudes. It is bounded by shah ali and pallabi thanas on the north, sher-e-bangla nagar and darus salam thanas on the south, Pallabi and kafrul thanas on the east, Shah Ali and Darus Salam thanas on the west.
Population Total 274530; male 148723, female 125807; Muslim 265803, Hindu 5084, Buddhist 3309, Christian 292 and others 42.
Administration Mirpur Model Thana was formed in 1962.
Thana
Ward and Union
Mahalla and Mouza
Population
Density (per sq km)
Literacy rate (%)
Urban
Rural
Urban
Rural
1+5 (part)
17
274530
-
58287
73.73
Ward
Ward
Area (sq km)
Population
Literacy rate (%)
Male
Female
Ward no. 3 (part)
0.46
8198
7192
63.95
Ward no. 7 (part)
1.12
17708
15106
80.61
Ward no. 11 (part)
0.60
16025
13209
70.79
Ward no. 12 (part)
0.66
29724
24575
75.94
Ward no. 13
1.35
50278
43896
74.48
Ward no. 14 (part)
0.52
26790
21829
76.63
Source  Bangladesh Population Census 2001, Bangladesh Bureau of Statistics.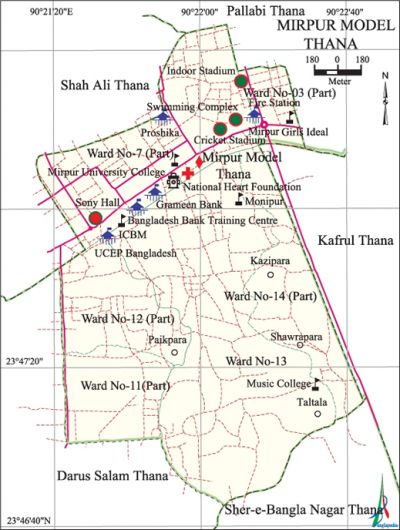 Marks of the War of Liberation Mass killing site 2 (Courtyard of Nurani Mosque adjacent to the Bus Stand of Section 12 of Mirpur).
Religious institutions Housing Mosque, Nurani Mosque.
Literacy rate and educational institutions Average literacy 73.73%; male 78.49%, female 68.03%. Noted educational institutions:' Mirpur University College, Monipur High School and College, Mirpur Primary School, Mirpur Fire Station and Training School, National Bangla High School, Champa-Parul Primary School.
Cultural organisations Club, literary organisation, cinema hall, community centre. Mirpur Sher-E-Bangla Cricket Stadium, Mirpur Indoor Stadium, Mirpur Swimming Complex are notable.
Newspapers and periodicals Weekly Mirpur Barta.
Important installations' Head office of the Grameen Bank, Bangladesh Institute of Bank Management, Ministry of Primary and Mass Education, Mirpur Telephone Exchange, UCEF Training Centre.
Main sources of income Agriculture 0.89%, non-agricultural labourer 1.83%, industry 3.54%, commerce 22.14%, transport and communication 7.02%, service 45.69%, construction 4.36%, religious service 0.12%, rent and remittance 3.04% and others 11.37%.
Ownership of agricultural land Landowner 64.87%, landless 35.13%.
Extinct or nearly extinct crops Aus paddy.
Main fruits Mango, coconut.
Communication facilities Total roads: 41.03 km.
Extinct or nearly extinct traditional transport Palanquin, bullock cart, horse carriage.
Noted manufactories Garment, chemical industry, textile mill.
Cottage industries Goldsmith, weaving, potteries.
Market and shopping centres' Agora Super Store, Mukta Bangla Shopping Complex, Prince Bazar.
Main exports Ready made garments.
Access to electricity All the mahallas of the thana are under electrification net-work. However 97.72% of the dwelling households have access to electricity.
Sources of drinking water Tube-well 9.34%, pond 0.27%, tap 88.23% and others 2.16%.
Sanitation 93.91% of dwelling households of the thana use sanitary latrines and 5.46% of dwelling households use non-sanitary latrines; 0.63% of households do not have latrine facilities.
Health centres Dhaka Eye Hospital, OSB Laser Vision Centre, National Heart Foundation, Missionary Health Complex (Radda), Mirpur Diagnostic Centre.
NGO activities Operationally important NGOs are brac, proshika, asa. [Md. Abu Hasan Farooque]
References Bangladesh Population Census 2001, Bangladesh Bureau of Statistics.