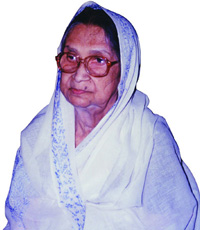 Kamal, Begum Sufia (1911-1999) poet, litterateur, social activist, feminist, was born on 20 June 1911 in a landowning family of Shayestabad, in barisal. Begum Sufia Kamal was the daughter of Syed Abdul Bari, a lawyer, and Sabera Banu. In accordance with aristocratic social practice of the time, Begum Sufia Kamal was given education at home. With the house tutor, she had lessons in Urdu, Arabic and Persian. Sufia got lessons in Bangla from her mother and maternal uncle, Syed Mohammad Hossain.
In 1918, Sufia went to Kolkata accompanied by her mother. There she met Begum roquiah sakhawat hossain (1880-1932). The family returned to Shayestabad, but the inspiration that she got from Roquiah shaped the future course of Sufia. At twelve, Sufia was married to a maternal cousin of hers, Syed Nehal Hossain, a law student. Nehal Hossain was a liberal man, who encouraged his wife's social welfare work as well as literary activities.
Thus the young Sufia, clad in a burqah, was able to go out to do welfare work among disadvantaged women. She was also able to develop her literary talent in Bangla. In 1923, she wrote her first short story, 'Sainik Badhu' (The Soldier Bride), which was published in the Tarun (Youth).
In 1925 Sufia met Mahatma Gandhi in the town of Barisal. Inspired by Gandhi's struggle for independence, she spun some thread on a small spinning wheel. Following her marriage, she had stopped wearing the elaborate, richly ornamented 'Mughal' dress of her childhood. Now she began to wear the simple handloom saris commonly worn by Bengali women. She also became a member of 'Matri Mangal' an organisation dedicated to women's welfare.
Sufia moved to Kolkata, where her husband was studying law. Along with her husband she met many important figures of Bengali literary life, including kazi nazrul islam (1899-1976). Nazrul was very impressed with Sufia's poems and urged her to print them. mohammad nasiruddin, the owner-editor of the saogat, printed Sufia's first poem, 'Basanti' (Of Spring), in 1926.
In 1929, Sufia Kamal joined Anjuman-i-Khawatin-i-Islam, an association of Muslim women, founded by Roquiah Sakhawat Hossain. This association not only provided women a forum where they could discuss issues relevant to them, it also promoted education and social reform. The influence of Roquiah's social ideals would continue to inspire Sufia throughout her life. She would write a number of poems on Roquiah and also dedicate an anthology to her, Mrttikar Ghran (Fragrance of the Earth, 1970). She would also help form the 'Rokeya Sakhawat Smriti Committee' (Roquiah Sakhawat Memorial Committee) which proposed that the first women's hall of Dhaka University be named 'Rokeya Hall'.
In 1931, Sufia was elected to the Indian Women's Federation, the first Muslim woman to be elected to the federation. A year later, Nehal Hossain died suddenly of tuberculosis. However, instead of succumbing to family pressure and withdrawing to her in-laws' home in Barisal, the youth widow stayed in Kolkata with her daughter, Amena, her brother, Abdul Wali, and widowed mother. She took a teaching position at the Calcutta Corporation Free Primary School for girls. She worked at the school from 1933-1941, while continuing to write and participate in social welfare activities. At this time she met the poet-essayist abdul quadir (1906-1984) and jasimuddin (1903-1976), who were co-workers at the school and her life-long friends.
In 1938, Sufia Hossain's first book of poems, Sanjher Maya (The Eventide Spell), was published from Kolkata. Kazi Nazrul Islam wrote the foreword and praised the young poet as 'a new star on the horizon of Bangla poetry' (Banglar kavya gagane navadita uday tara). Rabindranath Tagore read the book and wrote to Sufia, 'You have a high place in Bangla literature, as constant and fixed as the Pole Star (Bangla sahitye tomar sthan uchche ebong druva tomar prathista).
Sufia Kamal's second husband was the writer and translator Kamaluddin Ahmad Khan (1907-1977), a leading member of the Bulbul literary group. To that group belonged habibullah bahar chowdhury, shamsunnahar mahmud and M Wajed Ali.
In 1946 a communal riot broke out in Kolkata. Sufia Kamal, responded to the situation by helping to set up a shelter for riot victims at lady brabourne college.
In 1947, Mohammad Nasiruddin founded begum, a weekly women's magazine, with Sufia Kamal as its first editor. In October that year, the Kamal family moved to dhaka.
In 1948, a new phase of social, political and literary activities started for Sufia Kamal. She joined the Shanti Committee (Peace Committee) to promote Hindu-Muslim friendship. The same year, the Purba Pakistan Mahila Samiti (East Pakistan Women's Council) was formed, with Sufia Kamal as its president. In 1949, she became the founding co-editor (with Jahanara Arzoo) of a weekly magazine, Sultana, named after the principal character of Roquiah Sakhawat Hossain's Sultana's Dream. In 1952, Sufia Kamal took part in the language movement. She was also actively involved in upholding Bengali Culture.
She protested the Pakistani government's attempts to suppress Bangla and Bengali culture, particularly the ban on Tagore. In 1961, Tagore's centennial year, Sufia Kamal led the 'Sanskritik Swadhikar Andolon' (Movement for Cultural Autonomy). In 1969, the Mahila Sangram Parishad (Women's Revolutionary Council, subsequently, bangladesh mahila parishad) was formed to realise social, cultural, educational and political benefits for women. Sufia Kamal became its founding-chairperson and remained closely associated with it throughout her life.
During the bangladesh war of liberation, two of Sufia Kamal's daughters joined the Mukti Bahini, setting up the first hospital for freedom fighters at Agartala. Sufia, her husband and older son, decided to stay on in the country to aid the Mukti Bahini by providing moral support and a safe place where messages could be passed back and forth. During the war, Sufia kept two diaries, Ekatturer Diary (Diary of '71) and a poetic diary, which renamed Mor Jaduder Samadhi Pare (Where My Darlings Lie Buried). These poems recall the atrocities committed by the Pakistani army and call upon freedom fighters to fight to liberate their country. At the same time, in 'Benibinyas Samay To Ar Nei' (No More Time for Braiding Your Hair) Sufia Kamal reminds women that they too have a duty towards their mother land.
Since liberation, Sufia Kamal also initiated and led many other organisations, at both governmental and non-governmental levels. She was the founding-chairperson of the following organisations: The Bangladesh Women's Rehabilitation Board, Bangladesh Rural Advancement Committee, Dustha Punarbasan Sangstha (Organisation for the Rehabilitation of the Destitutes). She was the president of chhayanaut, a major cultural organisation, Bangladesh Protibondhi Foundation, a foundation for the treatment, education and rehabilitation of the handicapped, and Nari Kalyan Sangstha, which has published a number of Begum Roquiah's books, among its various activities.
Sufia Kamal was a major literary figure. Known lovingly as 'Khalamma' (Aunt), she was also perhaps the single most honoured personality of the last decades of the twentieth century. Even when she was frail with age, she continued to be a source of inspiration, guidance and hope to political activists and poets. In her writing and the social causes that she upheld, she propounded humane and democratic values and continued to be the voice of conscience, protest and social justice.
Author of more than a dozen volumes of poetry, Sufia Kamal also wrote an autobiographical volume about her girlhood and her work with Roquiah Sakhawat Hossain, Ekale Amader Kal (In This Time, Our Time, 1988). She also wrote several volumes of short stories, beginning with Keyar Kanta (Thorns of the Keya Tree, 1937), short novels, travelogues, etc. Her poems have been translated into Chinese, English, German, Italian, Polish, Russian, Vietnamese, Hindi and Urdu. The fullest representation of her work in translation so far has been in Russian. In 1984, a Russian translation by Kama Ivanova of her first book of poetry, Sanjher Maya was published in the Soviet Union. A few of her poems have been published in journals and magazines in the United States. In 2001, the bangla academy published Mother of Pearls and Other Poems, an English translation of some of her most famous poems and in 2002 Sufia Kamaler Rachana Samagra.
Sufia Kamal's poems have a wide range of themes. The feminism of 'Sukti', in which the oyster describes how she engenders a pearl, juxtaposes the quiet thoughtfulness of 'Sanjher Maya', the title poem of her first volume; the wrongs committed by European imperialists in Africa in 'Karantarale Jamila (Jamila in Prison) echo the wrongs committed by Pakistani armies in Bengal in 'Amantran' (Invitation). Sufia Kamal's poetry draws from the rich tradition of bangla literature which has its roots in ancient Indian mythology as much as it does from the Persian and Urdu poetry which she learned as a child. Rooted in Bengal, she nevertheless ranges across the globe, eulogising Nelson Mandela, describing spring in Moscow, musing at the contradictions of America.
Sufia Kamal received nearly fifty major awards, including the Tamgha-i-Imtiaz (1961), a major national award conferred by the Pakistani government, but which Sufia Kamal returned in 1969 in protest at the government's oppressive treatment of Bengalis, the Bangla Academy Award for Literature (1962), Ekushey Padak (1976), Nasiruddin Gold Medal (1977), Muktadhara Puraskar (1982), Jatiya Kavita Parishad Award (1995), Women's Federation for World Peace Crest (1996), Begum Rokeya Padak (1996), Deshbandhu CR Das Gold Medal (1996), and Independence Day Award (1997). She also received a number of international awards, among them the Lenin Centenary Jubilee Medal from the Soviet Union in 1970, and the Czechoslovakia Medal in 1986. Sufia Kamal died in Dhaka on 20 November 1999. [Ahmad Kabir]