Lakhai Upazila (habiganj district) area 196.54 sq km, located in between 24°13' and 24°23' north latitudes and in between 91°10' and 91°21' east longitudes. It is bounded by austagram and baniachang upazilas on the north, nasirnagar upazila on the south, habiganj sadar, madhabpur and Nasirnagar upazilas on the east, Austagram upazila on the west.
Population Total 148811; male 70714, female 78097; Muslim 127897, Hindu 20832, Buddhist 1, Christian 23 and others 58
Water bodies Main rivers: barak, Kulkulia, Sutang; Gharbhanga, Julfa, Barak, Robiargona and Dashkania beels and Jhuljaha Canal are notable.
Administration Lakhai Thana, now an upazila, was formed in 1922.
Upazila
Municipality
Union
Mouza
Village
Population
Density (per sq km)
Literacy rate (%)
Urban
Rural
Urban
Rural
-
6
52
65
17235
131576
757
34.1
33.7
Upazila Town

Area (sq km)




Mouza




Population




Density (per sq km)




Literacy rate (%)




14.62
2
17235
1179
34.1
Union
Name of union and GO code
Area (acre)
Population
Literacy rate (%)
Male
Female
Karab 40
7011
10920
11356
33.3
Bamai 13
7022
12997
14605
36.8
Bulla 27
11872
10549
11259
35.6
Murakari 67
4378
11554
13098
33.8
Muriauk 81
4966
11855
14189
34.2
Lakhai 54
11757
12839
13590
28.8
Source Bangladesh Population Census 2011, Bangladesh Bureau of Statistics.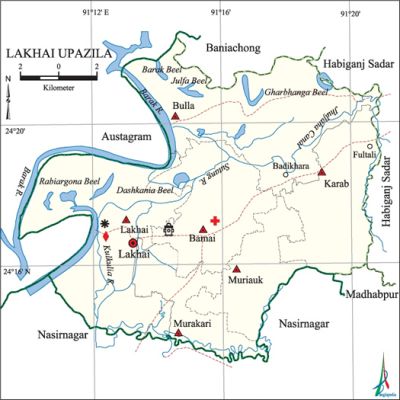 War of Liberation There had been no direct encounter between the freedom fighters and the Pak army in the upazila. But freedom fighters were always alert in preventing the enemies from entering the area and had all preparations for the resistance. They also resisted the activities of the razakars and the members of the peace committee. A memorial monument had been built in the Upazila Sadar complex.
For details: see লাখাই উপজেলা, বাংলাদেশ মুক্তিযুদ্ধ জ্ঞানকোষ (Encyclopedia of Bangladesh War of Liberation), বাংলাদেশ এশিয়াটিক সোসাইটি, ঢাকা ২০২০, খণ্ড ৯।
Religious institutions Mosque 110, temple 5, tomb 5, sacred place 2.
Literacy rate and educational institutions Average literacy 33.7%; male 34.8%, female 32.8%. Educational institutions: college 1, secondary school 10, primary school 51, kindergarten 1, madrasa 17. Noted educational institutions: Lakhai ACRC High School (1945), Barishal Karab High School (1947), Bamai High School (1961), Karab Rahmania Madrasa, Jigura Tofayelia Senior Madrasa.
Cultural organisations Library 2, club 6, cultural organisation 2, auditorium 1, community centre 1,' playground 3.
Main sources of income Agriculture 67.41%, non-agricultural labourer 4.27%, commerce 13.05%, transport and communication 0.60%, service 3.24%, construction 0.43%, religious service 0.29%, rent and remittance 0.33% and others 10.38%.
Ownership of agricultural land Landowner 58.93%, landless 41.07%; agricultural landowner: urban 54.07% and rural 59.58%.
Main crops Paddy, jute, wheat.
Extinct or nearly extinct crops Sesame, linseed, kaun.
Main fruits Mango, jackfruit, papaya, coconut, black berry.
Fisheries, dairies and poultries Fishery 5, dairy 40, poultry 85.
Communication facilities Pucca road 36.79 km, mud road 135.78 km; waterway 5 km.
Extinct or nearly extinct traditional transport Palanquin, horse carriage and bullock cart.
Noted manufactories Welding factory 3.
Cottage industries Goldsmith, blacksmith, potteries, weaving, bamboo and wood work.
Hats, bazars and fairs Hats and bazars are 16, fairs 4, most noted of which are Lakhai Bazar, Bulla Bazar, Bamai cattle market, Kalibari Mela and Bulla Mela.
Main exports Paddy, jute, fish.
Access to electricity All the unions of the upazila are under rural electrification net-work. However 37.6% of the dwelling households have access to electricity.
Sources of drinking water Tube-well 94.0% , tap 0.1% and others 5.9%.
Sanitation 38.6% of dwelling households of the upazila use sanitary latrines and 56.2% of dwelling households use non-sanitary latrines; 5.2% of households do not have latrine facilities.
Health centres Upazila health complex 1, union health and family welfare centre 6, family planning centre 3, mother and child welfare centre 1, maternity' 1, charitable hospital 1, veterinary hospital 2.
NGO activities Operationally important NGOs are brac, asa. [Jayanta Singh Roy]
References Bangladesh Population Census 2001 and 2011, Bangladesh Bureau of Statistics; Cultural survey report of Lakhai Upazila 2007.