Mithamain Upazila (kishoreganj district) area 222.91 sq km, located in between 24°22' and 24°30' north latitudes and in between 91°00' and 91°15' east longitudes. It is bounded by itna and ajmiriganj upazilas on the north, austagram upazila on the south, baniachang and Austagram upazilas on the east, karimganj and nikli upazilas on the west.
Population Total 122026; male 61831, female 60195; Muslim 114130, Hindu 7773, Christian 6 and others 117.
Water bodies Main rivers: Dhanu, Kalai; Baragop, Gazaria, Deudori, Sreghor, Rati and Nikli beels are notable.
Administration Mithamain Thana was turned into an upazila in 1983.
Upazila
Municipality
Union
Mouza
Village
Population
Density (per sq km)
Literacy rate (%)
Urban
Rural
Urban
Rural
-
7
56
135
12600
109426
547
41.9
29.5
Upazila Town

Area (sq km)

Mouza

Population

Density (per sq km)

Literacy rate (%)

9.15
1
12600
1377
41.9
Union
Name of union and GO code
Area (acre)
Population
Literacy rate (%)
Male
Female
Keorjori 67
7463
7300
7103
28.9
Khatkhal 54
6106
7721
7418
19.8
Gopedighi 40
9514
9999
10032
31.3
Ghagra 27
7508
10612
10573
31.6
Bairati 11
4551
6211
5744
27.4
Dhaki 13
10767
10064
10040
34.5
Mithamain 81
9175
9924
9285
37.6
Source  Bangladesh Population Census 2011, Bangladesh Bureau of Statistics.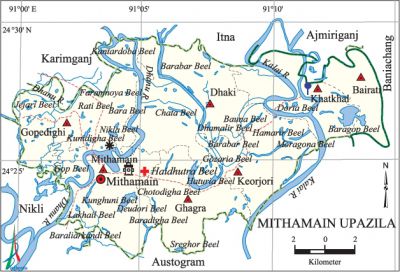 War of Liberation On 1 November 1971 the Pak army abducted and brutally killed 28 persons at village Dhubajura and 3 persons at village Telikhai. Freedom fighters of the upazila had their camp named Dillir Akhra at Katkhal union and they used to ambush and destroyed water vessels of the Pak army and also carried out operation at a number of places. There is a mass killing site at Boira.
For details: see মিটামইন উপজেলা, বাংলাদেশ মুক্তিযুদ্ধ জ্ঞানকোষ (Encyclopedia of Bangladesh War of Liberation), বাংলাদেশ এশিয়াটিক সোসাইটি, ঢাকা ২০২০, খণ্ড ৮।
Religious institutions Mosque 105, temple 17, tomb 3, akhra 3. Noted religious institutions: tomb of Hazrat Shah Tamiz Uddin (R), dargah of Malik, Delhi Akhra, Ghagra Godhra Goswami' Akhra.
Literacy rate and educational institutions Average literacy 30.9%; male 33.6%, female 28.2%. Educational institutions: college 1, secondary school 8, primary school 76, community school 10, madrasa 25.
Cultural organisations Library 1, club 30.
Main sources of income Agriculture 82.48%, non-agricultural labourer 2.32%, industry 0.20%, commerce 7.26%, transport and communication 0.24%, service 2.33%, construction 0.56%, religious service 0.21%, rent and remittance 0.20% and others 4.20%.
Ownership of agricultural land Landowner 60.34%, landless 39.66%; agricultural landowner: urban 63.33% and rural 60%.
Main crops Paddy, mustard, potato, kherai, ground nut, vegetables.
Extinct or nearly extinct crops Linseed, sesame, kaun.
Fisheries, dairies and poultries Dairy 22, poultry 26.
Communication facilities Pucca road 18 km, semi-pucca road 2 km, mud road 60 km; waterway 32 km.
Extinct or nearly extinct traditional transport Palanquin.
Noted manufactories Ice factory, bakery.
Cottage industries Goldsmith, blacksmith, potteries, wood work.
Hats, bazars and fairs Hats and bazars are 11, most noted of which are Mithamain Bazar, Gopedighi Bazar and Dhaki Bazar.
Main exports Paddy, ground nut, potato, kherai.
Access to electricity All the unions of the upazila are under rural electrification net-work. However 33.5% of the dwelling households have access to electricity.
Sources of drinking water Tube-well 79.7% and others 20.3%. The presence of arsenic in an intolerable level has been detected in 20.5% of the shallow tube-well water of the upazila.
Sanitation 18.9% of dwelling households of the upazila use sanitary latrines and 65.3% of dwelling households use non-sanitary latrines; 15.8% of households do not have latrine facilities.
Health centres Upazila health complex 1, health and family planning centre 1, union satellite clinic 2, community clinic 14.
NGO activities Operationally important NGO is asa. [Mokarram Hussain Shokorana]
References Bangladesh Population Census 2001 and 2011, Bangladesh Bureau of Statistics; Cultural survey report of Mithamain Upazila 2007.