Pirojpur District (barisal division) area 1399.39 sq km, located in between 22'09' and 22'52' north latitudes and in between 89'52' and 90'13' east longitudes. It is bounded by gopalganj and barisal districts on the north, barguna district on the south, jhalokati district on the east, bagerhat district on the west.
Population Total 1111068; male 561972, female 549096; Muslim 903952, Hindu 206468, Buddhist 195, Christian 160 and others 293.
Water bodies Main rivers: Baleshwari, Swarupkati, katcha, Kaliganga; Chatar Beel and Jujkhola Canal are notable.
Administration Pirojpur district was formed in 1984 and the Municipality was formed in 1886. Of the seven upazilas of the district mathbaria is the largest (353.25 sq km, it occupies 27.01% of the total area of the district) and kawkhali is the smallest (79.65 sq km).
District
Area (sq km)
Upazila
Municipality
Union
Mouza
Village
Population
Density (per sq km)
Literacy rate (%)
Urban
Rural

1307.61

7

3

51

393

636

166970

944098

793.96

64.77
Others Information of District

Name of Upazila

Area
(sq km)

Municipality

Union

Mouza

Village

Population

Density
(per sq km)

Literacy rate
(%)

Kawkhali

79.65

-

5

45

59

74134

931

69.7

Zianagar

91.78

-

3

29

29

71905

559

60.99

Nazirpur

233.63

-

8

68

169

178820

765

57.5

Nesarabad

199.15

1

10

82

133

212232

1066

68.2

Pirojpur Sadar

164.64

1

7

65

112

155194

942

71.56

Bhandaria

163.56

-

7

37

40

155256

949

62.7

Mathbaria

353.25

1

11

67

94

263527

746

62.8
Source Bangladesh Population Census 2001, Bangladesh Bureau of Statistics.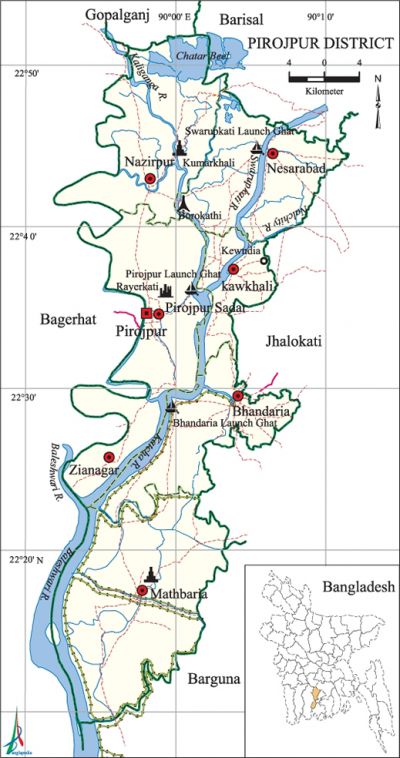 Historical events Peasant rebellion was held at Singkhali in Bhandaria upazila in 1857. Peasant leaders Gagan and Mohan Miah revolted against the British rule and the local zamindars in which 17 revolutionaries were killed. In consequent of adopting the resolution of continuing Non cooperation Movement and Khilafat Movement simultaneously in a conference in 1920 in Kolkata, its reaction was visible in Pirojpur. In 1927 a movement was held in Pirojpur under Lawyer Mofizuddin of Chakhar and Syed Habibur Rahman in protest of 'Kulkati Killing'. The freedom fighters attacked the Bhandaria Police Station in August 1971 under Subedar Aziz Shikder in which a number of razakars were killed. On 29 November the Pak army retreated from Bhandaria Upazila having the Bhandaria Bandar sacked. During the war of liberation the freedom fighters of Kawkhali upazila established a strong base at village Keundia. In the month of August the freedom fighters raided the Kawkhali Police Station and captured arms and ammunitions. In the month of September, 17 Pak soldiers and razakars were killed in a battle with the freedom fighters at Keundia of this upazila. Besides, Pak army killed 30 innocent persons of Amrajuri and burnt a number of houses of the upazila. During the War of Liberation the Pak army raped and brutally killed a women named Bhagirathi (Birangana) for supply of Pak military information to the freedom fighters. The Pak army tied her alive with a motor cycle and drugged her until death; later on her dead body was thrown in the Baleshwari River. In the month of May the razakars killed 12 freedom fighters at a place called Jhutipunia of Mathbaria upazila. On 15 May the Pak army conducted mass killing in Dirgha union of Nazirpur upazila; they also set many houses of the union on fire. On 3 December the Pak army, in collaboration with the local razakars, killed 7 persons at villages Satkachhemia and Bainkathi of this upazila. The Pak army launched attack on Nesarabad upazila on 11 May for the first time. During May to June the Pak army, in collaboration with the local razakars, conducted heavy plundering in different villages including Miar Hat and Inder Hat ports; they also set many houses and shops of these areas on fire. Besides, they also killed about 100 persons in this upazila. The Pak army killed 7 persons at a time of the same family at village Barajkati under Sohagdal union. On 10 November the Pak army and their local collaborators tied 18 innocent persons together with rope and tortured them to death in front of Barajkati Kachhari. During the War of Liberation the Pak army, in collaboration with their local agents, killed about one thousand people of the upazila. They conducted the most brutal killing at Peara Bagan (guava garden) of Atghar Kuriana. After the end of the War of Liberation about 300 human skulls were collected from a ditch located behind the Kuriana College compound.
Marks of the War of Liberation Mass killing site 2, sculpture 1 (Shargabani), memorial monument 1 (Baleshwari Kheyaghat), Mass grave 1.
Literacy rate and educational institutions Average literacy 64.77%; male 65.6%, female 63.0%. Noted educational institutions: Pirojpur Shaheed Suhrawardy Government College, Bhandaria Government College, Kawkhali Degree College, Mathbaria Government Degree College, Swarupkati College (1965), Pirojpur Government Boys' School (1909), Pirojpur Government Girls' High School (1893), Pirojpur Government High School (1909), Parerhat Rajlakshmi Secondary School (1915), Kadamtala Goerge Secondary School (1912), Pirojpur Town Secondary School (1917), Bhandaria Bihari Lal High School (1913), Bara Kanua Abdul Majid Secondary School (1927), Sutiakati Union High School (1909), Khanakuniari PE Fazil Madrasa (1920).
Main sources of income Agriculture 50.82%, non-agricultural labourer 5.75%, industry 0.78%, commerce 18.71%, transport and communication 2.16%, service 7.69%, construction 1.36%, religious service 1.61%, rent and remittance 0.95% and others 10.17%.
Newspapers and periodicals Daily: Janagan (1992), weekly: Bhandaria Barta, Pirojpur Muktabarta (1998), Pirojpur Darpan (1985), Baleshwari (1998), Pirojpur Bani (1993), fortnightly Mathbaria Samachar (1997); defunct: Upokul Samachar, Pirojpur Hitoishi, Parichiti, Mukul, Jhumketuz, Janamat, Dakishin Desh, Bangladesh, Lalbarta, Onnotomo, Pradwip, Dhaleshwari.
Folk culture The most notable folk tales of the district are Gunai Bibi gan and the pala of Asman Singh. Other folk songs prevalent in the district include Pala song of Amina Bibi and Nasar Malume, Adhar Moni Vaishnabi song, song of Anath Bandhu, song of Abdul Ghani Bayati, song of Kalu Molla, song of Khoas Khizr, Gazir Gan (song), Krishna Lila, etc. Folk songs include Bhatiali, Sarigan, Marfati, song of Mukunda Das, Palli Geeti and song of Abdul Latif. [Ranjan Baksi Nupu]
See also The upazilas under this district.
References Bangladesh Population Census 2001, Bangladesh Bureau of Statistics; Cultural survey report of Pirojpur District 2007; Cultural survey report of upazilas of Pirojpur District 2007.