Singair Upazila (manikganj district) area 217.38 sq km, located in between 23°42' and 23°52' north latitudes and in between 90°03' and 90°16' east longitudes. It is bounded by dhamrai and manikganj sadar upazilas on the north, nawabganj (dhaka) upazila on the south, savar and keraniganj upazilas on the east, Manikganj Sadar upazila on the west.
Population Total 248615; male 126418, female 122197; Muslim 232088, Hindu 16449, Buddhist 24 and others 54.
Water bodies Main rivers: dhaleshwari, Ghazikhali, Kaliganga.
Administration Singair Thana was formed in 1919 and it was turned into an upazila in 1983.
Upazila
Municipality
Union
Mouza
Village
Population
Density (per sq km)
Literacy rate (%)
Urban
Rural
Urban
Rural

-

11

137

246

13941

234674

1123

46.77

33.99
Upazila Town

Area (sq km)

Mouza

Population

Density (per sq km)

Literacy rate (%)

8.31

2

13941

1678

46.77
Union
Name of union and GO code
Area (acre)
Population
Literacy rate (%)
Male
Female

Chandhar 25

6788

15752

15021

33.68

Charigram 34

2835

6948

6941

33.76

Joy Mantap 51

3414

11853

11034

33.03

Jamsha 69

5093

9389

9379

38.30

Jamirta 60

4144

10851

10632

30.18

Talibpur 94

3654

7775

7612

45.87

Dhalla 43

5307

15177

14089

27.98

Baldhara 17

7489

12734

12705

40.70

Boyra 08

3610

10467

10324

37.25

Saista 77

4636

12182

11577

26.89

Singair 86

4901

13290

12883

39.00
Source Bangladesh Population Census 2001, Bangladesh Bureau of Statistics.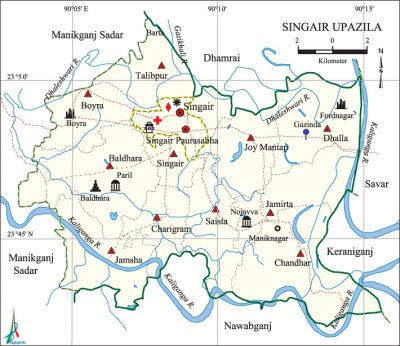 Archaeological heritage and relics Fort at Fordnagar, Neel Kuthi at Boyra, residence of the Datta-Guptas, Ananda Kuthi and Mandir at Baldhara, Sen-bari and Durga-mandap at Baldhara, Imampara Jami Mosque at Baldhara in Paril, Tomb of Ibrahim Shah at Baldhara in Paril, Kalisundari Charitable Dispensary (1895).
History of the War of Liberation On 28 October 1971, a group of more than three hundred Pak-soldiers advanced from their Singair camp on boats to raid the camp of the freedom fighters at Golaidanga High School. Having intelligence of the campaign the freedom fighters left the camp to take position in three groups on the Nurani-Ganga Canal. The disappointed Pak army conducted heavy plundering and burning in the area; they also set on fire about 200 houses of four nearby villages. The Pak army while receding back towards their camp at Singair were attacked by the freedom fighters on the turn of the Nurani-Ganga Canal in which more than one hundred Pak soldiers including a Pak Major were killed. Another encounter was held between the freedom fighters and the Pak army at Boyra while the Pak army proceeding towards Singair from Manjkganj on boat with supplies came under the ambush of the freedom fighter on both sides of the Dhaleshwari. In this encounter 15 Pak soldiers were killed and so was one freedom fighter. A battle was fought between the freedom fighters and the receding Pak-soldiers on 15 December at village Gajinda of Singair upazila in which the freedom fighters Mohammad Aminur Rahman, Chhakkeluddin, Shariful Islam and Rahijuddin were killed.
Religious institutions Mosque 420, temple 35, tomb 10, sacred place 1. Noted religious institutions: Imampara Jami Mosque, Upazila Parisad Jami Mosque, Irta Jami Mosque, Joy Mantap Jami Mosque, Bhum-dakshin Jami Mosque at Dhalla, Shaorail Mandir, Maniknagar Basudev Mandir, Saista Kali Mandir, Boyra Kali Mandir, Saista Hindu Sacred Place, tomb of Ghazi Mulk Ekramul Ibrahim Shah at Paril, tomb of Rajab Shah at Paril, tomb of Zahir Bayati at Kaliakair, tomb of Piyar Pagla at Boyra.
Literacy rate and educational institutions Average literacy 34.71%; male 38.90%, female 30.41%. Educational institutions: college 2, secondary school 22, primary school 93, madrasa 16. Noted educational institutions: Singair College (1970), Joy Mantap High School (1929), Jamirta SG Multilateral High School (1921), Singair Pilot High School (1940), Boyra Multilateral High School (1943), Nabagram Multilateral High School (1921), Charigram High School (1948), Shahrail High School (1964), Golaidanga High School (1967), Char Jamalpur Madrasa (1960).
Newspapers and periodicals Dishari, Aloklata, Sheuli, Durbachal, Dawal, Ghazikhali, Chhayapalli, Paril Bartabaha.
Cultural organisations Library 3, club 50, women organisation 1, theatre group 5, theatre stage 1, cinema hall 1.
Main sources of income Agriculture 56.84%, non-agricultural labourer 2.55%, industry 0.98%, commerce 14.15%, transport and communication 2.17%, service 8.39%, construction 0.96%, religious service 0.19%, rent and remittance 5.20% and others 8.57%.
Ownership of agricultural land Landowner 52.75%, landless 47.25%; agricultural landowner: urban 45.62% and rural 53.17%.'
Main crops Paddy, wheat, jute, sugarcane, potato, pulse, oil seed, vegetables.
Extinct or nearly extinct crops Nut, arahar, china, dabri, barley, kaun, pea, sesame, tobacco.
Main fruits Mango, jackfruit, papaya, guava.
Fisheries, dairies and poultries Fishery 180, dairy 145, poultry 200, hatchery 5.
Communication facilities Pucca road 60 km, mud road 421 km; waterway 35 nautical miles.
Extinct or nearly extinct traditional transport Palanquin, horse carriage, bullock cart.
Noted manufactories Bidi factory, candle and agarbati factory, welding factory, brick field, packaging mill, book binding industry.
Cottage industries Goldsmith, blacksmith, potteries, weaving, brass and bell metal work, conch work, silk work, wood work, bamboo work, tailoring.
Hats, bazars and fairs Hats and bazars are 31, fairs 12, most noted of which are Sirajpur Hat, Boyra Hat, Singair Hat, Charigram Hat, Jamsha Hat, Shaorail Bazar, Natun Bazar, Baldhara Bazar, Maniknagar Bazar, Joy Mantap Bazar, Bairagir Akhra Mela at Singair, Sadhu Ashrama Mela at Jamsha, Chaitra Sankranti and Baisakhi Mela at Shaorail, Siddhabari Mela at Shaorail, Paus Sankranti Mela at Baldhara and Joy Mantap and Pankui Bhitar Mela at Gazikhali.
Main exports Paddy, potato, pulse, oil seed, vegetables, sugarcane molasses, brass and bell metal products, cattle, poultry, milk, papaya, guava, brick.
Access to electricity All the unions of the upazila are under rural electrification net-work. However 31.28% of the dwelling households have access to electricity.
Sources of drinking water Tube-well 95.81%, tap 0.65%, pond 0.25% and others 3.29%.
Sanitation 49.87% (rural 48.27% and urban 76.47%) of dwelling households of the upazila use sanitary latrines and 44.66% (rural 46.20% and urban 19%) of dwelling households use non-sanitary latrines; 5.47% of households do not have latrine facilities.
Health centres Upazila health complex 1, mother and child welfare centre, satellite clinic 1, community clinic 11, family planning centre 10, clinic 1.
Natural disasters Many people of the upazila were victims of the famine of 1943.
NGO activities Operationally important NGOs are brac, proshika, asa, ITCL. [MA Ramzan]
References Bangladesh Population Census 2001, Bangladesh Bureau of Statistics; Cultural survey report of Singair Upazila 2007.