Bagerhat Sadar Upazila (bagerhat district) area 316.97 sq km, located in between 22°35' and 22°50' north latitudes and in between 89°38' and 89°53' east longitudes. It is bounded by fakirhat and chitalmari upazilas on the north, rampal and morrelganj upazilas on the south, kachua (bagerhat) upazila on the east, Fakirhat and Rampal upazilas on the west.
Population Total 257273; male 133514, female 123759; Muslim 207064, Hindu 49694, Buddhist 411, Christian 19 and others 85.
Water bodies bhairab, chitra, Daudkhali and Taleswar rivers are notable.
Administration Bagerhat Thana was formed in 1842 and it was turned into an upazila in 1983.
Upazila
Municipality
Union
Mouza
Village
Population
Density (per sq km)
Literacy rate (%)
Urban
Rural
Urban
Rural

1

10

169

183

46455

210818

812

68.5

59.2
Municipality

Area
(sq km)

Ward

Mahalla

Population

Density
(per sq km)

Literacy rate
(%)

7.24

9

31

46455

6416

68.5
Union
Name of union and GO code
Area (acre)
Population
Literacy rate (%)
Male
Female

Kara Para 69

6389

16336

15016

60.96

Khanpur 77

5275

7934

7615

59.81

Gota Para 51

7564

11827

11200

56.42

Dema 35

10931

8312

7607

57.01

Barai Para 17

8347

13138

12029

57.25

Bishnupur 34

7695

10955

10630

57.11

Bemarta 25

9527

12824

12115

59.64

Jatrapur 60

6430

9710

8932

58.92

Rakhalgachhi 86

4557

6290

6062

61.93

Shat Gambuj 94

8950

11443

10843

63.17
Source Bangladesh Population Census 2001,Bangladesh Bureau of Statistics.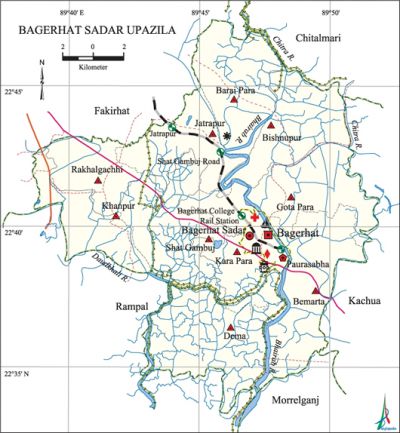 Archaeological heritage and relics khan jahan's tomb Complex, 'shatgumbad mosque, nine-domed mosque, Ayoddha Mosque, Chillakhan Mosque, Sona Mosque, Anar Khan Mosque, Daria Khan Mosque, Katani Mosque, Pancha Dighi, Ekhtiar Khan Dighi, Burakha Dighi.
Historical events In the first half of fifteen century khan jahan ali established Khalifabad pargana covering Bagerhat, Khulna, Jessore, Satkhira and Barisal. Bagerhat was the administrative centre of the pargana. He built a Takshal (mint), several mosques and excavated a number of dighis (big ponds). During the war of liberation rajakars slaughtered 18 members of a family. Battles between the Pak army and the freedom fighters were held at Panighat, Devir Bazar and Madhav Kathi. Bagerhat was liberated on 17 December.
Marks of War of Liberation Mass grave 1 (Bandhapara), Mass killing site 1 (Dakbanglo Ghat), Memorial monument 1.
Religious institutions Mosque 452, temple 13. Noted religious institutions: Shatgumbad Mosque, Court Mosque, Railway Mosque, Sarui Jami Mosque, Rajeshwar Temple, Muniganj Kali Temple, Barui Radhesham Temple.
Literacy rate and educational institutions Average literacy 60.9%; male 63.3%, female 58.4%. Educational institutions: college 13, secondary school 44, technical school 2, institute 4, primary school 160, madrasa 19. Noted educational institutions: Homeopath College, Government Mahila College, Khan Jahan Ali College, Physical Education College, Rangdia School and College (1902), Blind and Deaf Institute, Textile Institute, Medical Assistant Training School, Midwife Training Institute and Nursing School, Prafulla Chandra Roy College (1918), Bagerhat Multilateral Pilot Secondary School (1878), Barai Para Purnachandra Secondary School (1914), Madhudia Icchamoyi Secondary School (1915), Chirulia Secondary School (1917), Khan Jahania Secondary School (1923), Sugandhi Secondary School (1930), Bagerhat Fazil Madrasa, Khanpur Islamia Alim Madrasa.
Newspapers and periodicals Daily: Dainik Dakhin Kantha, Dut, Uttayal, Dakshin Bangla, weekly: Khan Jahan, Bagerhat Darpan, Bagerhat Barta.
Cultural organisations Library 10, club 25, women organisation 1, museum 1, theatre group 2, theatre stage 1, open stage 1, cinema hall 2, playground 1.
Main sources of income Agriculture 42.01%, non-agricultural labourer 7.41%, industry 1.27%, commerce 21.31%, transport and communication 4.55%, service 10.61%, construction 1.78%, religious service 0.26%, rent and remittance 0.54% and others 10.26%.
Ownership of agricultural land Landowner 56.38%, landless 43.62%; agricultural landowner: urban 52.08% and rural 57.29%.
Main crops Paddy, wheat, jute, sugarcane, potato, betel leaf, pulse, vegetables.'
Extinct or nearly extinct crops Mustard seed, tobacco.
Main fruits Safeda, mango, jackfruit, banana, papaya, custard-apple, jamrul, blackberry, coconut, betel nut.
Fisheries, dairies and poultries Shrimp cultivation (Chingri gher): 10461 (Galda and Bagda), dairy 42, poultry 320, hatchery 10.
Communication facilities Pucca road 156 km, semi-pucca road 53 km, mud road 367 km; railway 12.75 km.
Extinct or nearly extinct traditional transport Palanquin, horse carriage, bullock cart.
Noted manufactories Rice mill, flour mill, oil mill, fish feed mill, ice factory, chanachur (fried chick-pea) factory, bidi factory.
Cottage industries Goldsmith, blacksmith, potteries, wood work, bamboo work, honey cultivation project.
Hats, bazars and fairs Hats and bazars are 31, fairs 5, most noted of which are Jatrapur Hat,' Barakpur Hat, Babur Hat, Katakhali Hat and Panighater Mela, Jatrapur Rath Mela, Koramar Kasundi Mela and Krishi (agriculture) Mela.
Main exports Coconut, betel nut, shrimp.
Access to electricity All the wards and unions of the upazila are under rural electrification net-work. However 40.76% of the dwelling households have access to electricity.
Sources of drinking water Tube-well 70.55%, pond 13.73%, tap 13.95% and others 1.77%.
Sanitation 49.9% (rural 45.37% and urban 71.45%) of dwelling households of the upazila use sanitary latrines and 45.94% (rural 50.16% and urban 25.85%) of dwelling households use non-sanitary latrines; 4.16% of households do not have latrine facilities.
Health centres Hospital 1, satellite clinic 2, union health and family planning centre 10, child and maternity clinic 1, midwife training institute 1, nursing school 1, private clinic 81.
NGO activities Operationally important NGOs are CARE, brac, proshika, asa. [HM Khaled Kamal]
References Bangladesh Population Census 2001, Bangladesh Bureau of Statistics; Cultural survey report of Bagerhat Sadar Upazila 2007.