Brahmanbaria District (chittagong division) area 1927.11 sq km, located in between 23°39' and 24°16' north latitudes and in between 90°44' and 91°51' east longitudes. It is bounded by kishoreganj and habiganj districts on the north, comilla district on the south, Habiganj district and tripura state of India on the east, Meghna river, Kishoreganj, narsingdi and narayanganj districts on the west.
Population Total 2398254; male 1205552, female 1192702; Muslim 2195583, Hindu 201843, Buddhist 187, Christian 90 and others 551.
Water bodies Main rivers: meghna, titas, Buri, Kulkulia.
Administration Brahmanbaria district was formed in 1984. Earlier it was included in Comilla (previous name Tripura) district. It should be noted here that before 1830 Sarail Pargana was included into mymensingH district. Brahmanbaria Town was turned into a municipality in 1869. Of the 8 upazilas of the district brahmanbaria sadar is the largest (440.57 sq km, 23.86% of the total area of the district) and ashuganj is the smallest (69.59 sq km) in size.
District
Area (sq km)
Upazila
Municipality
Union
Mouza
Village
Population
Density (per sq km)
Literacy rate (%)
Urban
Rural
1927.11
8
4
98
1024
1331
336184
2062070
1244
39.46
Others Information of District
Name of upazila
Area (sq km)
Municipality
Union
Mouza
Village
Population
Density (per sq km)
Literacy rate (%)
Akhaura
99.28
1
5
107
113
130319
1313
50.0
Ashuganj
67.59
-
7
30
38
145828
2158
46.2
Kasba
209.76
1
10
160
222
271231
1293
43.5
Nabinagar
353.66
1
20
155
196
420383
1189
37.9
Nasirnagar
311.66
-
13
100
129
255668
820
27.8
Banchharampur
217.38
-
13
76
118
278240
1280
35.0
Brahmanbaria Sadar
440.55
1
21
320
375
625484
1420
44.3
Sarail
227.22
-
9
76
140
271101
1193
32.9
Source Bangladesh Population Census 2001,Bangladesh Bureau of Statistics.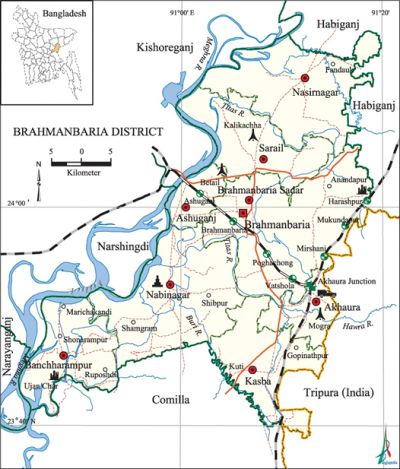 War of Liberation In 1971 Brahmanbaria district was under Sector 2 of the war of liberation. The important war fields of this sector were Akchhina, Akhaura, Asadnagar, Araibari, Ibrahimpur, Kalikachha, Kullapathar, Chandrapur, Chargach, Check Post Road, Jagharchar, Taragana, Tullapara, Devagram, Daruin, Durgarampur, Dashdona, Nabinagar sadar, Fulbaria, Bayek, Mirpur, Latuamura, Hariabaha and Khirnal. On 14 April 1971, freedom fighters Abul Hossain, Shahjahan, Lance Nayek A Hai, Subedar Sirajul Islam and Sepahy Abdur Rahman were killed in an encounter with Pak army. Bir Srestha Sipahy mohammad mostafa kamal was killed on 18 April 1971 in a frontal battle with the Pak army at village Daruin. The tomb of Bir Srestha Mostafa Kamal is located in this village. On 5 May 1971, the freedom fighters under Lieutenant Helal Murshed attacked the Pak army camp at Shahbajpur of the Sarail upazila in which 9 Pak soldiers were killed and one freedom fighter was wounded. Many freedom fighters were killed in an encounter with the Pak army on 22 November at Latoamura of Kasba upazila; and in another encounter with the Pak army 49 freedom fighters were killed. On 9 December 1971 the Pak army destroyed part of Ashuganj-Bhairab Railway Bridge on the Ashuganj side by dynamite. On the assumption that the Pak army left Ashuganj after destroying the bridge the allied forces advanced towards Ashuganj to occupy it. As soon as they reached within 50 yards of Asuganj Thermal Power Plant the Pak army launched heavy attack on the 18 Rajput Regiment and killed 70 members of the allied forces including 4 officers. Freedom Fighter Siddiqur Rahman was killed in an encounter with the Pak army at village Fulbaria of Nasirnagar upazila and 17 Pak soldiers including one rajakar were killed at village Tullapara. A number of Pak army officers and the chairman of Sarail Peace Committee were killed when the guerrilla team of the freedom fighters destroyed two military vehicles by mine explosion. The Pak army conducted mass killing at village Krishnanagar of Ujan Char union of Banchharampur upazila. On 15 November 1971 the Pak army killed many innocent civilians of Nasirnagar sadar and of the villages of Kunda, Bulakot and Gokarna unions of the upazila. The Pak army brutally killed 204 innocent people of Kautali, Pairtala, Singerbil, Natai, Majlishpur, Bijeshwar, Ramrail and Atla under Brahmanbaria sadar. The Pak army brutally killed 70 persons at Bitghar of Sarail. During the War of Liberation the Pak army used to torture and kill suspected Bangalis at a slaughter place near Ashuganj silo. Five freedom fighters of Banchharampur upazila were awarded the title of 'Bir Pratik for their heroic role in the War of Liberation.
Marks of War of Liberation Mass grave 6 (Kharaghar, north-west corner of the playground of Nabinagar Pilot High School, south side of Nabinagar thana compound, west bank of Magra Gangasagar Dighi, Senarbadi near the border of Akhaura-Tripura, Lalpur Bazar), mass killing site 1 (Ashuganj silo), memorial monument 3, memorial sculpture 1, martyr graves 8 (Lakshmipur, Kollapathar, Shimrail and Jamsherpur). The tomb of Birsrestha Mostafa Kamal is located at village Daruin of Akhaura upazila.
Literacy rate and educational institutions Average literacy 39.46%; Male 42.26%, female 36.69%. Educational institutions: law college 1, homeopathic college 1, college 39, nursing institute 1, primary training institute 1, secondary school 219, primary school 1130, vocational school 4, deaf and damb education school 1, women's cottage industries education institute 1, kindergarten 63, madrasa 364. Noted educational institutions: Brahmanbaria Government College (1948), Brahmanbaria Government Mahila College (1964), Nabinagar Government College (1969), Shaheed Smriti College (1972), Banchharampur Degree College (1973), Sarail Degree College (1984), Nasirnagar Higher Secondary School (1987), Brahmanbaria High School (1860), Ananda Government High School (1875), Sarail Ananda Government High School (1894), Nabinagar Pilot High School (1896), Guniok High School (1897), Kasba Government High School (1899), Shaymgaon Muhini Kishore High School (1900), Ramkanai High Academy (1901), Chatalpur Wazuddin High School (1902), Debgaon Pilot high School (1905), Shahbazpur Multilateral High School (1907), Biddyakut Amar High School (1913), Niaz Mohammad High School (1914), Kaitala Jageshwar High School (1918), Kuti Atalbihari High School (1918), Fandauk Pandit Ram High School (1919), Bangladesh Railway Government High School (1920), Jamsherpur High School (1923), Satbarga High School (1931), Government Model Girls' High School (1936), Mission Primary School (1910), Brahmanbaria Industrial School (1941), Mirasani Poly-technique Academy (1948), Adampur Fazil Madrasa (1917), Dantamandal Erphania Alim Madrasa (1950), Banchharampur Sobahania Islamia Dakhil Madrasa (1981), Radhanagar Kalikapur Rahamania Dakhil Madrasa (1993).
Main sources of income Agriculture 51.62%, non-agricultural labourer 3.38%, industry 1.66%, commerce 16.23%, transport and communication 2.59%, construction 1.39%, service 7.70%, religious service '0.33%, rent and remittance 4.68% and others 10.42%.
Newspaper and periodicals Daily: Brahmanbaria, Prajabandhu, Ajker Halchal, Titas Kantha, Dindarpan; weekly: Augnibani, fortnightly: Sakaler Surya; quarterly: Siri, Nasirnagar Barta, Protyasha, Meghna Chitra, Ashuganj Sangbad, Ekushey Alo, Kalamer Katha, Sarail Yugay Yugay, Sarail Barta, Muktaprobaha, Aunupam Barta, defunct: weekly: Usha, Titas; monthly: Hira, mandas, Parichaya, Palli Pradip, Rayat Bandhu, Chunta Prakash (1922); fortnightly: Belaseshe (1992).
Folkculture Jarigan, Sarigan, Baulgan, Kavigan, Jatragan, Palagan, spiritual song, folk song, proverb, pazzle, rhyme, punthi, folk tale are notable.
Tourist spots Kalbrairab, memorial monument at Faruqui Park, Shaudha Hiranmoie, Hatir Pool, Mazar of Kelle Shahid, Gangasagar Dighi, mosque at Upchapara, Mazar of Kazi Mahmud Shah (R), Chhatura Sharif, Natghar Mandie, Swatidaha Mandir at Biddyakut. [Shekh Muhammad Sayed Ullah Litu]
See also The upazilas under this district.
References Bangladesh Population Census 2001, Bangladesh Bureau of Statistics; Cultural survey report of Brahmanbaria District 2007; Cultural survey report of the upazilas under this district 2007.