Chilmari Upazila (kurigram district) area 224.97 sq km, located in between 25°26' and 25°40' north latitudes and in between 89°38' and 89°48' east longitudes. It is bounded by ulipur upazila on the north, char rajibpur and sundarganj upazilas on the south, raumari and Char Rajibpur upazilas on the east, Sundarganj and Ulipur upazilas on the west.
Population Total 114350; male 56506, female 57844; Muslim 108538, Hindu 5691, Buddhist 33 and others 88.
Water bodies Main rivers: brahmaputra; noted beels are Udnar Beel, Chaslar Beel, Magurar Beel, Shouldhukrir Beel, Horinnar Bandha Beel and Pedi Theorar Beel.
Administration Chilmari Thana was established in 1850 and it was turned into an upazila on 15 April, 1983.
Upazila
Municipality
Union
Mouza
Village
Population
Density (per sq km)
Literacy rate (%)
Urban
Rural
Urban
Rural

-

6

58

144

44529

69821

508

29.53

40.20
Upazila Town

Area
(sq km)

Mouza

Population

Density
(per sq km)

Literacy rate (%)

28.07

5

44529

11586

40.20
Union
Name of union and GO code
Area (acre)
Population
Literacy rate (%)
Male
Female

Ashtamir Char 11

18528

6996

7433

20.14

Chilmari 23

6654

3460

3336

26.78

Thanahat 83

6020

17763

17817

41.81

Nayerhat 47

12845

4204

4826

19.64

Ramna 59

5161

14688

15063

37.03

Raniganj 71

6381

9395

9369

31.55
Source  Bangladesh Population Census 2001, Bangladesh Bureau of Statistics.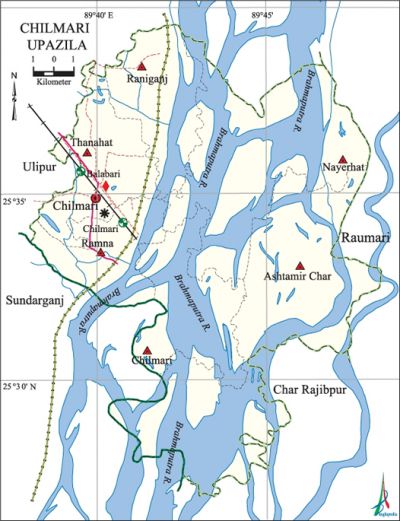 Archaeological heritage and relics Three domed Mosque (Mughal period), Kali Mandir and Shiva Mandir.
Historical Events During the 1920s many people of Chilmari were involved in the anti British movement; warrants were issued against Abdul Majid, Paresh Chandra Mallick and Naren Kumar Thakur. Paresh Chandra Mallick was arrested and was exiled to the Andamans. During the war of liberation the Pak army killed 30 persons at a place on the bank of the river Brahmaputra in Chilmari upazila on 20 May 1971. On 17 October 1971 an encounter was held between a group of 150 freedom fighters under Abul Kashem Chand and the Pak army in which 11 freedom fighters were killed; Chilmari was liberated after this encounter.
Marks of the War of Liberation Mass killing site 1 (bank of the river Brahmaputra).
Religious institutions Mosque 145, temple 10. Noted religious institutions: three-domed Mosque (Mughal period), Kali Mandir and Shiva Mandir.
Literacy rate and educational institutions Average literacy 33.77%; male 39.05%, female 28.69%. Educational institutions: college 4, secondary school 16, primary school 86, community primary school 2, vocational school 3, madrasa 30. Noted educational institutions: Chilmari Degree College (1985), Chilmari Mahila Degree College (1995), Golam Habib Mahila Degree College (1995), Chilmari High School (1933), Thanahat A.U Pilot High School (1967), Thanahat Pilot Girls' High School (1969), Balabari Hat High School (1948), KD Wari Govt. Primary School (1946), Thanahat Govt. Primary School (1940), Rajarbhita Islamia Fazil Madrasa (1949), Kanchcole Khamar Sakina Dakhil Madrasa (1981).
Newspapers and periodicals Weekly: Janapran
Cultural organisations Cub 15, library 4, cultural organisation 4, cinema hall 1, playground 6.
Amusement centre Ramna Ghat.
Main sources of income Agriculture 67.85%, non-agricultural labourer 5.17%, industry 0.38%, commerce 9.38%, transport and communication 1.23%, service 6.81%, construction 1.01%, religious service 0.09%, rent and remittance 0.22% and others 7.86%.
Ownership of agricultural land Landowner 49.48%, landless 50.52%; agricultural landowner: urban 41.95% and rural 54.03%.
Main crops Paddy, jute, wheat, mustard, vegetables.
Extinct or nearly extinct crops Potato, arahar.
Main fruits Mango, jackfruit, black berry, papaya, banana, guava.
Fisheries, dairies and poultries Dairy 9, poultry 16.
Communication facilities Pucca road 27 km, semi-pucca road 163.5 km, mud road 99.56 km; waterways 14 nautical miles, railways 5 km.
Extinct or nearly extinct traditional transport Palanquin, bullock cart.
Noted manufactories Welding factory, saw mill, rice mill.
Cottage industries Goldsmith, potteries, blacksmith, jute industries, weaving, nakshi kantha, wood' work, bamboo work.
Hats, bazars and fairs Hats and bazars are 6, fairs 4, most noted of which are Kanchcole Hat, Raniganj Hat, Balabari Hat, Jorgachha Hat, Ashtamir Mela, Balabari Mela, Baruni Mela and Durga Puja Mela.
Main exports Jute.
Access to electricity All the unions of the upazila are under rural electrification net-work. However 7.29% of the dwelling households have access to electricity
Sources of drinking water Tube-well 93.18%, pond 0.12%, tap 0.13% and others 6.57%.
Sanitation 31.10% (rural 26.98% and urban 37.93%) of dwelling households of the upazila use sanitary latrines and 24.07% (rural 26.36% and urban 20.28%) of dwelling households use non-sanitary latrines; 44.83% of households do not have latrine facilities.
Health centres Upazila health complex 1, satellite clinic 1, family planning centre, maternity 1, health centre 1 (run by the destitute), community clinic 12.
Natural disasters The flood of 1974 caused heavy damages to settlements and properties of the upazila.
NGO activities brac, caritas, Gram Unnayan Sanghtha. [Md Abdul Hakim]
References Bangladesh Population Census 2001, Bangladesh Bureau of Statistics; Cultural survey report of Chilmari Upazila 2007.