Durgapur Upazila (Netrokona District)
Durgapur Upazila (netrokona District) area 279.28 sq km, located in between 24°57' and 25°12' north latitudes and in between 90°28' and 90°47' east longitudes. It is bounded by Meghalaya state of India on the north, netrokona sadar and purbadhala upazilas on the south, kalmakanda upazila on the east, dhobaura upazila on the west. The Garo hills and valleys are on the northern part of the upazila.
Population Total 198326; male 100623, female 97703; Muslim 175753, Hindu 13195, Buddhist 9161, Christian 41 and others 176. Indigenous communities such as garo and hajongs belong to this upazila.
Water bodies Main rivers: kangsa, Someshwari, Old Someshwari.
Administration Durgapur Thana, now an upazila, was formed in 1874.
Upazila
Municipality
Union
Mouza
Village
Population
Density (per sq km)
Literacy rate (%)
Urban
Rural
Urban
Rural

1

7

114

123

6871

160725

859

55.6

55.2
Upazila Town

Area (sq km)

Mouza

Population

Density (per sq km)

Literacy rate (%)

5.69

4

6871

1208

40.86
Union
Name of union and GO code
Area (acre)
Population
Literacy rate (%)
Male
Female

Kismat Gankair 59

6073

10254

9451

37.85

Joynagar 47

7356

12870

12081

41.70

Jhaluka 35

6607

11847

11181

36.44

Deluabari 11

8013

13288

12572

39.24

Dharmapur (Pananagar) 23

8080

13959

13185

50.16

Noapara 83

6563

12787

12254

39.18

Maria 71

5502

11358

10509

40.43
Source  Bangladesh Population Census 2001, Bangladesh Bureau of Statistics.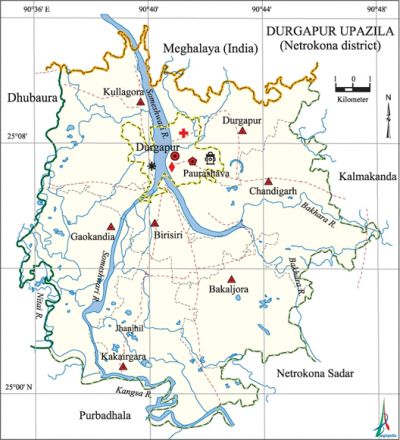 Archaeological heritage and relics Ancient mosque at village Maskandha (Sultanate period).
Historical events At the end of the nineteenth century Hajong Revolt occurred under the leadership of Mona Sarder protesting against the compulsion of wage free labour in the Hatikheda. tonk movement (1942-43) and tebhaga movement (1946-47) occurred in this upazila under the leadership of Comrade moni singh. Later these revolutions spread all over East Bengal. The Garo rebellion (1848) is also a notable event of this upazila. The villagers of Gaokandia killed two Pak soldiers and one rajakar when they entered into a house of the village in 1971. In retaliation, the Pak army captured nearly 100 persons of the village in a house and burnt them to death.
Religious institutions Mosque 267, temple 18, church 5.
Literacy rate and educational institutions Average literacy 33.6%; male 36.3%, female 30.9%. Noted educational institutions: Birisiri Picinal High School (1892), Birisiri Mission Girls' High School (1899), SKPS High School (1918), Gujirkona High School (1946), Durgapur Entrance School (1879), Upendra Biddyapit (1913-14).
Newspapers and periodicals Quarterly magazine: Ekush Shataker Srot, Someshwari, Jalsiri, Matir Subash; research magazine: Janira; defunct monthly: Aryanpradip, Koumudi, Aryanprava; defunct literary magazine: Smriti Kanan, Susang Barta.
Cultural organisations Library 3, club 40, cinema hall 1, women's organisation 1, playground 14, theatre stage 2, theatre group 3.
Special attraction Birishiri Tribal Cultural Academy, Bijoypur white clay mine, Durgapur Shahid Smritishoudh, Rashimoni Smritishoudh, Ranikhong Catholic Church, Garo Baptist Covention Campus, Manasapara Adventist and Seminar.
Main sources of income Agriculture 73.01%, non-agricultural labourer 3.04%, industry 0.47%, commerce 9.83%, transport and communication 1.02%, service 3.21%, construction 0.60%, religious service 0.20%, rent and remittance 0.32% and others 8.30%.
Ownership of agricultural land Landowner 57.15%, landless 42.85%; agricultural landowner: urban 35.31% and rural 59.91%.'
Main crops Paddy, jute, wheat, mustard, peanut, garlic, corn, cotton.
Extinct or nearly extinct crops Linseed, khesari, kalai, sweet potato, arhar.
Main fruits Mango, jackfruit, blackberry.
Communication facilities Pucca road 76 km, mud road 261.70 km; waterway 15 nautical miles.
Extinct or nearly extinct traditional transport Horse carriage, bullock cart and buffalo cart.
Noted manufactories Flour mill, saw mill, ice factory, welding factory.
Cottage industries 'Goldsmith, potteries, blacksmith, weaving, embroidery, wood work.
Hats, bazars and fairs Hats and bazars are 28, fairs 3, most noted of which are Durgapur, Zhanjail, Shivaganj, Gujir Kona, Utrail, Lakshmipur, Kapasatia, Shankarpur and Chandipur hats; Chaitra Samkranti mela.
Main exports Paddy, ceramic clay.
Access to electricity All the wards and unions of the upazila are under rural electrification net-work. However 12.23% of the dwelling households have access to electricity
Natural resources Ceramic clay, pebble stone, coal.
Sources of drinking water Tube-well 87.59%, tap 0.75%, pond 1.12% and others 10.54%. The presence of arsenic has been detected in shallow tube-well water of the upazila.
Sanitation 16.58% (rural 14.10% and urban 36.31%) of dwelling households of the upazila use sanitary latrines and 58.87% (rural 60.37% and urban 46.95%) of dwelling households use non-sanitary latrines; 24.55% of households do not have latrine facilities.
Health centres Upazila health complex 1, satellite clinic 1, health and family welfare centre 7, clinic 3.
Natural disasters The earthquake of 12 June 1897 caused huge loss of life and damages to a lot of settlements; it also made remarkable changes to the surface of the earth.
NGO activities brac, caritas, proshika, asa, World Vision. [Syed Marufuzzaman]
References Bangladesh Population Census 2001, Bangladesh Bureau of Statistics; Cultural survey report of Durgapur Upazila 2007.