Feni Sadar Upazila (feni district) area 197.33 sq km, located in between 22°54' and 23°04' north latitudes and in between 91°18' and 91°31' east longitudes. It is bounded by tripura state of India, chauddagram, PHulgazi and chhagalnaiya upazilas on the north, sonagazi and mirsharai upazilas on the south, Chhagalnaiya upazila on the east and daganbhuiyan upazila on the west.
Population Total 404498; male 204090, female 200408; Muslim 373949, Hindu 30377, Buddhist 37, Christian 60 and others 75.
Water bodies Main rivers: feni and little feni; Silonia Canal, Bijoy Shingho Dighi, Rajajhi Dighi are notable.
Administration Feni Thana was formed in 1929 and it was turned into an upazila in 1984. Municipality was formed in 1958.
Upazila
Municipality
Union
Mouza
Village
Population
Density (per sq km)
Literacy rate (%)
Urban
Rural
Urban
Rural

1

12

134

125

92794

311704

2050

62.5

50.1
Municipality

Area (sq km)

Ward

Mahalla

Population

Density (per sq km)

Literacy rate (%)

27.20

18

36

92794

3412

62.45
Union
Name of union and GO code
Area (acre)
Population
Literacy rate (%)

Male

Female

Kazirbag 47

3535

10632

10450

56.79

Kalidah 43

4736

12971

12819

56.07

Sanua 82

3157

9937

10877

48.58

Dharmapur 23

4068

12295

11288

46.07

Dhalia 22

3989

13398

14367

50.27

Panchgachhiya 64

4375

19068

18795

47.46

Farhadnagar 25

3887

10030

10849

49.45

Fazilpur 30

4077

12927

13633

50.02

Baligaon 20

4205

15121

15596

44.03

Matabi 60

3511

10263

11099

51.16

Lemua 51

2759

9899

10426

51.95

Sarishadi 86

5068

17094

17870

51.91
Source Bangladesh Population Census 2001, Bangladesh Bureau of Statistics.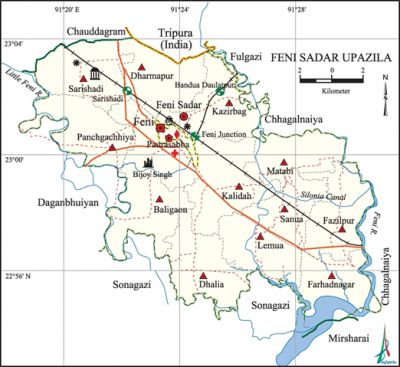 Archaeological heritage and relics Mosque of Mohammad Ali Chowdhury and Shahi Mosque at Sarishadi, Rajajhi Dighi at Feni (1830), Bijoy Singha Dighi' at Mohipal (1760).
Historical events The Naib Nazim of Dhaka appointed Muhammad Ali Chowdhury as the Fouzdar of Feni in 1762. Muhammad Ali Chowdhury revolted against the British; as a result he lost his zamindari in 1790. During the war of liberation in 1971, the Pak army took control over Feni sadar upazila on 23 April. They conducted genocide, torture and violation of women; they also set many houses of the upazila on fire.
Marks of the War of Liberation Mass grave 1, mass killing site 7.
Religious institutions Mosque 413, temple 172, church 2, tomb 3. Noted religious institutions: Feni Jami Mosque, Sarishadi Shahi Mosque, Tomb of Pagla Miah, Tomb of Pathan Shah, Ram Singh Smriti Math (1860), Rajbari Temple (1840), Ramkumar Samadhi Math (1902).
Literacy rate and educational institutions Average literacy 53.01%; male 56.23%, female 49.76%. Noted educational institutions: Feni Government College (1922), Government Commerce College (1965), Government Zia Mahila College (1979), Feni Public College (1995), Feni Girls' Cadet College (2004), Feni GA Academy (1943), Feni P.T.I (1957), Feni Polytechnic Institute (1962), Feni Teacher's Training College (1963), Feni Government Pilot High School (1886), Feni Government Girls' High School (1910), Kalidah SC High School (1911), Feni Central High School (1919), Feni Model High School (1927), Gobindapur Siddikia Fazil Madrasa (1920), Feni Alia Madrasa (1923).
Newspapers and periodicals Daily: Naya Paigam, Amar Feni; bi-weekly: Path; weekly: Gram Desh, Hawkers, Muhuri, Feni Barta, Feni Prabaha, Feni Sambad, Feni Khabar, Feni Darpan, Feni Times, Ananda Taraka, Shadesh Kantho, Atayeb, Baikali, Fenir Alo, Unmochan, Dristipath, Nabin Alo, Nabin Bangla, Alokito Feni, Nabakiron, Fenir Rabi, Jahur, Kalkantha, Barnamala, Fenir Sastakatha; fortnightly: Masimela, Feni Chitra; monthly: Ananda Bhairabi, Sarasari, Urmi.
Cultural organisations Library 6, club 17, women organisation 2, Shishu Academy 1, music training centre 3, theatre group 7, cinema hall 3, children park 1.
Amusement centres Zila Parishad Children Park, Rajajhi Dighi, Bijoy Shingho Dighi.
Main sources of income Agriculture 20.93%, non-agricultural labourer 2.20%, industry 1.07%, commerce 21.39%, transport and communication 6.04%, service 19.81%, construction 2.52%, religious service 0.40%, rent and remittance 11.94% and others 13.70%.
Ownership of agricultural land Landowner 56.71%, landless 43.29%; agricultural landowner: urban 50.13% and rural 58.61%.'
Main crops Paddy, wheat, pulse, sweet potato, chilli, sugarcane, peanut.
Extinct or nearly extinct crops Sesame.
Main fruits Mango, jackfruit, banana, palm, date.
Fisheries, dairies and poultries Fishery 12, dairy52 and poultry 240.
Communication facilities Pucca road 175 km, semi-pucca road 112 km, mud road 400 km; railway 27.5 km.
Extinct or nearly extinct traditional transport Palanquin, bullock cart.
Noted manufactories Textile mill, steel mill, jute mill, oil mill, rice mill, biscuit factory, medicine factory, towel factory, salt factory, cold storage, leather industry, rubber industry.
Cottage industries Goldsmith, wood work, tailoring, bamboo work, cane work.
Hats, bazars and fairs Hats and bazars are 40, fairs 3, most noted of which are Sarishadi Bazar, Ranir Hat, Baligaon Bazar, Sanua Bazar; Rath Jatra Mela at Trank Road and' Baishakhi Mela at Mastar Para.
Main exports Towel, mango, salt.
Access to electricity All the wards and unions of the upazila are under rural electrification net-work. However 58.72% (urban 84.37% and rural 51.31%) of the dwelling households have access to electricity.
Sources of drinking water Tube-well 89.13%, tap 4.62%, pond 1.49% and others 4.76%.
Sanitation 68.77% (rural 64.51% and urban 82.51%) of dwelling households of the upazila use sanitary latrines and 23.04% (rural 25.79% and urban 13.52%) of dwelling households use non-sanitary latrines; 8.19% (rural 9.40% and urban 3.97%) of households do not have latrine facilities.
Health centres Hospital 1, sadar upazila health complex 1, diabetic hospital 1, chest disease clinic 1, trauma centre 1, TB hospital 1, eye hospital 1, CT scan clinic 1, mother and child welfare centre 1, satellite clinic 5, family planning centre 8, seba institute 1, charitable hospital 3, veterinary hospital 1, regional veterinary disease research centre 1, artificial breeding point 1.
Natural disasters The devastating cyclone and tidal bore of 1876 caused huge loss of life and damages to settlements, livestock and other properties of the upazila.
NGO activities Operationally important NGOs are brac, asa, Swanirvar Bangladesh. [Md Abu Taher Bhuiyan]
References Bangladesh Population Census 2001, Bangladesh Bureau of Statistics; Cultural survey report of Feni Sadar Upazila 2007.