Daganbhuiyan Upazila (feni district) area 141.70 sq km, located in between 22°53' and 23°04' north latitudes and in between 91°15' and 91°22' east longitudes. It is bounded by nangalkot, chauddagram and feni sadar upazilas on the north, companiganj upazila on the south, Feni Sadar and sonagazi upazilas on the east, senbagh upazila on the west.
Population Total 254402; male 118752, female 135650; Muslim 239459, Hindu 14889, Christian 28, Buddhist 18 and others 8.
Water bodies Main river: little feni.
Administration Daganbhuiyan Thana was formed in 1980 and it was turned into an upazila on 14 September 1983.
Upazila
Municipality
Union
Mouza
Village
Population
Density (per sq km)
Literacy rate (%)
Urban
Rural
Urban
Rural
1
8
93
119
33574
220828
1795
58.4 (2001)
57.9
Municipality

Area
(sq km)

Ward

Mahalla

Population

Density
(per sq km)

Literacy rate (%)

12.75 (2001)
9
20
32080
2038 (2001)
65.1
Upazila Town

Area
(sq km)

Mouza

Population

Density
(per sq km)

Literacy rate (%)

1.61 (2001)
2
1494
798 (2001)
49.3
Union
Name of union and GO code
Area (acre)
Population
Literacy rate (%)
Male
Female
Yakubpur 94
3671
13189
15268
61.7
Jailashkara 38
5458
19544
22022
61.1
Daganbhuiyan 12
2493
8427
10157
62.6
Purba Chandrapur 69
4448
11417
13426
61.9
Mathu Bhuiyan 56
2702
9148
10440
57.8
Rajapur 73
4590
15784
19428
53.2
Ramnagar 77
2802
9309
10244
62.2
Sindurpur 90
5703
15845
18674
47.5
Source  Bangladesh Population Census 2001 and 2011, Bangladesh Bureau of Statistics.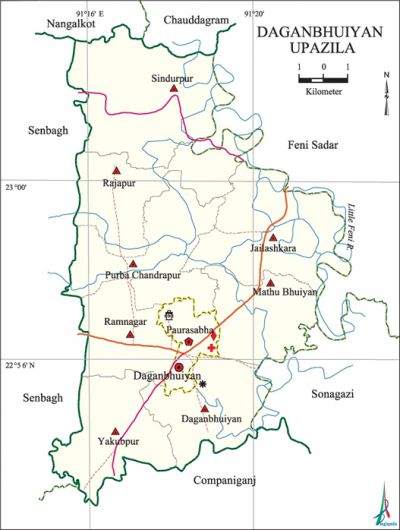 War of Liberation Daganbhuiyan was under sector 2 during the War of Liberation. Freedom fighters got their arms training in Indian camps at places like Harian, Palatona, Bagmara, Ompi and Deradun. They took part in encounters and operations at different locations of the Upazila. A memorial monument has been built.
For details: see দাগনভূঞা উপজেলা, বাংলাদেশ মুক্তিযুদ্ধ জ্ঞানকোষ (Encyclopedia of Bangladesh War of Liberation), বাংলাদেশ এশিয়াটিক সোসাইটি, ঢাকা ২০২০, খণ্ড ৪।
Religious institutions Mosque 306, temple 30, tomb 6. Noted religious institutions: Panch Pir Mazar at Jailashkara, Mazars of Maulana Dewan Abdur Rashid (R), Maulana Muhammad Ishaque (R) and Shah Sufi Saddruddin (R) at Naldia.
Literacy rate and educational institutions Average literacy 58.8%; male 58.7%, female 58.8%. Noted educational institutions: Iqbal Memorial College (1985), Daganbhuiyan Girls' School, Ramnagar K M C High school, Jailashkara High School (1943).
Newspapers and periodicals Defunct: Kalantar, Shuveccha (weekly); Shuchita, Dishari (periodicals).
Cultural organisations Library 1, club 42, cinema hall 1, playground 23.
Main sources of income Agriculture 28.25%, non-agricultural labourer 2.35%, industry 0.77%, commerce 15.12%, transport and communication 4.07%, service 24.10%, construction 1.41%, religious service 0.56%, rent and remittance 9.33% and others 14.04%.
Ownership of agricultural land Landowner 62.71%, landless 37.29%; agricultural landowner: urban 61.49% and rural 62.86%.'
Main crops Paddy, wheat, potato, pulse, vegetables.
Extinct or nearly extinct crops Linseed, sesame, kaun, arahar.
Main fruits Mango, jackfruit, banana, coconut, papaya.
Fisheries, dairies and poultries Shrimp and other fishes cultivations on commercial basis; besides there about 100' dairies and poultries in the upazila.
Communication facilities Pucca road 224.6 km, semi-pucca road 7, mud road 616 km.
Traditional transport Palanquin, horse carriage and bullock cart.
Noted manufactories Rice mill, flour mill, cotton spinning mills, brick field, cap making factory.
Cottage industries Goldsmith, potteries, weaving, wood work, bamboo and cane work.
Hats, bazars and fairs Hats and bazars are 29, fairs 3, most noted of which are Daganbhuiyan Bazar, Amu Tulatuli Bazar, Baker Bazar, Rajapur Bazar; Bhuiya Hat, Faziler Hat, Koreshmunshi Hat, Chilonia Hat and Naldia Mela.
Main exports Shrimp, coconut, vegetables.
Access to electricity All the wards and unions of the upazila are under rural electrification net-work. However 81.0% of the dwelling households have access to electricity.
Sources of drinking water Tube-well 94.2%, tap 1.7% and others 4.1%.
Sanitation 78.5% of dwelling households of the upazila use sanitary latrines and 19.0% of dwelling households use non-sanitary latrines; 2.5% of households do not have latrine facilities.
Health centres Upazila health complex 1, family planning centre 8, clinic 6.
Natural disasters The devastating cyclone of 1991 caused huge loss of life and damages to settlements, live stock and other properties of the upazila.
NGO activities brac, asa cida, Danida, care. [Mohiuddin Hossain Mohin]
References Bangladesh Population Census 2001 and 2011, Bangladesh Bureau of Statistics; Cultural survey report of Daganbhuiyan Upazila 2007.