Lalpur Upazila (natore district) area 327.92 sq km, located in between 24°07' and 24°18' north latitudes and in between 88°52' and 89°08' east longitudes. It is bounded by bagatipara and baraigram upazilas on the north, ishwardi, bheramara and daulatpur (kushtia) upazilas on the south, Baraigram upazila on the east, bagha upazila on the west.
Population Total 242645; male 125790, female 116855; Muslim 227533, Hindu 14487, Buddhist 434 and others 191.
Water bodies Main rivers: Mara Baral, Khalsadingi; Boalia and Basantapur beels are notable.
Administration Lalpur Thana was formed in 1869 and it was turned into an upazila on 15 April 1983.
Upazila
Municipality
Union
Mouza
Village
Population
Density (per sq km)
Literacy rate (%)
Urban
Rural
Urban
Rural

1

10

214

217

26978

215667

740

49.4

42.8
Municipality

Area (sq km)

Ward

Mahalla

Population

Density
(per sq km)

Literacy rate (%)

15.17

9

16

19920

1313

53.7
Upazila Town

Area (sq km)

Mouza

Population

Density (per sq km)

Literacy rate (%)

2.95

1

7058

2392

36.6
Union
Name of union and GO code
Area (acre)
Population
Literacy rate (%)
Male
Female

Arjunpur-Boromhati 57

9448

6061

5573

38.19

Arbab 17

11263

13090

11922

48.00

Ishwardi 66

5427

12144

11516

43.90

Walia 95

6840

13567

12546

46.33

Kadam Chilan 76

5092

9313

8739

42.46

Changdhupail 28

8606

14216

13109

39.47

Durduria 47

6725

12131

11080

40.89

Duaria 38

7584

10693

10101

39.36

Bilmaria 19

7149

9111

8654

55.03

Lalpur 85

10570

15197

13962

34.67
Source Bangladesh Population Census 2001, Bangladesh Bureau of Statistics.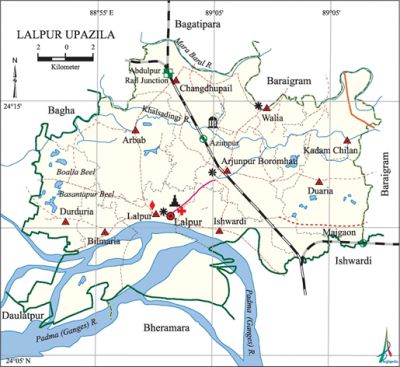 Archaeological heritage and relics Shahi Mosques at Mominpur, Madhabpur, Nabirpara, Salampur and Baoura, mazar and mosque of Shah Bagu Dewan (R) of Mughal period at Bhellabari, Budh Para Kali Mandir and Zamindar Bari, Sree Fakir Chand Gosai Asram at Pansi Para (BS 1217), Arbab Saraikhana and Mosque (Sher Shah,s period), Arjun Para Pond and Building, fort and military barrack at Gharer Vita, Neelkuthi at Lalpur and Bilmaria.
History of the War of Liberation On 30 March 1971 a battle was fought between the freedom fighters and the Pak army at Moyna of the upazila in which about 80 freedom fighters were killed and 32 were wounded. In another encounter with the Pak army on 12 April at Danaidaha 10 freedom fighters were killed. On 5 May the Pak army killed 50 employees of the North Bengal Sugar Mills; on the same day they also killed 5 persons on Lalpur Road. On 29 May the Pak army shot 50 persons dead at village Paitarpara of' Changdhupail union. On 18 July the Pak army killed 22 persons at a place near the Lalpur Neelkuthi. On 19 July they buried 4 persons alive at the same place. On 20 July the Pak army killed 5 persons at village Ramkrishnapur; they also set many houses of the village on fire. On 27 July the Pak army killed 50 persons at Bilmaria Hat. They also killed 36 persons at village Maheshpur on 3 December.
Marks of the War of Liberation Mass grave 1, memorial monument 1.
Religious institutions Mosque 267, temple 38, church 2, sacred place 4. Noted religious institutions: Mominpur Shahi Mosque, Madhabpur Shahi Mosque, Nabirpara Shahi Mosque, Salampur Shahi Mosque, Baora Shahi Mosque, mazar and mosque of Shah Bagu Dewan (R) at Bhellabaria, mazar of Hazrat Imam Shah Alam (R) at Budh Para, mazar of Hazrat Shah Sufi Borhan Uddin Bagdadi (R) at Gopalpur, mazar of Sona Pir, mazar of Panch Pir, Budh Para Kali Mandir, Sree Fakir Chand Gosai Ashrama at Pansi Para.
Literacy rate and educational institutions Average literacy 43.57%; male 44.89%, female 42.16%. Educational institutions: college 13, technical college 4, SSC vocational 2, STC vocational 1, secondary school 52, primary school 99, community school 2, brac school 122, madrasa 63. Noted educational institutions: Gopalpur Degree College, Abdulpur Government College, Manjil Pukur Agriculture, Technical and Commerce College, Mazar Sharif Technical and Business Management Womens' College (2001), Gopalpur Pouro Technical and BM College (2002), Chak Nazirpur Vocational and BM Institute (2002), Lalpur Sree Sundari Pilot High School and BM College (1911), Lalpur College, Chak Nazirpur High School (1925), Balitita Islampur Ashraful Ulum Fazil Madrasa.
Cultural organisations Library 3, club 23, folklore centre 1, stadium 1, cinema hall 3, playground 28.'
Main sources of income Agriculture 62%, non-agricultural labourer 5.27%, industry 0.86%, commerce 13.35%, transport and communication 3.01%, service 6.62%, construction 1.1%, religious service 0.15%, rent and remittance 0.27% and others 7.37%.'
Ownership of agricultural land Landowner 54.05%, landless 45.95%; agricultural landowner: urban 45.05% and rural 55.17%.
Main crops Paddy, jute, wheat, sugarcane, cotton, oil seed, pulse, vegetables.
Extinct or nearly extinct crops Barley, kaun, arahar, mulberry.
Main fruits Mango, jackfruit, litchi, banana, blackberry.
Fisheries, dairies and poultries Fishery 9, dairy 304, poultry 93.
Communication facilities Pucca road 116 km, semi-pucca road 29 km, mud road 489 km; railway 24 km. Rail station 4.
Extinct or nearly extinct traditional transport Palanquin, bullock cart, horse carriage.
Noted manufactories Rice mill 25, sugar mill 1, fry pan factory 2, saw mill 8, steel works 2, welding factory.
Cottage industries Goldsmith, potteries, weaving, molasses factory, jute industry, bell-metal work, catechu factory, wood work, paper and flower work, mate work, nakshi kantha, hand operated fan work, toys, bamboo and cane work.
Hats, bazars and fairs Hats and bazars are 35, fairs 6, most noted of which are Lalpur Hat, Gopalpur Hat, Walia Hat, Bilmaria Hat, Durduria Hat, Abdulpur Hat, Kalipuja and mela of Budh Para Mandir, Durgapuja and mela of Gopalpur, Sadhinata Mela, Bijoy Mela, Boi Mela (book fair) and Brikkha' (nursery) Mela.
Main exports Sugar.
Access to electricity All the wards and unions of the upazila are under rural electrification net-work. However 25.73% of the dwelling households have access to electricity.
Sources of drinking water Tube-well 92.26%, tap 1.06%, pond 0.13% and others 6.56%.
Sanitation 31.35% (rural 30.62% and urban 37.21%) of dwelling households of the upazila use sanitary latrines and 41.71% (rural 41.12% and urban 46.38%) of dwelling households use non-sanitary latrines; 26.95% of households do not have latrine facilities.
Health centres Upazila health complex 1, union health complex 10, private clinic and hospital 3, family planning clinic 10, maternity 2, veterinary hospital 5, community clinic 32.
NGO activities Operationally important NGOs are brac, asa. [Md. Moniruzzaman]
References Bangladesh Population Census 2001, Bangladesh Bureau of Statistics; Cultural survey report of Lalpur Upazila 2007.