Manikganj District (dhaka division) area 1383.06 sq km, located in between 23°38' and 24°03' north latitudes and in between 89°41' and 90°08' east longitudes. It is bounded by tangail district on the north, faridpur and dhaka districts on the south, Dhaka district on the east, pabna, rajbari and sirajganj districts on the west.
Population Total 698447; male 353201, female 345246; Muslim 1155202, Hindu 129488, Buddhist 214, Christian 28 and others 148.
District
Area (sq km)
Upazila
Municipality
Union
Mouza
Village
Population
Density (per sq km)
Literacy rate (%)
Urban
Rural

1383.06

7

2

65

1317

1652

95579

1189501

929

41.02
Others Information of District

Name of Upazila

Area
(sq km)

Municipality

Union

Mouza

Village

Population

Density
(per sq km)

Literacy rate (%)

Ghior

145.95

-

7

170

186

138479

949

49.66

Daulatpur

216.24

-

8

172

186

155674

720

28.37

Manikganj Sadar

214.81

1

10

270

318

261662

1218

51.57

Shibalaya

199.07

-

7

202

253

154239

775

40.95

Saturia

140.12

-

9

166

225

155137

1107

36.90

Singair

221.45

1

11

137

246

248615

1123

34.71

Harirampur

245.42

-

13

196

238

171274

698

41.46
Source Bangladesh Population Census 2001, Bangladesh Bureau of Statistics.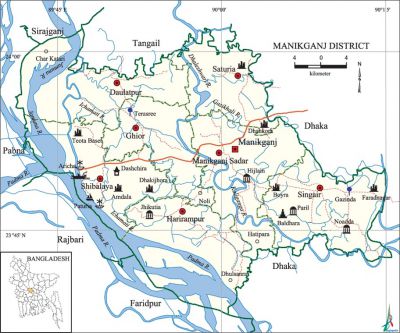 Water bodies Main rivers: padma, jamuna, dhaleshwari, ichamati, Kaliganga, Gazikhali. Administration Manikganj Sub-division was established in 1845 and it was turned into a district in 1984. Of the seven upazilas of the district harirampur is the largest (245.42 sq km) and saturia is the smallest (140.12 sq km).
History of the War of Liberation During the war of liberation in 1971 the freedom fighters attacked a group of three hundred Pak-soldiers (while proceeding towards the Singair camp on boats) at the turn of the Nurani-ganga Khal in which three boats carrying the Pak army were sunk and a number of Pak soldiers including a Major were killed. The Pak-army killed 41 villagers by indiscriminate gun shot at village Terasree under Ghior upazila on 22 November. On 14 December the freedom fighters attacked the Pak army at village Kagajinagar under Manikganj sadar upazila and forced them to disperse. In an encounter between the Pak-army and the freedom fighters at village Balirtek on 14 December one Pak-soldier was captured and one freedom fighter was killed. A battle was fought between the freedom fighters and the receding Pak soldiers on 15 December at village Gajinda of Singair upazila in which freedom fighters Mohammad Aminur Rahman, Chhakkel Uddin, Shariful Islam and Rahij Uddin were killed.
Marks of the War of Liberation Mass grave 1 (beside the Thana pond); mass killing site 4 (Saturia Pilot High School compound, Primary Training Institute Campus, Tara Ghat, residence of Balai Babu); memorial monument 2 (at village Terasree, at a place on the western side of the Manikganj Bus-stand).
Literacy rate and educational institutions Average literacy 41.02%; male 46.03%, female 35.98%. Noted educational institutions: Government Devendra College (1942), Government Mahila College (1972), Daragram Viku Memorial College (1966), Khondkar Nurul Hossain Law Academy, Primary Training Institute, Manikganj Government High School (1884), Patgram Anath Bandhu Government High School (1915), Nali Bagria Krishna Chandra High School (1915), Dhankora Girish Institution (1917), Dhulla BM High School (1920), Jamirta SG High School (1921), Terasree KN Institution (1922), Ibrahimpur Iswar Chandra High School (1923), Barangail Gopal Chandra High School (1924), Manikganj Model High School (1925), Jhitka Ananda Mohan High School (1926), Surendra Kumar Government Girls' High School (1938), Baliati Iswar Chandra High School (1919), Ghior DN Pilot High School (1929), Joy Mantap High School (1921), Teota Academy (1891), Manikganj Islamia Senior Madrasa (1953).
Main sources of income Agriculture 56.15%, non-agricultural labourer 3.29%, industry 1.48%, commerce 14.03%, transport and communication 3.25%, service 10.67%, construction 1.45%, religious service 0.21%, rent and remittance 2.10% and others 7.37%.
Newspapers and periodicals Daily: Al-Azan (1992); weekly: Alor Bani (1981), Muktir Bahan, Karcha, Manikganjer Khabar (1995), Ababil (defunct), Manikganj (1972), Manikganj Barta (1981), Budhbar, Pataka, Chalaman (1980), Muktir Dak (1980), Navagram (1978), Jagarani (1965), Ritu-rang-man (1967), Abahaman (1978), Maitree International (1979), Bitap (1981), Dishari, Aloklata, Shiuli, Durbachal, Dawal, Ghazikhali, Chhayapalli.
Folk culture Manikganj district is rich in folk traditions, folk tales and folk games. The most notable folk culture of Manikganj district are Bera Bhasan, Bichhat, Onni song. Other folk culture prevalent in Manikganj are Jarigan, Sarigan, Bhatiali, Rakhali, Kavigan, Murshidi, Marfati, Baul song, Poush Parbaner' gan (songs sung on the occasion of Poush Parvan), Gazir gan, Gazaner gan, Behular gan, Banger biyer gan (song imagining marriage of frogs), Ghetu Jatra, Dhua gan, Bichar gan, Fakiri gan, Baromasi gan sung by women, songs sung on the occasion of collecting mehedi, songs sung on the occasion of preparing turmeric, songs sung on the occasion of gaye halud, songs of marriage ceremony, Marsia, Panchali, etc. [Suruj Khan]
See also The upazilas under this district.
References Bangladesh Population Census 2001, Bangladesh Bureau of Statistics; Cultural survey report of Manikganj District 2007; Cultural survey report of upazilas of Manikganj District 2007.