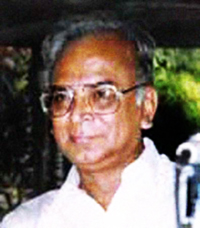 Obaidullah, Abu Zafar (1934-2001) poet, litterateur, civil servant. Born on 8 February 1934 in Baherchar-Kshudrakathi village under Babuganj upazila of Barisal district, Abu Zafar Obaidullah got his primary education in Mymensingh where his father, abdul jabbar khan, had been working as a district judge. He passed Matriculation Examination from Mymensingh Zilla School in 1948 and the Intermediate of Arts Examination from dhaka college in 1950. After the completion of BA (Hons.) and Masters of Arts in English in 1953 and 1954 respectively, Obaidullah joined the dhaka university as a Lecturer in the Department of English.
But he left teaching to join the Pakistan Civil Service in 1957. After retirement from civil service, Obaidullah became a minister for Agriculture and Water Resources in 1982 and Ambassador of Bangladesh to the United States of America in 1984. He joined the FAO as the deputy director general for Asia-Pacific in 1992 and later he became its director general. He retired from the FAO job in 1997.
Abu Zafar Obaidullah was a renowned poet and critic. As a poet he belongs to both modernist and post-modernist schools of literature. According to literary critics, his literary creations transcended the limits set by the early modern poets like jibanananda das, buddhadev bose and sudhindranath datta, shamsur rahman, syed ali ahsan and Al Mahmud. In his poems, Obaidullah successfully tried to portray sentiments and emotions elicited by the pains of Pakistan, the language movement and the war of liberation. His famous sentimental poem Kano ek ma-ke (Ode to a Mother) is frequently recited in functions on the occasion of the 21st of February, the international mother language day.
Obaidullah got literary acclaim for his poems Ami kingbadontir katha bolchhi and 'Kumro phule phule nuye parechhe lotata'. The first poem that depicts the culture of Bangladesh draws images and symbolisms from the nature and life of the country. The second poem is a mournful presentation of how a mother awaits for her son, who has not returned home at the close of the eventful day of Language Movement in 1952, the 21st of February. His Shaatnori Haar, the first collection of poems, was written in the style of old Bangla ballads.
A quintessential poet, Obaidullah was awarded the Ekushey Padak for his contributions to the Language Movement and also to its literature. In recognition of his contribution to Bangla literature, he was honoured with the Bangla Academy Award (1979). His important literary works include Kakhono Rong Kakhono Sur; Kamol-er Chokh; Ami Kingbadontir Katha Bolchhi; Shahishvu Protiksa; Bristi Ebong Sahosi Purus-er Janyo Prarthana, Amar Somoy (1987), Amar Sakol Katha (1993), and Khanchar Bhitar Achin Pakhi.
Worth mentioning among his books published in English are Yellow Sands' Hills: China through Chinese Eyes; Rural Development ' Problems and Prospects; Creative Development; Food and Faith.
Abu Zafar Obaidullah was the founder the Padabali, forum for the poets, which in the 1980s arranged sessions of poetry recital for visitors on payment of admission fee. Abu Zafar Obaidullah died in Dhaka on 19 March 2001. [Aminur Rahman]