Rajbari District (dhaka division) area 1118.8 sq km, located in between 22°40' and 23°50' north latitudes and in between 89°19' and 90°40' east longitudes. It is bounded by pabna district on the north, faridpur and magura districts on the south, manikganj district on the east, kushtia and jhenaidah districts on the west. Most of the areas of the district are composed of the alluvial soil of the padma.
Population Total 951906; male 489557, female 462349; Muslim 847616, Hindu 103664, Buddhist 173 and others 453.
Water bodies Main rivers: Padma, Gorai, chandana, chitra.
District
Area (sq km)
Upazila
Municipality
Union
Mouza
Village
Population
Density (per sq km)
Literacy rate (%)
Urban
Rural

1118.8

4

3

42

820

984

118891

833015

851

39.81
Others Information of District

Name of Upazila

Area
(sq km)

Municipality

Union

Mouza

Village

Population

Density
(per sq km)

Literacy rate (%)

Goalanda

149.03

1

4

113

169

117313

787

34.8

Pangsha

414.24

1

17

343

345

352661

851

40.0

Baliakandi

242.53

-

7

151

258

186562

769

40.1

Rajbari Sadar

313.00

1

14

213

212

295370

944

41.4
Source Bangladesh Population Census 2001, Bangladesh Bureau of Statistics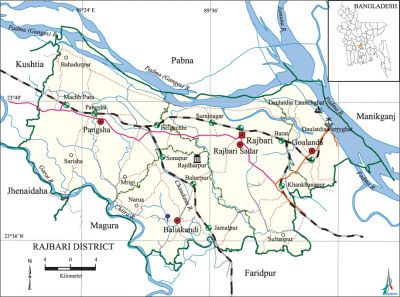 Administration Rajbari' district was formed in 1984. Once Rajbari region was a part of jessore district. In 1811 when Faridpur District was formed Rajbari was included in it. Besides, the upazilas under Rajbari district were included in different districts in the past. Pangsha Thana was once included into Pabna district. In 1859 Pangsha and Baliakandi were included in the newly formed Kumarkhali Sub Division. In 1871, when Goalanda Sub Division was formed, Pangsha and Rajbari were included in it and its headquarters was established in Rajbari. Goalanda was upgraded into a district in March 1984 and it was renamed as Rajbari District. Of the four upazilas of the district pangsha is the largest (414.24 sq km) and goalanda is the smallest (149.03 sq km). Of the 17 districts of Dhaka Division Rajbari occupies the 15th position and it occupies the 56th position out of the 64 districts of Bangladesh.
History of the War of Liberation On 26 March 1971, Sangram Parishad was formed in Rajbari district. In the encounters between the freedom fighters and the Pak army held on 21 and 22 April six freedom fighters were killed. The Pak army killed 10 persons at villages Majhpara, Ramcole and Mathurapur; they also set many houses of these villages on fire. In an encounter held in November the freedom fighters captured a bulk of arms and ammunitions of the enemy. Another encounter between the freedom fighters and the Pak army held in November at village Alhadipur had nine casualities on the side of the Pak army.
Marks of War of Liberation Mass grave 4 (Goalanda, Khankhanapur, char lands of Habaspur under Pangsha upazila, Baliakandi.)
Literacy rate and educational institutions Average literacy 39.81%; male 43.66%, female 35.75%. Educational institutions: vocational training centre 4, college 21, homeopath college 1, secondary school 99, primary school 408, satellite school 13, community school 9, mass education 85, madrasa 42. Noted educational institutions: Rajbari Government College (1961), Rajbari Government High School (1892), Pangsha College (1969), Baliakandi High School (1917).
Main sources of income Agriculture 60.84%, non-agricultural labourer 3.19%, industry 1.59%, commerce 14.36%, transport and communication 4.41%, service 6.67%, construction 2.03%, religious service 0.16%, rent and remittance 0.6% and others 6.15%.
Newspapers and periodicals Weekly: Anushandhan (1984), Sahaj Katha, Rajbari Kantha; daily: Matrikantha (Rajbari), Gatakal (Rajbari), Pangsha Barta, Path Barta (Pangsha); defunct: Kohinoor (1898), Khatak (1893), Kangal (1905), Shapla-Shaluk.
Folk culture The most notable folk culture of the district include rhymes, riddles, proverbs, Murshidi song, Marfati song, Kavigan, Jarigan, Sarigan, Bichargan, etc.
Tourist spots Tomb of mir mosharraf hossain (Baliakandi), Baharpur Amusement Centre (Rajbari), Goalanda Ferryghat. [Md. Shariful Islam]
See also The upazilas under this district.
References Bangladesh Population Census 2001, Bangladesh Bureau of Statistics; Cultural survey report of Rajbari District 2007; Cultural survey report of upazilas of Rajbari District 2007.