Ramna Thana (Dhaka metropolitan) area 3.84 sq km, located in between 23°43' and 23°45' north latitudes and in between 90°23' and 90°25' east longitudes. It is bounded by tejgaon industrial area and rampura thanas on the north, shahbagh thana on the south, Rampura, motijheel and paltan thanas on the east, kalabagan, new market and tejgaon thanas on the west.
Population Total 185442; male 102531, female 82911; Muslim 174468, Hindu 7417, Buddhist 2555, Christian 470 and others 531.
Water bodies Ramna Lake.
Administration Ramna Thana was formed in 1921.
Thana
Ward and Union
Mahalla and Mouza
Population
Density (per sq km)
Literacy rate (%)
Urban
Rural
Urban
Rural
2+3 (part)
16
185442
-
48292
73.78
-
Union
Name of union and GO code
Area (acre)
Population
Literacy rate (%)
Male
Female
Ward no. 53 (part)
1.43
21440
19300
80.23
Ward no. 54
0.98
41060
32606
72.61
Ward no. 55
0.81
34182
27849
72.49
Ward no. 56 (part)
0.45
2224
1086
73.46
Ward no. 57 (part)
0.17
3625
2070
70.12
Source Bangladesh Population Census 2001, Bangladesh Bureau of Statistics.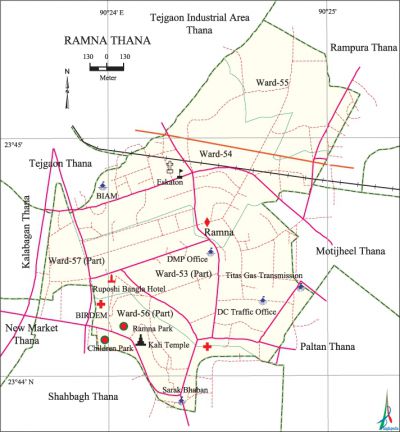 Archaeological heritage and relics Siddheswari Mandir, Ramna Gate.
Religious institutions Kakrail Mosque, Siddheswari Jami Mosque, Circuit House Jami Mosque, Kakrail Church, Siddheswari Temple, Ramna Park Temple.
Literacy rate and educational institutions Average literacy 75.11%; male 80.25%, female 69.91%. Noted educational institutions: Habibullah Bahar University College, Ibrahim Medical College, Holy Family Red Crescent Medical College, Siddheswari Degree College, Stamford University, viquarunnesa noon school and college (1951), Siddheswari Girls' College, Siddheswari Boys' High School (1933), Willes Little Flower School and College (1956), Maghbazar Girls' High School, Siddheswari Girls' High School, Eskaton Garden High School.
Newspapers and periodicals Daily Janakantha.
Cultural organisations Club 20, playground 17, swimming pool 3, museum 2, theatre stage 3, theatre group 6, women organisation 8.
Important installations State Guest House Meghna, State Guest House Jamuna, Residence of the Chief Justice, Ramna Park (1947), Bangladesh Shilpakala Academy (1974), International Mother Language Institute, Durnity Daman Commission (Anti-corruption Commission),' Dhaka Officers' Club, Office of the Dhaka Metropolitan Police Commissioner, Titas Gas Transmission and Distribution Company Ltd., Children Park, Office of the DC Traffic, Directorate of the Public Health Engineering, Archives of the Bangladesh Television, Bangladesh Betar (Radio) Bhaban, National Tennis Complex, Office of National Security Intelligence, Department of Women Affairs, Jatio Mohila Sangstha, Directorate of Fisheries, Bangladesh Institute of Administration and Management (BIAM) Complex, Bangladesh Girls Guide Association, Bangladesh Telecommunication Bhaban, Office of the National Board of Revenue (NBR), Office of the Comptroller and Auditor General.
Main sources of income Agriculture 0.99%, non-agricultural labourer 1.09%, industry 2.18%, commerce 25.76%, transport and communication 5.84%, service 45.16%, construction 2.30%, religious service 0.11%, rent and remittance 5.60%, and others 10.97%.
Ownership of agricultural land Landowner 66.28%, landless 33.72%.
Main fruits Mango, jackfruit, coconut.
Communication facilities Total roads: 44.52 km.
Extinct or nearly extinct traditional transport Palanquin, bullock cart, horse carriage.
Noted manufactories Printing press, garments industries, electronics industry, pharmaceutical industry.
Cottage industries Handicrafts, wood work.
Bazars and shopping centres Aarong, Mouchak Market, Karnafuli Garden City, Gazi Bhaban Market, Anarkali Super Market, Segunbagicha Bazar and Ramna Baishakhi Mela are notable.
Hotels and Restaurants Ruposhi Bangla, Hotel Razmoni Ishakha.
Main exports Ready made garments, electronics and electric goods.
Access to electricity All the wards of the thana are under electrification net-work. However 97.68% of the dwelling households have access to electricity.
Sources of drinking water Tube-well 7.65%, tap 90.88%, pond 0.03% and others 1.44%.
Sanitation 93.20% of dwelling households of the thana use sanitary latrines and 6.07% of dwelling households use non-sanitary latrines; 0.73% of households do not have latrine facilities.
Health centres birdem, Al-Din Hospital, Holy Family Red Crescent Hospital.
NGO activities Operationally important NGOs are Democracy Watch, Bangladesh Mahila Samity. [Md. Mosharraf Hossain Sarkar]
References Bangladesh Population Census 2001, Bangladesh Bureau of Statistics.