Shah Ali Thana (Dhaka metropolitan) area 5.15 sq km, located in between 23°47' and 23°49' north latitudes and in between 90°20' and 90°21' east longitudes. It is bounded by pallabi thana on the north, mirpur model and darus salam thanas on the south, Pallabi and Mirpur Model thanas on the east, savar upazila on the west.
Population Total 102855; male 55266, female 47589; Muslim 101233, Hindu 1424, Buddhist 161, Christian 20 and others 17.
Water bodies turag river is notable.
Administration 'Shah Ali Thana, named after Sufi saint Hazrat Shah Ali Baghdadi, was formed in' 2005.
Thana
Ward and Union
Mahalla and Mouza
Population
Density (per sq km)
Literacy rate (%)
Urban
Rural
Urban
Rural
1+2 (part)
24
102855
-
19972
73.02
-
Ward
Ward
Area (sq km)
Population
Literacy rate (%)
Male
Female
Ward no. 6 (part)
0.35
5240
4311
71.10
Ward no. 7 (part)
0.42
6549
5587
80.61
Ward no. 8
4.38
43477
37691
67.37
Source Bangladesh Population Census 2001, Bangladesh Bureau of Statistics.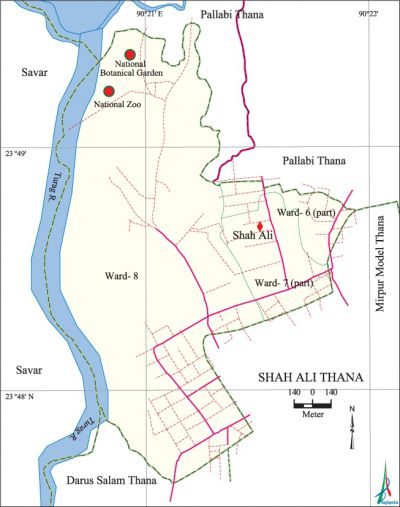 Archaeological heritage and relics Tomb of Shah Ali and Kumir Shah.
Religious institutions Mosque 10, tomb 2. Noted religious institutions: Hazrat Shah Ali Tomb, Rani Khola Jami Mosque, BISF Mosque.
Literacy rate and educational institutions Average literacy 73.02%; male 77.98%, female 67.12%. Educational institutions: university 1, college 5, secondary school 5, primary school 10, madrash 4. Noted educational institutions: Bangladesh Business and Technology University, Shah Ali Mohila College, Monipur High School and College, Dhaka Commerce College, BCIC College, BCIC School, Rupnagar High School, Mirpur Govt. High School, Islamia Primary School, Upashohor Primary School.
Cultural organisations Club, community centre, playground.
Amusement centres' Botanical Garden, National Zoo are notable.
Main sources of income Agriculture 1.45%, non-agricultural labourer 1.84%, industry 3.90%, commerce 25.94%, transport and communication 8.99%, service 3.55%, construction 0.13%, religious service' 0.13%, rent and remittance 2.81% and others 13.89%.
Ownership of agricultural land Landowner 60.64%, landless 39.36%.
Main crops Vegetables.
Extinct or nearly extinct crops Paddy, jute.
Main fruits Mango, jackfruit, papaya, banana, litchi, guava.
Communication facilities Total roads: 28.21 km.
Extinct or nearly extinct traditional transport Palanquin, bullockcart and horse carriage.
Noted manufactories Garments industry.
Cottage industries Goldsmith, handicraft, bamboo work and cane work.
Bazars and shopping centres Bazar 4, shopping centres 5; most noted of which are Hazrat Shah Ali Mohila College Market, Rupnagar Residence Market, Meena Bazar, Muktijoddha Market, Baghdad Market, Shah Memorial Market.
Main exports Ready made garments.
Access to electricity All the wards of the thana are under electrification net-work. However 94.90% of the dwelling households have access to electricity.
Sources of drinking water Tube-well 15.04%, tap 82.88%, pond 0.23% and others 1.85%.
Sanitation 85.33% dwelling households of the thana use sanitary latrines and 13.49% of dwelling households use non-sanitary latrines; 1.18% of households do not have latrine facilities.
Health centres Hospital 1, clinic 7.
NGO activities Operationally important NGOs are' Sarch, Suravi. [Rajib Mondal]
References Bangladesh Population Census 2001, Bangladesh Bureau of Statistics.