Taraganj Upazila (rangpur district) area 128.64 sq km, located in between 25°44' and 25°50' north latitudes and in between 89°07' and 89°57' east longitudes. It is bounded by kishoreganj (nilphamari) upazila on the north, badarganj upazila on the south, rangpur sadar and gangachara upazilas on the east, saidpur upazila on the west.
Population Total 119927; male 61934, female 57993; Muslim 104417, Hindu 15491, Buddhist 3 and others 16.
Water bodies Main rivers: Jamuneshwari, Chikli; Hatkhopa Beel is notable.
Administration Taraganj was under Badarganj thana before 1980. Taraganj Thana was formed on 1 January 1980 comprising 40 villages of Badarganj thana; it was turned into an upazila in 1984.'
Upazila
Municipality
Union
Mouza
Village
Population
Density (per sq km)
Literacy rate (%)
Urban
Rural
Urban
Rural

-

5

40

41

13784

106143

932

49.24

35.45
Upazila Town

Area (sq km)

Mouza

Population

Density (per sq km)

Literacy rate (%)

11.46

2

13784

1203

49.24
Union
Name of union and GO code
Area (acre)
Population
Literacy rate (%)
Male
Female

Alampur 15

6313

10960

10059

39.85

Ekarchali 47

5988

11662

10887

33.03

Kursha 71

5866

12517

11809

44.87

Sayar 79

6411

11300

10635

36.78

Hariarkuti 63

7215

15495

14603

32.01
Source Bangladesh Population Census 2001, Bangladesh Bureau of Statistics.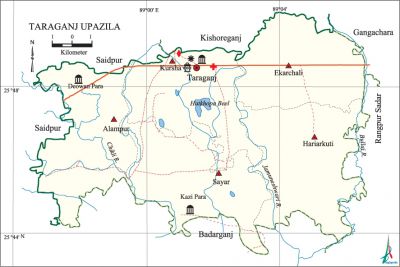 Archaeological heritage and relics Four domed Taraganj Mosque (Mughal period), three domed Ghanirampur Mosque (Mughal period), Menanagar Bara Jami Mosque, three domed Sayar Kuthipara Mosque (1358), three domed Sayar Kazipara Mosque, Akhra of Biswamvar Sadhu, Shyamganj Kachari (revenue office), Zamindarbari and Debottar Kali Mandir, International Krishna Bhabanamrita Sangha and Sree Sree Radha Madhab Jeu Mandir (known as Iskon Mandir), Baman Dighi (on the southern side of the Dhaka-Dinajpur road and two km east of the upazila sadar).
Historical events During the fakir-sannyasi resistance a serious encounter' was held on 30 December 1972 between the British army and the Fakir and Sannyasis at Shyamganj of Sayar union under Taraganj upazila in which the commander of the British army was killed; in this encounter the British army was also defeated. Krishak Praja Bidraha (peasant tenant rebellion) of 1783, popularly known as 'Rangpur Vidraha', had a major base at Badarganj. The people of this upazila took active role in various movements including like' indigo resistance movement (1859), tebhaga movement (1946-1947), Hattola (toll collection from market) Movement (1937-40) etc. During the war of liberation the Pak army captured a number of people from the village Darar Par of Sayar union in August and later on killed all of them. On 3 December 1971, the Pak army conducted mass killing at Barati Bridge over the river Jamuneshwari.
Religious institutions Mosque 50, temple 20, sacred place 1. Noted religious institutions: Menanagar Mosque, Taraganj Mosque, Kazi Para Mosque, Deowan Para Mosque, three domed Ghanirampur Mosque, Three Domed Sayar Kuthipara Mosque, Debottar Kali Mandir, Iskon Mandir.'
Literacy rate and educational institutions Average literacy 37.06%; male 41.58%, female 32.27%. Educational institutions: degree college 2, secondary school 22, primary school 71, technical and business administration college 3, kindergarten 2, madrasa 26. Noted educational institutions: Taraganj OA Degree College (1972), Taraganj OA High School (1962), Taraganj OA Girls' School and College (1979), Kazi Para High School (1965), Kashiabari High School (1967), Kursha Adarsha High School (1993), Kursha Danga Rahmania Madrasa (1916), Taraganj OA Senior Madrasa (1975).
Cultural organisations Library 3, club 18, cinema hall 1, theatre group 1, auditorium 1, playground 15. Taraganj Upazila Parisad Library (2006), Taraganj Public Library (1995) and Taraganj Iskon Mandir Library (1995) are notable.
Main sources of income Agriculture 80.38%, non-agricultural labourer 2.11%, industry 0.37%, commerce 7.98%, transport and communication 2.10%, service 3.28%, construction 0.43%, religious service 0.16%, rent and remittance 0.12% and others 3.07%.
Ownership of agricultural land Landowner 57.77%, landless 42.23%; agricultural landowner: urban 51.93% and rural 58.48%.
Main crops Paddy, jute, potato, ginger, tobacco, garlic, onion, wheat, turmeric.
Extinct or nearly extinct crops Barley, sesame, sweet potato, kaun, mustard.
Main fruits Mango, jackfruit, blackberry, banana, star apple, litchi, papaya.
Fisheries, dairies and poultries Fishery 150, poultry 18, dairy 18.
Communication facilities Pucca road 60 km, highway 10 km, mud road 304.26 km.
Extinct or nearly extinct traditional transport Palanquin, bullock cart, horse carriage.
Noted manufactories Rice mill, ice factory, saw mill, match factory, cocoon industry, welding factory.
Cottage industries Goldsmith, blacksmith, potteries, weaving, bamboo and wood work.
Hats, bazars and fairs Hats and bazars are 23, fairs 8, most noted of which are Taraganj Hat, Ekarchali Hat, Burir Hat, Chikli Hat, Asamir Hat, Choupathir Hat, Joybanglar Hat, Taraganj Mela, Barati Mela, Baishakhi Mela, Baruni Mela and Charak Mela.
Main exports Ginger, tobacco, paddy, rice, jute, garlic, onion, potato, turmeric.
Access to electricity All the unions of the upazila are under rural electrification net-work. However 10.93% (urban 18.54% and rural 9.99%) of the dwelling households have access to electricity.
Natural resources Mineral coal mud, silica sand.
Sources of drinking water Tube-well 91.75%, tap 0.16%, pond 0.12% and others 7.97%.
Sanitation 5.45% (urban 14.48% and rural 4.34%) of dwelling households of the upazila use sanitary latrines and 66.52% (urban 67.03% and rural 62.14%) of dwelling households use non-sanitary latrines; 28.05% of households do not have latrine facilities.
Health centres Upazila health complex 1, community hospital and family planning centre 12, satellite clinic 1.
Natural disasters Due to the devastating earthquake of 1897 held in the north eastern part of India and the repeated floods, the courses of rivers of these region were changed; besides they also seriously changed the formation of land of this region. By another earthquake the river Nengti Chhera, flowing on the western side of Taraganj Bazar, was silted. It also silted the rivers Chikli and Jamuneshwari (on the eastern side of Taraganj upazila) flowing towards the south.
NGO activities Operationally important NGOs are brac, asa, thengamara mahila sabuj sangha. [Abdul Malek]
References Bangladesh Population Census 2001, Bangladesh Bureau of Statistics; Cultural survey report of Taraganj Upazila 2007.