Ulipur Upazila (kurigram district) area 504.19 sq km, located in between 25°33' and 25°49' north latitudes and in between 89°29' and 89°51' east longitudes. It is bounded by kurigram sadar and rajarhat upazilas on the north, chilmari and sundarganj upazilas on the south, raumari upazila and assam state of India on the east, pirgachha and Sundarganj upazilas on the west.
Population Total 359626; male 179320, female 180306; Muslim 331080, Hindu 28238, Buddhist 14 and others 295.
Water bodies Main rivers: brahmaputra, dharla, tista.
Administration Ulipur Thana was formed in 1902 and it was turned into an upazila in 1984.
Upazila
Municipality
Union
Mouza
Village
Population
Density (per sq km)
Literacy rate (%)
Urban
Rural
Urban
Rural
1
13
147
358
42832
316794
713
43.04
33.77
Municipality
Area (sq km)
Ward
Mahalla
Population
Density (per sq km)
Literacy rate (%)
26.14
9
16
42832
1638
43.04
Union
Name of union and GO code
Area(acre)
Population
Literacy rate (%)
Male
Female
Gunaigachh 55
7178
13896
13863
41.39
Tabakpur 78
6146
15728
15304
35.44
Thetroy 83
6782
12471
12572
31.50
Daldalia 33
5573
11207
11398
36.01
Durgapur 50
6098
16741
16485
39.76
Dharanibari 44
5390
12668
12500
34.80
Dhamserni 39
4363
9521
9336
35.12
Pandul 72
4711
11346
11397
40.01
Bazra 16
8768
14444
14368
35.71
Buraburi 22
9833
12914
13460
28.30
Begumganj 14
11355
6400
7098
15.15
Saheber Alga 75
24946
6801
7324
19.55
Hatia 61
7571
13511
14041
27.97
Source Bangladesh Population Census 2001, Bangladesh Bureau of Statistics.
Archaeological heritage and relics Ulipur Jami Mosque, three domed Panch Pir Mosque, Satdarga Jami Mosque, Bazra Jami Mosque, Kazi Mosque in Daldalia union (1214 AH), Arabic inscription of an unknown mosque of Hussain Shahi period (preserved in the varendra research museum), Siddheswari Temple, Shiva Bari Mandir, Gobinda Jeu Mandir.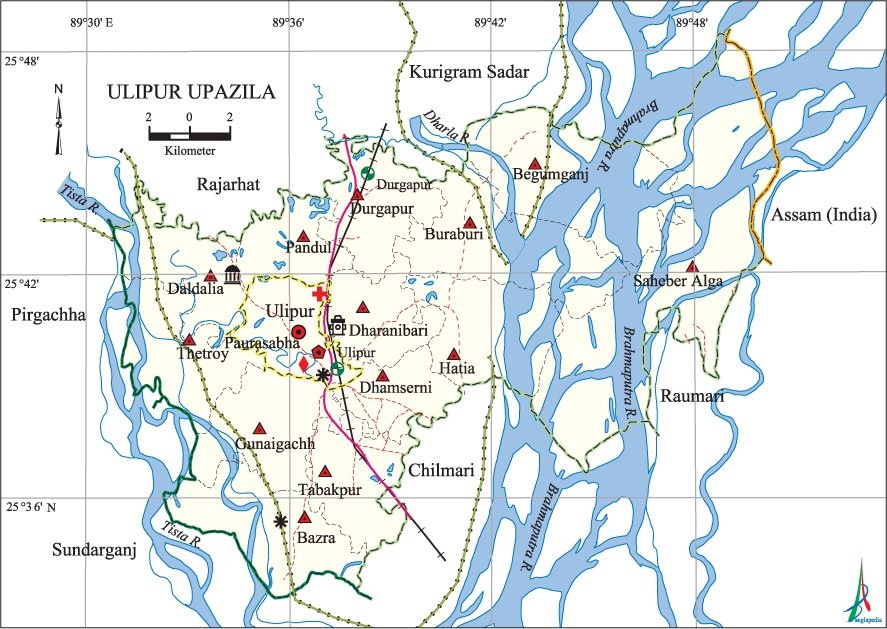 Historical events Many people of the upazila were actively involved in the anti-British Movement in 1920 in which one Rishikesh Majumder was imprisoned. In 1971 the freedom fighters attacked a Pak military convoy. On 13 November, the Pak army killed about 700 villagers at Hatia. During the war of liberation seven freedom fighters were killed in an encounter with the Pak army at Mongaler Hat.
Marks of the War of Liberation Mass grave 3 (at a place adjacent to Ulipur Dakbungalow, Hatia Dagar Kuthi and Dharanibari Madhupur); memorial monument 3.
Noted religious institutions Ulipur Masjidul Huda, Ulipur Jami Mosque, Daldalia Kazi Mosque, Satdargah Jami Mosque, Bazra Jami Mosque, Three Domed Panch Pir Mosque, Siddeshwari Temple, Shiva Bari Mandir, Gobinda Jeu Mandir.
Literacy rate and educational institutions Average literacy 34.91%; male 40.74%, female 29.20%. Educational institutions: college 4, secondary school 42, primary school 183, madrasa 100. Noted educational institutions: Ulipur Government Degree College (1964), Ulipur Mohila College (1986), Panch Pir Degree College (1987), MA Matin Bari Technical and Agricultural College (1995), Ulipur Maharani Sarnamoyee High School (1864), Durgapur High School (1914), Bakshiganj Rajibia High School (1945), Ulipur Government Girls' High School (1909), Ulipur Government Primary School (1909), Durgapur Government Primary School (1914), Satdargah Nesaria Alia Madrasa (1952), Kamal Khamar Bilateral Senior Madrasa (1954), Nureshwar Amenia Madrasa (1954).
Newspapers and periodicals Weekly: Julfikar and Kalam Zamin.
Cultural organisations Library 6, cinema hall 2, women organisation 1, playground 10.
Amusement centres Tupamari Pukur.
Main sources of income Agriculture 69.41%, non-agricultural labourer 3.10%, industry 0.53%, commerce 10.61%, transport and communication 2.53%, service 5.61%, construction 1.11%, religious service 0.17%, rent and remittance 0.38% and others 6.55%.
Ownership of agricultural land Landowner 54.70%, landless 45.3%; agricultural landowner: urban 45.37% and rural 55.93%.
Main crops Paddy, jute, maize, kaun, ground nut, mustard, pulse, sesame, ginger, garlic, onion, betel leaf.
Extinct or nearly extinct crops Linseed, lentil, khesari.
Main fruits Mango, jackfruit, blackberry, coconut, papaya, banana, betel nut.
Fisheries, dairies and poultries This upazila has a number of fisheries, dairies and poultries.
Communication facilities Pucca road 76 km, mud road 752 km; railway 15 km.
Extinct or nearly extinct traditional transport Palanquin, horse carriage, bullock cart.
Noted manufactories Flour mill, husking mill, ice factory, Tredol Pump factory (locally known as Dheki Kal), welding factory.
Cottage industries Goldsmith, blacksmith, embroidery.
Hats, bazars and fairs Hats and bazars are 53, most noted of which are Ulipur Hat, Durgapur Hat, Bakshiganj Hat, Mandal Hat, Buraburi Hat, Anantapur Hat, Pandul Hat, Thetroy Hat, Bazra Hat, Hatiar Tazia Mela and Shideshwari Mela.
Main exports Jute, betel leaf, betel nut, onion, garlic.'
Access to electricity All the wards and unions of the upazila are under rural electrification net-work. However 6.13% of the dwelling households have access to electricity.
Sources of drinking water Tube-well 94.66%, tap 0.27%, pond 0.21% and others 4.86%. The presence of arsenic has been detected in shallow tube-well water of the upazila.
Sanitation 33.52% (rural 31.64% and urban 47.82%) of dwelling households of the upazila use sanitary latrines and 19.03% (rural 20.52% and urban 7.66%) of dwelling households use non-sanitary latrines; 47.45% of households do not have latrine facilities.
Health centres Upazila health centre 13, maternity hospital 1, eye hospital 1.
NGO activities Operationally important NGOs are brac, asa. [Md. Abdul Hakim]
References Bangladesh Population Census 2001, Bangladesh Bureau of Statistics; Cultural survey report of Ulipur Upazila 2007.