Barlekha Upazila (maulvibazar district) area 315.58 sq km, located in between 24°36' and 24°50' north latitudes and in between 90°01' and 90°18' east longitudes. It is bounded by beanibazar (sylhet) upazila on the north, juri upazila on the south, assam state of India on the east, kulaura, golapganj and fenchuganj upazilas on the west. This upazila is sharing a 20-km long international boundary with India.
Population Total 155221; male 77989, female 77232; Muslim 130416, Hindu 23483, Buddhist 1269 and others 53. Indigenous communities such as manipuri, khasia and santal belong to this upazila.
Water bodies Main rivers: Sonai, Dhamai, Juri. hakaluki haor is the largest haor of the country and partly lies under the jurisdiction of this upazila. Area of Hakaluki Haor is 181.15 sq km, of which 72.46 sq km is within the territory of Barlekha Upazila.
Administration Barlekha Thana was formed in 1940 and it was turned into an upazila on 1 July 1983.
Upazila
Municipality
Union
Mouza
Village
Population
Density (per sq km)
Literacy rate (%)
Urban
Rural
Urban
Rural

1

8

109

253

14365

140856

492

53.7

42.0
Upazila Town

Area
(sq km)

Mouza

Population

Density
(per sq km)

Literacy rate (%)

10.18

10

27453

2697

54.8
Union
Name of union and GO code
Area (acre)
Population
Literacy rate (%)
Male
Female

Uttar Dakshinbhag 80

7711

6727

6806

39.19

Uttar Shahabajpur 85

11210

9331

9606

37.01

Talimpur 94

20658

8683

8718

41.12

Dakshin Shahabajpur 29

11554

10316

10206

34.85

Daser Bazar 39

5322

8650

7833

52.09

Nij Bahadurpur 63

6082

9387

9583

46.85

Barlekha 07

10067

18314

17394

48.55

Barni 15

3775

6581

7086

39.60
Source Bangladesh Population Census 2001, Bangladesh Bureau of Statistics.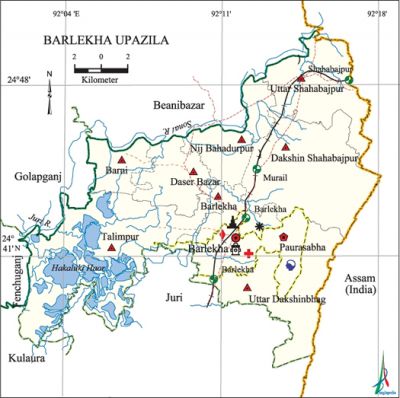 Archaeological heritage and relics Khwaja Mosque at village Laghati of Daser Bazar union (16th century), Madhav Mandir adjacent to the Madhabkunda waterfall.
Historical events During the sepoy mutiny of 1857, a fierce battle was fought near Shahabajpur of the upazila in which 26 revolutionary sepoys were killed. During the British period Nankar Movement was held in the upazila. This upazila was under Sector 4 of the war of liberation. The resistance movement was held on 27 March 1971. During the War the agitated people of the upazila killed a number of Pak soldiers. Barlekha upazila was liberated on 6 December 1971.
Marks of the War of Liberation Mass killing site 4 (Shahabajpur, Barlekha, Chhoto Lekha, Lakshmichhara).
Religious institutions Mosque 352, temple 65, church 9. Noted religious institutions: Khaja Mosque, Chandgram Mosque, Shahabajpur Mosque, Madhabkunda Mandir.
Literacy rate and educational institutions Average literacy 42.7%; Male 46.3%, female 39.1%. Notable educational institutions: Barlekha Degree College (1986), Ebadur Rahman Chowdhury Technical and Business Management College (2004), Siddique Ali High School (1927), PC High School (1933), Shahabajpur High School (1940), Bhagadahar Govt. Primary High School (1800), Bhattali Govt. Primary High School (1805), Barni Govt. Primary High School (1805), Suzaul Alia Madrasa (1890), Gangkul Madrasa, Chandgram Madrasa, Daulatpur Madrasa.
Newspapers and periodicals Weekly: Barlekha, Barkantha.
Cultural organisations Club 13, library 2,' women's organisation 6.
Tourist spots Madhabkunda Water Fall at Patharia Hill, Lake of Samanbhagh Tea Garden and Kakaluki Haor.
Main sources of income Agriculture 38.74%, non-agricultural labourer 9.97%, industry 2.52%, commerce 10.57%, transport and communication 1.48%, service 4.94%, construction 1.60%, religious service' 0.44%, rent and remittance 15.53% and others 14.23%.
Ownership of agricultural land Landowner 47.31%, landless 52.69%.
Main crops Paddy, wheat, potato, vegetables, sesame, betel leaf, tea.
Main fruits Mango, black berry, jackfruit, litchi, guava, shaddock, orange, plum, coconut, pineapple, banana.
Fisheries, dairies and poultries This upazila has a number of fisheries, dairies and poultries. This upazila has a plenty of fresh water fish in the beels and Hakaluki Haor.
Communication facilities Pucca road 132.22 km, semi-pucca road 9 km, mud road 422.54 km; railways 19 km; waterways 11 nautical miles.
Extinct or nearly extinct traditional transport Palanquin, horse carriage.
Noted manufactories Rice mill, ice factory, tea processing factory, incense factory, atar factory.
Cottage industries Goldsmith, blacksmith, weaving, potteries, shitalpati, wood work, bamboo work, cane work.
Hats, bazars and fairs Hats and bazars are 23, most noted of which are Old Barlekha, Hajiganj, Chandgram, Shahabajpur and Bhabaniganj bazars.
Main exports Tea, essence atar, incense.
Access to electricity All the wards and unions of the upazila are under rural electrification net-work. However 18.85% of the dwelling households have access to electricity.
Natural resources In 1951 the BOC Oil field at Kathaltali had to be sealed with cement plug due to excessive pressure of oil. Besides, deposit of coal has been detected in the Patharia Hill and the distant area of Bobartal. The total area of forestry of the upazila is 9187.55 hectors.
Sources of drinking water Tube-well 64.41%, tap 1.01%, pond 14.56% and others 20.02%.
Sanitation 31.50% (rural 30.55% and urban 33.16%) of dwelling households of the upazila use sanitary latrines and 61.26% (urban 66.20% and rural 59.40%) of dwelling households use non-sanitary latrines; 7.24% of households do not have latrine facilities.
Health centres Upazila health centre 1, satellite clinic 1, family planning centre 6, clinic 2.
NGO activities Operationally important NGOs are asa, brac, Heed, Janokallayan Kendra. [Mustafa Salim]
References Bangladesh Population Census 2001, Bangladesh Bureau of Statistics; Cultural survey report of Barlekha Upazila 2007.