Gaibandha District (rangpur division) area 2179.27 sq km, located in between 25°02' and 25°39' north latitudes and in between 89°11' and 89°46' east longitudes. It is bounded by kurigram and rangpur districts on the north, bogra district on the south, jamalpur and Kurigram districts and brahmaputra river on the east, joypurhat, dinajpur and Rangpur districts on the west.
Population Total 2138181; male 1085097, female 1053084; Muslim 1977778, Hindu 153614, Buddhist 2209, Christian 304 and others 4276. Indigenous communities such as santal and oraon belong to this upazila.
Water bodies Main rivers: Brahmaputra, jamuna, tista, karatoya, bangali, ghaghat.
Administration The former name of Gaibandha was Bhabaniganj. Bhabaniganj Sub Division was established on 27 August 1858. The head quarters of the Sub Division was transferred to Gaibandha in 1875 when Bhabaniganj was submerged into river bed due to erosion. Once this region was included in the Baharbandh Pargana. Gaibandha Town was turned into a municipality in 1923. The municipality was abolished in 1960 and it was turned into a Town Committee. In 1973, the Town was again turned into a Paurasabha. Gaibandha district was formed in 1984. Of the seven upazilas of the district gobindaganj is the largest (481.66 sq km, it occupies 22.10% of the total area of the district) and palashbari is the smallest upazila (190.67 sq km).
District
Area (sq km)
Upazila
Municipality
Union
Mouza
Village
Population
Density (per sq km)
Literacy rate (%)
Urban
Rural
2179.27

7

2

82

1101

1243

195107

1943074

981

35.7
Others Information of District

Name of Upazila

Area
(sq km)

Municipality

Union

Mouza

Village

Population

Density
(per sq km)

Literacy rate
(%)

Gaibandha Sadar

320.25

1

13

128

140

392311

1225

39.7

Gobindaganj

481.66

1

17

339

375

461428

958

37.8

Palashbari

190.67

-

9

161

160

231755

1215

38.9

Fulchhari

306.53

-

7

80

82

137795

450

27.7

Saghatta

225.67

-

10

117

135

250269

1109

34.3

Sadullapur

227.97

-

11

166

168

266035

1167

35.7

Sundarganj

426.52

1

15

110

183

398588

935

31.1
Source Bangladesh Population Census 2001,Bangladesh Bureau of Statistics.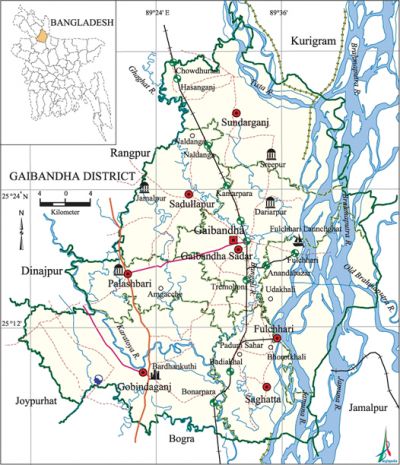 Historical events This region was a part of the Mourya, Pala, Gupta and Kamarupa kingdoms at different times. Movement was held in 1783 in this district against collection of excess taxes. Anti British movement (1921) and tebhaga movement (1946) were initiated in the district. Fayezuddin and Puti Sheikh were killed by police firing in 1949 in a movement to stop collection of tolls at hats and bazars. A Peasant Convention was held at Fulchhari in 1956 under the leadership of maulana abdul hamid khan bhasani. At the beginning of the war of liberation and after the historic seventh march address by Bangabandhu sheikh mujibur rahman, the people of Palashbari upazila barricaded the Rangpur-Bogra Road; to dislodge the people the Pak army opened fire at the local bazar in which one person was killed. The Pak army opened fire on the students and general people of Gobindaganj upazila on 27 March and killed about seven students while they were destroying the Katakhali Bridge. During the War of Liberation the Pak army conducted mass torture in different places of Gobindaganj upazila and killed 18 innocent persons. An encounter was held between the freedom fighters and the Pak army at the border of Saghatta upazila in which two Pak soldiers were killed. In another battle between the freedom fighters and the Pak army at Trimohoni Ghat of this upazila, 27 Pak soldiers were killed and so were 12 freedom fighters; the freedom fighters also killed 17 rajakars at this time. During the War of Liberation the Pak army destroyed the bridge on the Badiakhali Road and the Singra Railway Bridge; they also set the jute godown at Bharatkhali on fire. On 16 April an encounter was held between the freedom fighters and the Pak army at Pirganj (Rangpur district) Sadullapur border in which 21 Pak soldiers were killed.
Marks of the War of Liberation Mass grave 6; mass killing site 6; memorial monument 10; Shaheed Samadhi (martyr memorial) 3.
Literacy rate and educational institutions Average literacy 35.7%; male 40.9%, female 30.5%. Educational institutions: law college 1, homeopath college 1, BPED college 1, BEd college 1, college 104, technical educational institution 1, primary teachers training institute (PTI) 1, agricultural training institute 1, veterinary training institute 1, youth development training institute 1, secondary school 341, primary school 1317, community school 90, madrasa 582. Noted educational institutions: Gaibandha Government Boys' High School (1885), Jumarbari High School (1903), Saghatta Pilot High School (1904), Gobindaganj Multilateral High School (1912), Gaibandha Islamia High School (1914), Haripur BSM Government Girls' School (1914), Khod Kumurpur High School (1915), Shibram Adarsha Government Primary' School (1916), Gaibandha Government Girls' High School (1916), Bamandanga MN High School (1917), Tulshighat Kashinath High School (1917), Basudevpur Chandra Kishore School and College (1917), Pearapur High School (1917), Belka MC High School (1918), Sadullapur Multilateral Pilot High School (1918), Palashbari S.M Pilot High School (1919), Kamdia Bilateral High School (1921), Chapadaha B.L High School (1919), Kazi Azhar Ali High School (1920), Raushanbag High School (1926), Katgara Bilateral High School (1927), Bharatkhali High School (1929).
Main sources of income Agriculture 65.08%, non-agricultural labourer 2.48%, industry 0.77%, commerce 11.85%, transport and communication 4.22%, service 5.37%, construction 1.19%, religious service 0.19%, rent and remittance 0.22% and others 8.63%.
Newspapers and periodicals Daily: Ghaghat (1991), Sandhan (1992), Palash (1999), Janasanket (1993), Bhorer Surya (1998), weekly: Ganaprahari (1981), Gaibandha (1982), Palash (1984), Gayer Katha (1991), Panthashala (1991), Ganauttaran (1992), Katakhali (2001), Anar (2002); defunct: Weekly Kanthashwar (1973), Weekly Ganadut (1972), Weekly Agradut (1928), Fortnightly Purbadiganta (1961), Monthly Tista (1963).
Folkculture Palli Geeti, Bhawaya, Jarigan, Sarigan, Chharagan and various folk songs on the occasion of marriage ceremony are notable. Besides, the indigenous communities display various songs and dances on the occasions of marriage ceremony, child birth, mourning, etc.
Tourist spots Vardhan Kuthi in Gobindaganj upazila (17th century), house of Naldanga Zamindar, house of Bamandanga Zamindar (1259), Kashtha Kali Mandir at Bharatkhali, Palace of Raja Birat in Gobindaganj (743-800 AD),' Mirer Bagan Shah Sultan Gazi Mosque at Gaibandha Sadar (1308). [Zahurul Qayum]
See also The upazilas under this district.
References Bangladesh Population Census 2001, Bangladesh Bureau of Statistics; Cultural survey report of Gaibandha District 2007; Cultural survey report of different upazilas of Gaibandha District 2007.