Kulaura Upazila (maulvibazar district) area 431.63 sq km, located in between 24°19' and 24°39' north latitudes and in between 91°54' and 92°07' east longitudes. It is bounded by fenchuganj and barlekha upazilas on the north, tripura state of India on the south, juri upazila on the east, kamalganj and rajnagar upazilas on the west.
Population Total 305954; male 154520, female 151434; Muslim 237454, Hindu 63244, Buddhist 5017 and others 239. Indigenous communities such as manipuri and khasia belong to this upazila.
Water bodies Main river: manu.
Administration Kulaura Thana was formed in 1922 and it was turned into an upazila on 10 January 1992. Kulaura Municipality was formed in 1996.
Upazila
Municipality
Union
Mouza
Village
Population
Density (per sq km)
Literacy rate (%)
Urban
Rural
Urban
Rural

1

13

121

470

21958

283996

709

65.35

43.42
Municipality

Area (sq km)

Ward

Mahalla

Population

Density
(per sq km)

Literacy rate (%)

10.50

9

26

20934

1994

60.3
Upazila Town

Area (sq km)

Mouza

Population

Density
(per sq km)

Literacy rate
(%)

3.82

2

1024

268

70.4
Union
Name of union and GO code
Area (acre)
Population
Literacy rate (%)
Male
Female

Karmadha 59

24485

15552

15481

29.31

Kadirpur 53

6579

9440

8840

56.31

Kulaura 65

6683

7151

7124

42.75

Joychandi 41

8860

13431

13075

40.32

Tilagaon 95

10193

13874

13652

41.56

Prithim Pasha 71

7682

13408

13045

37.40

Baramchal 11

3267

7872

7694

50.88

Brahman Bazar 17

6360

13207

13093

46.94

Bhukshimail 11

10904

10847

10714

43.60

Bhatera 13

-

6687

6783

48.73

Routhgaon 77

4607

8746

8873

47.10

Sharifpur 89

7692

10926

10528

37.77

Hajipur 35

7058

12441

12536

41.83
Source Bangladesh Population Census 2001, Bangladesh Bureau of Statistics.
Archaeological heritage and relics Nawab Bari of Pritthim Pasha (early 18th century), copperplate of Bhatera, Rangirkul Vidia Ashram, Gagan Tila, Chand Gram Dighi.
Historical events During the Sepoy Mutiny in 1857, about 300 Sepoys who looted the Chittagong Treasury, took shelter with the Zamindar of Pritthim Pasha, Gowsali Khan. During the non-cooperation movement of India in 1921, Purnendu Kishore Sengupta established the Vidia Ashram at Rangirkul in Kulaura. Many students of Nabin Chandra School were expelled for their involvement in the anti British movement in 1939. During this time the British allied forces established a camp at Kalapani Haor, two km northwest of Kulaura town. In 1971 the Pak army established camps in the Kulaura Hospital and in Nabin Chandra High School. During the war of liberation the Pak army killed more than one hundred freedom fighters and innocent people in different places of Kulaura upazila.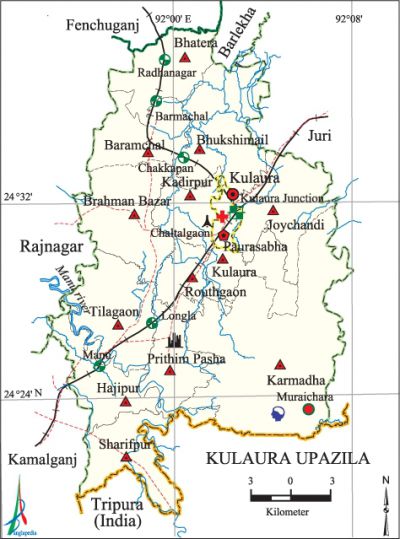 Marks of the War of Liberation Mass grave 1 (Chatolgaon), Mass killing site 1 (Chiral Muchir Bari, bank of Padma Dighi of Ali Amjad High School).
Religious institutions Tomb of Hazrat Shah Kamal (R).
Literacy rate and educational institutions Average literacy 51.08%; male 54%, female 48.06%. educational institutions: college 9, secondary school 39, primary school 218, community school 16, madrasa 43. Noted educational institutions: Kulaura Degree College (1969), Yakub-Tajul Women's College (1995), Langla Adhunik College (1998), Yousuf Goni Adarsha College, Nabin Chandra High School (1909), Nayabazar KC High School (1909), Routhgaon High School (1928), Kulaura Girls' High School.
Newspapers and periodicals Weekly: Manab Thikana (1997), Kulaurar Dak (1999); defunct: Sreehatta Vraman-Parivraman (1930); weekly: Nakib (1937), Fariad (1987); monthly: Al Amin.
Cultural organisations Library, playground.
Tourists spots Notable tourist spots of the upazila include 33 tea gardens, the first Eco Park (established on 1500 acres of land) at Muraichhara (Karmadha), a number of tilas and hillocks, and rubber garden.
Main sources of income Agriculture 43.83%, non-agricultural labourer 13.56%, industry 2%, commerce 9.62%, transport and communication 1.94%, service 6.41%, construction 1.07%, religious service 0.39%, rent and remittance 4.86% and others 16.32%.
Ownership of agricultural land Landowner 45.03%, landless 54.97%.
Main crops Paddy, wheat, potato, tea, rubber, betel leaf, bamboo, cane, mustard, bay leaf.
Extinct or nearly extinct crops Sugarcane, sesame, linseed, arahar.
Main fruits Jackfruit, pineapple, mango, blackberry, litchi.
Fisheries, dairies and poultries Fishery 81, poultry 79, hatchery 1.
Communication facilities Pucca road 167.193 km, semi-pucca road 6550 km, mud road 762.02 km; waterway 22 nautical miles; railway 45 km, Railway station 7.
Extinct or nearly extinct traditional transport Palanquin, horse carriage, bullock cart.
Noted manufactories Rice mill, tea factory, ice factory, saw mill, aluminum factory, hardboard factory, cold storage, welding factory.
Cottage industries Goldsmith, blacksmith, potteries, weaving, shital pati, bamboo work, cane work.
Hats, bazars and fairs Hats and bazars are 51, most noted of which are Brahman Bazar, Kaminiganj, Falutala, Robir Bazar, Ghater Bazar, Uttar Bazar, Dakshin Bazar, Chowdhury' Bazar. Besides Baruni Mela at Lalbag, Durga Puja Mela, Paush Samkranti Mela, Rangirkul Ashram Mela are also notable.
Main exports Tea, rubber, betel leaf, bamboo and cane furniture.
Access to electricity All the wards and unions of the upazila are under rural electrification net-work. However 17.60% of the dwelling households have access to electricity.
Natural resources Uranium, glass sand, oil (Baramchal) and natural gas have been traced in the upazila.
Sources of drinking water Tube-well 71.67%, tap 1.08%, pond 9.85% and others 17.40%.
Sanitation 29.51% of dwelling households of the upazila use sanitary latrines and 56.87% of dwelling households use non-sanitary latrines; 13.62% of households do not have latrine facilities.
Health centres Upazila health centre 1, hospital 6, family planning centre 16, health and family welfare centre 9, rural health centre 5, maternity and child centre 1, satellite clinic 5, charitable hospital 7, community clinic 15, diabetic centre 1, veterinary hospital 1, paralysis rehabilitation centre 1.
NGO activities Operationally important NGOs are brac, caritas, HEED Bangladesh, Missionaries of Charity. [Samir Uddin Ahmed]
References Bangladesh Population Census 2001, Bangladesh Bureau of Statistics; Field report of Kulaura Upazila 2007.