Sen, Raibahadur Jaladhar (1860-1939) writer, journalist and traveller, was born on 13 March 1860 at Kumarkhali in the district of Nadia. His father, Haladhar Sen, was a local celebrity.
Jaladhar Sen passed the Entrance examination from Kumarkhali English School in 1878. He studied First Arts at the General Assembly's Institution, calcutta, but was unsuccessful in the final examination. While at college, he was helped financially by iswar chandra vidyasagar.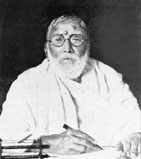 In 1881, Jaladhar Sen started teaching at Goalanda School in rajbari, faridpur. He then taught at Deradun and Mahisadal Raj School. Giving up teaching, he went to Calcutta in 1899. At Calcutta he entered the world of journalism. He first edited the Babgabasi and, from 1907 to 1909, the Hitavadi. From 1909 to 1911 he worked as the Dewan of the King of Santosh. Returning to Calcutta in 1911, he edited the Sulabh Sumachar (1911) and bharatvarsa (1913-1939). He also edited the grambarta prakashika, Basumati, and Sandha. He used to write regularly in Gramvarta Prakashika and somprakash. He was Vice-President of the vangiya sahitya prishad for two terms (1912-13, 1936-38).
Jaladhar Sen wrote more than forty books in a variety of genres: text books, biographies, children's literature, translations, travelogues, novels and short stories. His fiction, which depicts the joys and sorrows of family life, includes the novels Duhkhini (1909), Abhagi (3 parts, 1915-32), Utsa (1932) and the short story collections (1900), Kabgaler Thakur (1920) and Bada Manus (1929). He also wrote a biography of Harinath Majumdar, editor of Grambarta Prakashika, titled Kangal Harinath (2 parts, 1913, 1914) and edited his writings in Harinath Granthabali. His travelogues include Prabas Chitra (1899) and Himalaya (1900).
Jaladhar Sen was awarded the title of 'Rai Bahadur' by the British Government in 1929. In 1934 he was accorded an All-Bengal reception wheresharat chandra chattopadhyay gave an address in his honour. He died on 15 March 1939 in Calcutta. [Shipra Dastider]