Cadet College a special type of school-cum-college established in East Pakistan on the model of English public schools. The government of Pakistan established the first full-fledged residential cadet college in the Punjab in 1954. The college was put under the direct management and supervision of the armed forces of the country and military education was made compulsory in it.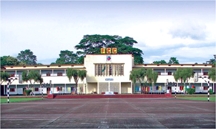 The first cadet college in East Pakistan was established in 1958 over an area of 185 acres of land at Faujdarhat in the district of chittagong. The college was put under the management and supervision of the army General Commanding Officer of the 14th Division, although the education ministry provided the funds and was in charge of accreditation. Sir William Maurice Brown, a Lieutenant Colonel of the New Zealand army, was the first Principal of the college and served it in that capacity for 7 years. The idea behind the establishment of cadet colleges was to train the country's youth and install in them high moral, sound mental capacity, breadth of vision, physical stamina, power of leadership and the capacity to run the rapidly expanding government administrative machinery. The cadet colleges were completely different from all existing types of secondary and higher secondary educational establishments, but soon became famous for their performance in terms of the excellent results of their students in public examinations. Such excellence was attributed mainly to rigorous scrutiny in intakes and the good quality of instruction.
The government of East Pakistan established new cadet colleges at jhenaidah (1964), Mirzapur of tangail, (1965) and Sardah of rajshahi (1965). Meanwhile, the government created a residential model school in dhaka in 1960. Following its success as an educational establishment, six more residential model schools were established at comilla, sylhet, mymensingh, barisal, pabna and rangpur. Of these the Mymensingh residential model school was for girls only. After independence in 1971, the government of Bangladesh did not establish any new cadet college but converted the six residential model schools (outside Dhaka) into cadet colleges in the 1980s.
The Cadet Colleges Order (PO 89) of 1972 issued guidelines for restructuring the councils and governing bodies of the cadet colleges. According to new provisions, the Education Minister became the ex-officio chairman of the council and the divisional commissioner the chairman of the governing body. The Cadet College Act 1973 brought some changes in the provisions.
The two management bodies of the cadet colleges were further restructured and were placed under direct control of the Ministry of Defence. There have been periodic changes in the management structure because of changes in the government, but the basic principles have so far remained undisturbed. At present, the Adjutant General of the Bangladesh Army Acts, as the chairman of the governing bodies of all cadet colleges and the Defence Secretary is the highest authority in all matters relating to their funding and operation.
Admission in cadet colleges starts from grade seven. At the end of the tenth grade, cadets are eligible to appear at the secondary school certificate (SSC) examinations conducted under a general system. Cadets passing the SSC examinations may continue to study in the same cadet college for higher secondary education or opt for other institutions of his or her convenience and choice. Joypurhat Girls' Cadet College and Feni Girls Cadet College were established in 2006. Now there are 12 Cadet Colleges in Bangladesh. Among these, nine for boys and three for girls. Four Cadet Colleges were established before 1971. Other cadet colleges were built after the liberation war of Bangladesh. [Fazle Rabbi]