Matihar Thana (rajshahi district) 'area 8.20 sq km, located in between 24°21' and 24°23' north latitudes and in between 88°32' and 88°36' east longitudes. It is bounded by boalia thana and paba upazila on the north, Paba upazila on the south and the east, Boalia thana on the west.
Population Total 29753; male 16470, female 13283; Muslim 29103, Hindu 632, Christian 10 and others 8.
Administration Matihar thana was formed on 1 July 1992 comprising parts of Boalia thana, Paba and charghat upazilas.
Thana
Ward and Union
Mahalla and Mouza
Population
Density (per sq km)
Literacy rate (%)
Urban
Rural
Urban
Rural
3
16
29753
-
3628
63.34
-
Ward and Union
Ward and Union
Area (sq km)
Population
Literacy rate (%)
Male
Female
Ward no.28
4.22
6362
4970
56.65
Ward no. 29
2.64
5034
4449
60.14
Ward no. 30
1.34
5074
3864
73.24
Source  Bangladesh Population Census 2001, Bangladesh Bureau of Statistics.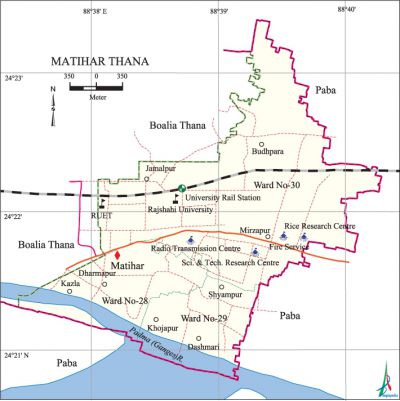 History of the War of Liberation During the mass upsurge in 1969 Dr. mohammad shamsuzzoha, Reader of the Department of Chemistry and Proctor of the Rajshahi University was killed by Police firing on 18 February. In 1971 Sukhranjan Samaddar, teacher of the Department of Linguistics of this university was killed by the Pak army. During the war of liberation the present Zoha Hall of the University was used as a torture centre by the Pakistan occupation army.
Marks of the War of Liberation Mass grave 1 (adjacent to the Zoha Hall); Swadhinata Sculpture 1: Sabas Bangladesh; Martyr memorial collection.
Religious institutions Mosque 130, temple 2, tomb 2.
Literacy rate and educational institutions Average literacy 63.34%; male 75.09%, female 63.34%. Noted educational institutions: university of rajshahi (1953), Rajshahi University of Engineering and Technology (2002), Rajshahi University School and College, Mashkata Dighi Multilateral Technical High School (1952), Kharkhari Government Primary School (1885).
Cultural organisations Library 8, club 12, cinema hall 1, women organisation 24, playground 8.
Important installations Radio Transmission Centre, Rice Research Centre, Science and Technology Research Centre.
Main sources of income Agriculture 6.48%, non-agricultural labourer 4.35%, industry 2.85%, commerce 20.05%, transport and communication 12.52%, service 34.57%, construction 4.9%, religious service 0.18%, rent and remittance 1.41% and others 12.69%.
Ownership of agricultural land Landowner 33.05%, landless 66.95%.
Main crops Paddy, wheat, jute, sugarcane, potato, onion, vegetables.
Extinct or nearly extinct crops Khesari, pea, mustard, gram, linseed, arahar.
Main fruits Mango, litchi, papaya, blackberry, jackfruit, banana.
Fisheries, dairies and poultries Fishery 12, dairy 14, poultry 27.
Communication facilities Pucca road 70 km, semi-pucca road 12 km, mud road 100 km; railway 6 km; waterway 3 nautical miles. Rail station 1.
Extinct or nearly extinct traditional transport Palanquin, horse carriage.
Noted manufactories Sugar mill, jute industry, welding factory.
Cottage industries Goldsmith, weaving, bamboo and wood work.
Hats, bazars and fairs Hats and bazars are 9, most noted of which is Dewanpara Bazar.
Main exports Sugar, jute made goods, litchi, mango, potato, banana, papaya, vegetables.
Access to electricity All the wards of the thana are under electrification net-work. However 72.21% of the dwelling households have access to electricity.
Sources of drinking water Tube-well 91.51%, tap 6.48%, pond 0.12% and others 1.89%.
Sanitation 72.95% of dwelling households of the thana use sanitary latrines and 22.42% of dwelling households use non-sanitary latrines; 4.63% of households do not have latrine facilities.
Health centres Satellite clinic 4.
NGO activities Operationally important NGOs are brac, asa, proshika, thengamara mahila sabuj sangha. [Md. Mahbubar Rahman]
References Bangladesh Population Census 2001, Bangladesh Bureau of Statistics.