Nakshi Pati mat with decorative designs. Mats have been in use since ancient times and were used abundantly before the introduction of modern furniture in Bengali homes. They were used in daily life and at social gatherings. As in the past, mats are given as bridal gifts even today and form one of the items at the gaye halud ceremony.
A pati with attractive designs is called nakshi pati. Like the nakshi kantha, the nakshi pati also has designs of trees, creepers and leaves, animals and birds, geometric patterns, domes of mosques, palanquins, boats, combs, elephants, etc. Small, stylised flowers are common. Mats may be made of yarn, cane, reeds, bamboo, and palm leaves. Currently, mats made of yarn, cane and reeds are popular. Mats made from the smooth strips of murta plants or cane are known as shitalpati (cool pati). faridpur and pabna districts produce talaipati, mats made from reeds. Chatai are mats made from bamboo strips and palm leaves and do not have any decorative designs.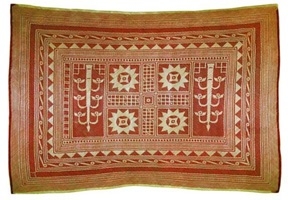 Shitalpati is made from cane or from murta plants, known at different places as mostak, patipata, patibet and paitara. The murta plant grows around water bodies in sylhet, sunamganj, barisal, tangail, comilla, noakhali, feni and chittagong. These days nakshi pati made of murta plants is available only in Sylhet and Noakhali districts.
One murta plant yields seven or eight thin strands, which are dried in the sun and then boiled with tamarind and kaupata. At times, starch of boiled rice is also used. Some strands are dyed for colour. The mat is woven with the dyed strands making attractive designs on the natural beige background. Murtapati is attractive and comfortable, specially during the hot summer months.
Sitalpati is also made of cane. To make it, the green cane is first washed in soda water and dried. It is then boiled and dried again. Some strips are then dyed in different colours. Sitalpati is woven diagonally. After the mat has been completed, the edges are bound.
Patis are used for various purposes and may be of different sizes. Prayer mats for Muslims are about 4 feet wide and about 5 feet long. They are decorated with motifs of mosques, flowers and leaves. Mats for use on beds measure about 7 1/2 feet by 9 feet. They are decorated with many floral and other designs. A mat for seating measures either 3 feet by 4 feet or 4 1/2 by 6 feet. Apart from floral and leafy motifs, artisans often weave their own names, or the names of children, parents or brothers and sisters into the mats. Some designs resemble those of jamdani saris.
Mats made of hogla leaves in the southern coastal region are used as pallets for sleeping, spreads for drying grain, covers for goods and as prayer mats in mosques. At one time, hogla mats measuring 100 metres in length were made. Up to 200/300 people could sit on these mats at social and religious gatherings in the villages. These mats did not have decorative motifs and only featured geometric patterns.
Usually, women make mats during breaks between household chores. About 8000 people in different parts of the country are now engaged in mat-making.
The Sylhet region in Bangladesh was once famous for ivory arts including mats of ivory. The Nawabs of Dhaka used these mats during marriage ceremonies. One of these mats is now preserved in the bangladesh national museum. It is woven like a sitalpati, with fine strips of ivory. [Zinat Mahrukh Banu]