Terracotta Sculpture and Mural
Terracotta Sculpture and Mural are extensively used in Bengal because it lacks stone and is covered with alluvium. Although some archaeological specimens have been found in pandu rajar dhibi and Harinarayanpur' (pre-Mauryan sites) in West Bengal, the real history of terracotta sculpture starts from the Mauryan age (324-187 BC). It is supposed that in pre-Mauryan times it was the Matrika (Mother-Goddess) statues that prevailed. From the presentation and aesthetic standard of the Mauryan sculpture it can be easily inferred that the art had a long and continuous heritage. Facial expression, hairstyle, head-ornaments, dress and jewellery of the sculpture belonging to the third century BC and found at Tamluk and chandraketugarh (both in West Bengal) are indicative of refined taste and a sense of beauty.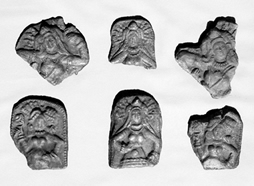 In terms of style it has marked kinship with contemporary stone sculpture. It is to be noted that faces of sculptures of this time were first made in moulds and then fixed on hand-made bodies.
A kind of terracotta art style was in vogue throughout the Ganga-Jamuna Valley and Central India during the Shunga and Kusana periods, spreading from the second century BC to the third Century AD. Plaque sculptures belonging to this tradition and fully made in moulds have been found at mahasthan in Bangladesh, and Tamluk, Chandraketugarh, Pokharna and other places in West Bengal. Most of these are figures of youthful men and women. Ornaments of fantastic shapes and designs are found all over the figures which also wear various styles of hairdressing.
Plaque sculptures for hanging on walls have been found which belong to the Shunga period (2nd century BC). These may be said to have been the first attempt of architectural ornamentation with the aim of putting an end to the monotonous linearity of walls.
These sculptures became much more elegant, refined, well-shaped and worldly in the Kusana period (2nd and 1st centuries BC). These were high reliefs smooth in finishing and quite developed in terms of craftsmanship. Figures have been made tri-dimensonal by using two moulds - one for the front and another for the back. Specimens of this category found at Bangarh are worth mentioning. A number of plaque sculptures belonging to the Shunga age have been discovered at Mahasthangarh after excavation. The union of thought with aesthetic quality and that of inner beauty with outward form which took place in North Indian sculpture during the gupta rule (c 300-550 AD) can be traced in the terracotta sculptures in Bengal.
The terracotta sculptures of this period found in Bengal are of better quality than stone sculpture of the same period and region. Excess of dress and ornaments that had marked the sculpture of previous ages did now disappear. An excellent example is the Bodhisattva figure with half-shut eyes and gentle meditative face found at Mahasthangarh. The classical form of Gupta sculpture can be noticed in the plaques found at the same place which feature crowned heads with smooth faces and figures of couples both executed by skilled artists. Terracotta figures of deities, representations of Puranic (mythological) legends, and ornamented plaques which had first been used to decorate the brick-built temples at Bhitargaon in North India in the fifth century AD have been extensively applied in Mahasthan, bhasu vihara, paharpur and mainamati.
Use of brick in architecture became popular in Bengal due to non-availability of stone and inconveniences in transport, and with that grew the tradition of decorating the outer surface with terracotta plaques. There are still about two thousand terracotta plaques on the sides of the very wide circumbulation path of the great somapura mahavihara at Paharpur built in the eighth and ninth centuries.
And more than eight hundred such plaques, scattered as they were around, have been collected. Daily and occasional lives as well as life's various experiences have been portrayed on the terracotta plaques that decorate the temple walls.
Among these, worth mentioning are nature, man, animals, tribal people, Kinnar-Kinnari' (semi-divine beings expert in music and dance), gandharva' (another species of similar semi-divine beings), skinny ascetic on the street and so on. Plinth of the cross-shaped principal temple of the shalvan vihara at Mainamati was once decorated with a row of terracotta plaque sculptures, like the temple of Paharpur. These are exceptional specimens of the people's art of Bengal in that age.
34 plaques belonging to a later age and found at Bhasu Vihara are much more sophisticated in aesthetic qualities and in terms of skill employed compared to those of Paharpur and Mainamati. These plaques constitute an evidence of advancement in style. Half-man, half-fish or flower, pearl string on duck's beak, elephant, and archer are among notable representations on the plaques.
Between 1300 and 1500 Muslim architectural style and craftsmanship got reconciled with this region's weather, heritage and historical experience and led to the development of Bengal's own architectural tradition. At the hands of local artists Islamic calligraphy and geometric designs got compromised with such elements of Hindu culture as lotus, bell with chain, intertwined flowers, creepers and leaves, and thus a unique tradition of architectural ornamentation developed. Examples of this tradition can be seen in Zafar Khan Ghazi's Mosque, chhota pandua minar, adina mosque, eklakhi mausoleum, tantipada mosque, bagha mosque, atiya mosque and so on.
A regeneration of Hindu culture took place in Bengal in the sixteenth century AD due to popularisation of Vaisnava religion through the influence of Sri chaitanya (1486-1533 AD). Collapse of Hindu caste system, practice of devotion to and love for Krsna opened new horizon in spiritual exercise. Most terracotta temples of Bengal were built during the period from late sixteenth through the nineteenth century. Such wide and varied use of terracotta plaques in architectural murals has never been found in the history of art in Bengal. The Vishnupur (17th century) temple of (West Bengal) and Kantanagar temple (18th century) of Dinajpur (Bangladesh) are best examples of this new spirit. Apart from these, specimens of remarkable terracotta murals are to be found on the walls of many temples at Haorah, Hughli, Midnapore, Bardhaman, Birbhum, Nadia and Baranagar in Murshidabad, West Bengal, along with those at Pabna, Jessore, Faridpur, Rajshahi, Barisal and other places in Bangladesh.
Temples of Bengal offered the artists wide walls, huge arches, fat columns, bases of altars as well as cornices, on the surfaces of which could be engraved endless number of mythological tales. Myths of the Ramayana and the Mahabharata, activities of Krsna, as well as contemporary social life, men and women, animals and birds, various creatures and beasts, hunting scenes, designs of creepers and leaves have been depicted with exclusive Bengali characteristics. Apart from these, the lifestyles of Europeans in Bengal along with scenes of sensual enjoyment by the zamindar class are to be found on the murals.
If the temple plaques of the seventeenth, eighteenth and nineteenth centuries are compared with the plaques of Mahasthan, Bhasu Vihara, Paharpur and Mainamati, it is found that the latter are larger in size, of deeper reliefs, and are done in modelling method. In later times, blocks were first made with earth, and then partially sun-dried up to need, and thereafter figures were cut out with thin chisels of bamboo or iron. Of course, plaques made for the purpose of design were made in moulds. Due to limited plaque size for reason of medium, its aesthetic use has made the temple geometrical and ornamental at the same time. These temples were built at different places of rural Bengal through the patronage of zamindars and wealthy classes. After the advent of the British, European architectural techniques (use of cement and sand) and Calcutta-centred culture put an end to this tradition. After discontinuation of Indian traditional art practices, cultivation of modern art started with its centre at the Art College in Calcutta city. Although Dhaka Art College had been established back in 1948, sculpture began its journey as a separate department only after the birth of Bangladesh. In quest of heritage, terracotta art's new journey and modern experiments began in independent Bangladesh.
In post-independence period a trend is noticed for creating murals with traditional Bengal and the war of liberation as subject matter. A few other subjects have also been added to these. Major places where terracotta murals have been placed are Bangladesh Television Bhavan (BTV), Bangladesh Army Headquarters Building, Ittefaq Building, Arab-Bangladesh Bank, BCIC Building, Sonargaon Hotel, Grameen Bank, Safura Tower, Bangladesh Military Academy, Bangla Academy, Yang-Wang Corporation (EPZ Dhaka and Chittagong), Muktijoddha Memorial (Rangpur), US Embassy and British Embassy. But it must be mentioned that terracotta ornamentation have not been used in the entire building. Murals have been created in ceramics and mosaic also. [Alak Roy]