Jamalpur District (dhaka division) area 2031.98 sq km, located in between 24°34' and 25°26' north latitudes and in between 89°40' and 90°12' east longitudes. It is bounded by Meghalaya state of India, kurigram and sherpur districts on the north, tangail district on the south, mymensingh and Sherpur districts on the east, jamuna river, bogra, sirajganj and gaibandha districts on the west. Of the 17 districts of Dhaka Division Jamalpur district occupies the 6th position and it occupies the 33rd position among the 64 districts of Bangladesh.
Population Total 2107209; male 1075694, female 1031515; Muslim 2067685, Hindu 37449, Buddhist 848, Christian 66 and others 1161. Indigenous communities such as garo, Bangshi, hajong, Hodi, Kurmi and Mal belong to this district.
Water bodies Main rivers: jamuna, old brahmaputra, banar, Jhinai; Kharka Beel, Kaiyer Beel, Chiradhuni Beel, Chilmari Beel, Kaludaga Lake, Ranipukur Dighi and Harishchander Dighi are notable.
Administration Jamalpur district was established in 1978. Of the seven upazilas of the district jamalpur sadar is the largest (489.56 sq km, it occupies 24.09% of the total area of the district) and bakshiganj is the smallest (204.30 sq km).
District
Area (sq km)
Upazila
Municipality
Union
Mouza
Village
Population
Density (per sq km)
Literacy rate (%)
Urban
Rural

2031.98

7

6

68

844

1346

331264

1775945

1037

31.8



Others Information of District

Name of Upazila

Area
(sq km)

Municipality

Union

Mouza

Village

Population

Density
(per sq km)

Literacy rate
(%)

Islampur

343.02

1

12

86

143

289337

843

23.6

Jamalpur Sadar

489.56

1

15

300

353

568726

1162

39.7

Dewanganj

266.59

1

8

47

164

229307

860

26.3

Bakshiganj

204.30

-

7

25

196

178436

873

30.2

Madarganj

225.38

1

7

108

116

233049

1034

24.6

Melandaha

239.65

1

11

140

192

292347

1220

26.6

Sarishabari

263.48

1

8

138

182

316007

1199

39.2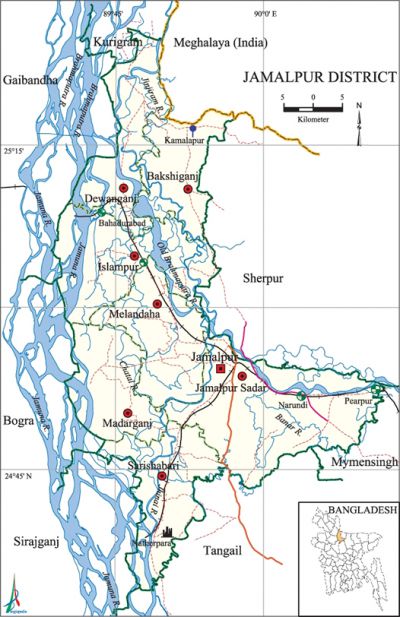 Historical events Most notable historical events of the district include fakir-sannyasi resistance (1772-1790), indigo resistance movement (1829), famine (1874), construction of the railway communication (1899) and the war of liberation in 1971. The Pak army, in collaboration with the local razakars, conducted heavy genocides in Jamalpur. On 21 June, the Pak army killed 9 persons at the Shashan Ghat (cremation centre) of Jamalpur sadar upazila on the bank of the Brahmaputra. A battle was fought between the freedom fighters and the Pak army on 31 July at Kamalpur Pak Army Base of Bakshiganj upazila causing heavy loss to the occupation army; in this battle 35 freedom fighters including Capt. Salahuddin Momtaz, Ahaduzzaman, Abul Kalam Azad were killed. A battle was fought between the freedom fighters under Sector Commander Col. abu taher and the Pak army on 13 November at Kamalpur of Bakshiganj upazila. In this battle Col Taher was seriously wounded. The well protected Pak military base at Kamalpur eventually fell on 4 December in the face of heavy attack by the freedom fighters for 21 days. In this battle 220 Pak soldiers under Capt. Ahsan Malik surrendered to the freedom fighters.
Marks of the War of Liberation Mass grave 33; mass killing site 1; memorial monument 4.
Literacy rate and educational institutions Average literacy 31.8%; male 35.4%, female 28.0%. Educational institutions: university 5, college 39, technical college 9, homeopathy college 1, secondary school 185, technical school 7, primary school 820, satellite school 16, community school 19, madrasa 308. Noted educational institutions: Government Asheq Mahmud College (1946), Government Jaheda Safir Mahila College (1967), Madarganj AHZ Government College (1968), Islampur College (1970), Jamalpur Zilla School (1881), Jamalpur Government Girls' High School (1882), Pingna High School (1896), Singhajani Girls' High School (1901), Jharkata Multilateral High School (1907), Singhajani Multilateral High School (1918), Dewanganj Government High School (1919), Sarishabari Rani Nidmani Model High School (1920), Hazrabari High School (1926), Nandina Maharani Hemanta Kumari Pilot High School (1935), Balridia Primary School (1869), Pogoldia Primary School (1890), Pingna Madrasa.
Main sources of income Agriculture 65.50%, non-agricultural labourer 3.30%, industry 0.81%, commerce 11.88%, transport and communication 2.94%, service 5.76%,' construction 1.22%, religious service 0.19%, rent and remittance 0.30%' and others 8.10%.
Newspapers and periodicals Daily: Janabangla, Pallir Alo; weekly: Sachetan Kantha, Purba Katha, Jamalpur Sambad, Janak, Jamalpur Satdin, Jagat, Nabatan, Jhenai, Urmee Bangla, Jamalpur Barta, Kalakal, Mukta Alo, Gangchil; literary periodicals: Patai Patai, Lok, Riddhi, chhande Jhinai, Mayukh (irregular); defunct: monthly Pallimangal (1922), Hanifi (1903), Jamalpur Barta, Pallibani, Silpa-Sahityapatra.
Folkculture Various kinds of folk songs are prevalent in the district. These include Gunaibibir Gan, Jari Gan of Khairun, Palagan of Rupvan, Panchali, Ghetu Gan and Meyeli geet (songs sung by women on the occasion of marriage and Gaye Holud festivals). In the rural areas, various folk games and sports are performed on competitive basis. These include bull fight, horse race, Moi (ladder) race, Lathi Khela (stick game); besides, during the rainy season boat races are arranged in the Jamuna river. The Garo community of the district perform dances on the 'Bigan Gala' festival.
Tourist spots Revenue office and Dighi of the Zamindar at Fulkocha and Mahiramkul (Melandaha Upazila), Neelkuthi at village Tartapara (nearly reined, in Madarganj Upazila), Narapara Fort (Sharishabari Upazila), Radhanath Jeu Mandir, Sholakuri Hill at Nandina, Ranipukur Dighi at Sreepur, Harish Chandra Dighi at Chandra (Jamalpur Sadar Upazila), Kuthibari of Pradyut Thakur (Islampur Upazila), garo hills (Bakshiganj Upazila). [Samar Pal]
See also The upazilas under this district.
References Bangladesh Population Census 2001, Bangladesh Bureau of Statistics; Cultural survey report of Jamalpur District 2007; Cultural survey report of upazilas of Jamalpur District 2007.