Savar Upazila (dhaka district) area 280.12 sq km, located in between 23°44' and 24°02' north latitudes and in between 90°11' and 90°22' east longitudes. It is bounded by kaliakair and gazipur sadar upazilas on the north, keraniganj upazila on the south, mohammadpur, adabar, darus salam, shah ali, pallabi and turag thanas on the east, dhamrai and singair upazilas on the west.
Population Total 587041; male 318176, female 268865; Muslim 536420, Hindu 45680, Buddhist 4378, Christian 421 and others 142.
Water bodies Main rivers: dhaleshwari, bangshi, turag.
Upazila
Municipality
Union
Mouza
Village
Population
Density (per sq km)
Literacy rate (%)
Urban
Rural
Urban
Rural

1

12

207

373

127540

459501

2096

67.03

59.95
Municipality

Area (sq km)

Ward

Mahalla

Population

Density
(per sq km)

Literacy rate (%)

37.56

9

55

127540

3396

67.03
Union
Name of union and GO code
Area (acre)
Population
Literacy rate (%)
Male
Female

Amin Bazar 15

2703

15694

14297

45.36

Ashulia 18

6451

22505

19439

56.49

Yearpur 94

6563

13918

11694

54.88

Kaundia 50

2835

10386

9679

52.65

Tetuljhora 89

3843

23424

18554

1.76

Dhamsana 39

8098

40419

36483

66.00

Pathalia 72

7102

34707

30099

63.75

Banagram 22

4460

13308

11434

44.11

Biralia 33

7448

12726

11034

43.66

Bhakurta 33

5202

19220

17088

39.49

Shimulia 83

8564

22362

19167

46.21

Savar 78

1365

8797

8054

60.71
Source Bangladesh Population Census 2001, Bangladesh Bureau of Statistics.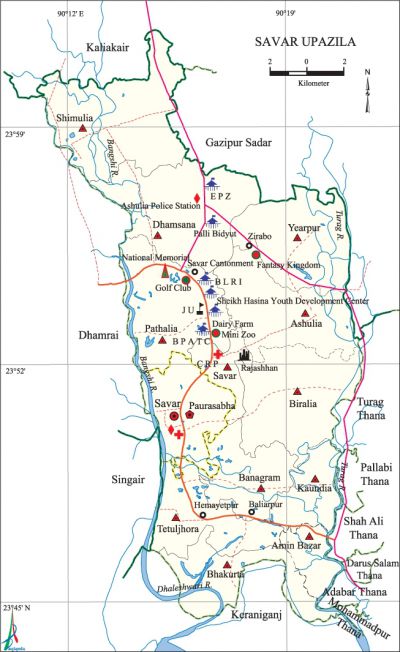 Archaeological heritage and relics Homestead of Raja Harish Chandra (8th century), Biralia Zamindar Bari.
Historical events Savar was the capital of the Sambhoa Kingdom during the seventh and eighth century. Raja Harish Chandra of this kingdom is believed to belong to the Dasbala Buddha family. It is testified by the inscriptions of the sixth century that many foreign traders used to come here for business. During the war of liberation in 1971 freedom fighter Golam Dastagir Titu was killed in a direct encounter with the Pak army, The compatriots buried him near the main gate of the Savar Dairy Farm. Bangladesh army constructed a memorial monument in his honour.
Marks of the War of Liberation Mass grave 1 (Jatiya Smriti Saudha at Nabinagar); memorial monument 2 (Savar Dairy Farm, 'Sangsaptak' at Jahangirnagar University); martyrs' memorial 2 (Jatiya Smriti Saudha at Nabinagar, Amar Ekushey Sculpture at Jahangirnagar University).
Religious institutions Mosque 318, temple 78, church 2. Noted religious institutions: Jahangirnagar University and Savar Dairy Farm Mosques, Savar Baptist Church, Savar Daskinpara Harir Akhra Mandir, Panchabati Ashrama Mandir.
Literacy rate and educational institutions Average literacy 58.2%; male 64.1%, female 51.1%. Educational institutions: university 3, primary teachers training institute 1, technical college 1, private medical college 1, college 26, law college 1, secondary school 50, primary school 100, community school 14, kindergarten 104, madrasa 11. Noted educational institutions: Jahangirnagar University (1970), Gana Bishwabiddalay, Savar Adhar Chandra High School (1913), Shimulia SP High School (1914).
Newspapers and periodicals Jagrata Kantha, Savar Barta, Savar Kantha, Ganabhasa.
Cultural organisations Club 200, golf club 1, childrens' organisation 1, amnesty organisation 2, womens organisation 1, bangladesh mohila parishad 1, film society 3, theatre group 5, theatre stage 1, music academy 5, jatra party 1, cinema hall 5.
Important installations and amusement centres Jatiya Smriti Shaudha, Savar Cantonment, Bangladesh Public Administration Training Centre, Bangladesh Radio, BKSP, Sheikh Hasina National Youth Centre, Atomic Energy Research Centre, National Institute of Biotechnology, Bangladesh Livestock Research Institute, brac Training Centre, Centre for the Rehabilitation of the Paralysed (CRP), Homestead of Raja Harish Chandra (8th century), Buddhist Vihara, Fantasy Kingdom, Nandan Park.
Main sources of income Agriculture 20.46%, non-agricultural labourer 3.09%, industry 2.82%, commerce 20.55%, transport and communication 5.75%, service 28.74%, construction 2.84%, religious service 0.18%, rent and remittance 2.67% and others 12.90%.
Ownership of agricultural land Landowner 42.94%, landless 57.06%.
Main crops Paddy, Jute, ground nut, vegetables.
Extinct or nearly extinct crops Aus paddy, asha kumari paddy, sesame, linseed, kali mator, randhuni saj, mitha saj, kaun, black gram.
Main fruits Jackfruit, olive, kamranga, papaya, mango, guava, blackberry, banana.
Fisheries, dairies and poultries Dairy 526, poultry 754, hatchery 5.
Communication facilities Pucca road 135 km, semi-pucca road 52 km, mud road 668 km; waterway 44; Culvert 92.
Extinct or nearly extinct traditional transport Palanquin, horse carriage, bullock cart, buffalo cart.
Noted manufactories Garments industry, textile industry, ceramic industry, beverage industry, transformer industry, automobile industry, pharmaceutical industry, biscuit and bread factory, paints factory, printing and dying factory, cold storage, oil mill, welding factory, saw mill, shoe factory, soap factory, jute mill, brick field.
Cottage industries Goldsmith, weaving.
Hats, bazars and fairs Hats and bazars are 14, fairs 8, most noted of which are Savar Bazar, Nabinagar Bazar, Amin Bazar, Balibhadra Bazar, Bagbari Bazar, Ashulia Hat, Savar Hat, Shimulia Hat, Kathgara Hat, Sadullapur Hat, Bhakurta Hat, Darogali Bayati Mela at Nayarhat, Bahattar Prahar Mela at Savar, Ghora Pir Mela at Nalam, Muharram Mela at Katlapur, Poush Mela at Dhamsana.
Main exports Jackfruit, papaya, nursery, flower, transformer, sapling, electronics and electric goods, fabrics, dye, medicine, ready made garments, confectionaries, soap, dairy products, meat, brick.
Access to electricity All the wards and unions of the upazila are under rural electrification net-work. However 79.47% of the dwelling households have access to electricity.
Sources of drinking water Tube-well 89.24%, tap 8.16%, pond 0.19% and others 2.41%.
Sanitation 65.98% of dwelling households of the upazila use sanitary latrines and 30.08% of dwelling households use non-sanitary latrines; 3.94% of households do not have latrine facilities.
Health centres Upazila health complex 1, union health and family welfare centre 10, family planning centre 1, satellite clinic 2, clinic 40, military hospital 1 (Savar Cantonment), Korea Bangladesh Friendship Hospital 2.
NGO activities Operationally important NGOs are brac, proshika, asa, World Vision, Swanirvar Bangladesh. [Amal Saha]
References Bangladesh Population Census 2001, Bangladesh Bureau of Statistics; Cultural survey report of Savar Upazila 2007.